A Kentucky couple, excited about bringing home a new baby boy, are still reeling from their premature newborn's life-threatening injuries suffered after the family's beloved dog dragged him from his crib.
AJ had been home for less than 24 hours Monday when his parents, Michael and Chrissie Smith, went to check on him and found his crib empty.
Frantically, they searched the house and surrounding woods, calling 911 when they couldn't find him. Ten minutes later, Michael Smith found the family's dog, Dakota, with AJ in her mouth.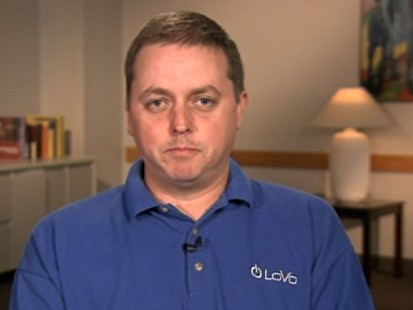 "We were downstairs for two minutes," Smith told "Good Morning America" today. "And my wife had an instinct. She just went upstairs."
Baby AJ is now at the hospital in critical condition. Born three weeks early, he suffered a cracked skull, broken ribs and two punctured lungs when Dakota took him from his crib.
"The priority is rest and just keep getting the meds in him," Smith said, adding that his son is as stable as he has been since the incident.
When the family first got to the hospital, it was a much different atmosphere.
"They took us to a consulting room with a pastor and gave us one more chance to see him," Smith said. "That was hard. I had a really, really, really, really, really bad feeling coming up to the hospital."
Smith said AJ's heart stopped at the hospital and emergency room attendants had to use tiny paddles to resuscitate him.
"When the doctor comes in and the doctor's pretty much crying, you know, you think the worst," Smith said. "But then, you just fight through it. He's a fighter. He's fought the whole way."
The family has had Dakota, a mixed breed Native American Indian dog, for four years. Smith said he completely trusted her and she was part of the Nicholasville family.
Did Fear Prompt Dog to Take Baby From Crib?
Smith said his family believes Dakota thought AJ was a doll and wanted to play with it. But experts say fear is one of the biggest reasons a pet may turn on a new baby.
"A baby could be something that a dog fears," Dr. Kat Miller of the American Society for the Prevention of Cruelty to Animals said. "It feels trapped, it feels cornered, it could possibly try to drive the baby with aggression."
It's a kind of aggression that has been seen in headlines before -- an 8-month-old boy was killed in his New York apartment by the family Doberman. And, in San Francisco, a 9-month-old was bitten in the face and neck by the family's boxer.
Although Dakota is no longer with the family, Smith isn't calling what happened to his son an "attack."
"That wasn't the case," he said. "It was more of a snatch and grab. It was like, 'Here's my toy.'"
"I don't feel angry at the dog," he said, "But there's no way that dog could ever come back in my house."
He called Dakota "mild-mannered." The family's other dogs, including a black Labrador retriever, will remain in the house.
Dakota is at a shelter and no decision has been made about whether to euthanize the dog, according to a local newspaper.
Experts said these kinds of incidents can be prevented by keeping a close eye on both the dog and the baby and helping the dog accept the arrival of a new baby by familiarizing the dog with the sounds and smells of an infant.
"Dogs and cats, no matter how friendly and social they are, still have big teeth," Miller said. "Keep your baby safe by separating completely your dog and your baby when you are not immediately there to supervise."