The wife of former "Survivor" producer Bruce Beresford-Redman may have been strangled and beaten, Mexican authorities said.
The Hollywood producer is under investigation in the death of his wife, Monica Beresford-Redman. He insisted that his wife disappeared after leaving the resort, but police have their doubts.
Quintana Roo state investigator Veronica Acacio told The Associated Press that Bruce Beresford-Redman had scratches on his neck and officials were doing toxicology tests to determine if he had consumed drugs.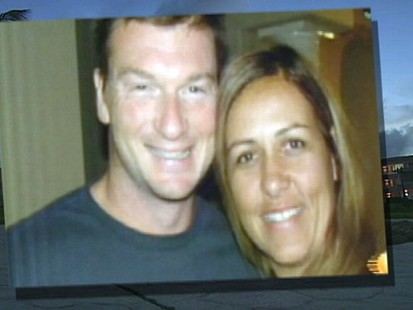 Monica Beresford-Redman
was found in a sewer
at the Hotel Moon Palace in Cancun on what would have been her 42nd birthday, according to the official at the office of the attorney general for Quintana Roo state.
On Friday the parents of Bruce Beresford-Redmanreleased a statement defending their son and calling on Mexican authorities to find who killed her.
"My wife and I are grief-stricken at the loss of our beloved daughter-in-law Monica Beresford-Redman. She was a loving wife and mother, and we urge Mexican law enforcement authorities to identify those responsible for this horrendous crime," said David Beresford-Redman in a statement.
"We know our son loved Monica and would never have harmed her. He has our full support as we try to do what's best for him and our grandchildren so they can be reunited soon."
Beresford-Redman is receiving "assistance" from the U.S. Consulate, but has not yet hired an attorney, Mexican officials told ABC News.
Friends and family said the Hollywood couple had come to the posh Mexican resort to work on their strained marriage.
"Even though she had problems, she never showed it to us," Monica Beresford-Redman's good friend Mariza Alyrio told "Good Morning America" today.
But since her death, Alyrio said she had learned more about the couple's marital problems including rumors of fighting and Bruce Beresford-Redman's alleged infidelity.
"For knowing him throughout these years, for me, it seems out of his character," she said of the possibility he killed his wife. "But I just don't want to believe he's the one."
"But if he is, maybe America has another monster," she said. Even if he was having an affair, she added, "it shouldn't be a reason to end her life this way."
The couple had been staying in Mexico with their two children, 5 and 3. While Bruce Beresford-Redman has been released but must remain in Mexico, the children are back in the U.S.
Several guests reported hearing the couple fight in their room the night before Monica Beresford-Redman disappeared. And officials say there is no record of her leaving the hotel grounds, where security guards check all cars that come and go.
"Survivor" Producer Suspect in Wife's Murder
"The relationship that she had with her husband was mostly front staged for the last months," Naygee Delima, a friend of Monica Beresford-Redman, said. "We were all happy for her finally because they were on a vacation, so you know, because they kept breaking up and coming back for the last months and it looked like this time was going to be the last time."
Bruce Beresford-Redman, who produced several seasons of CBS' "Survivor" and MTV's "Pimp My Ride," had told authorities that his wife left the resort earlier in the week to go shopping, but never came back. He told a Los Angeles television station that he was "very hopeful someone will find my wife soon. She still hasn't been located and we're looking."
The family of Monica Beresford-Redman, born Mónica Burgos in Rio de Janeiro, Brazil, filed a missing person's report with the Los Angeles County Sheriff's Department Wednesday.
"Monica, she was a spectacular person," Alyrio said. "It's just so hard to describe how she was because it's so painful right now."
ABC News' Tom McCarthy and Ammu Kannampilly and The Associated Press contributed to this report.