The Welch children had had a picture-perfect life. Their father was a successful financial adviser, and their mother was a well-known actress. But within a few years, tragedy stuck twice and the four children were orphaned, forced to split up and live with different guardians. Years later, the siblings have reunited and written their first book, "The Kids Are All Right," a memoir detailing their lives after they lost their parents.
Click Here to read an excerpt from the book, "The Kids Are All Right."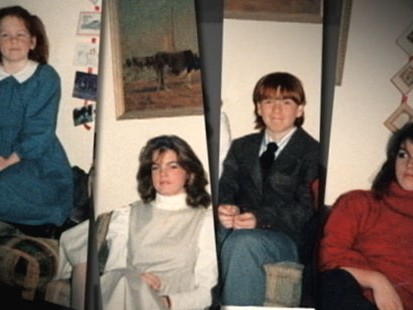 The Welchs grew up in Bedford, N.Y., outside New York City. Their mother was Ann Williams, a successful Broadway and television actress who played Eunice Wyatt on CBS' "Search for Tomorrow."
"I remember one time someone recognizing her at the tollbooth," Dan Welch said. "The toll person knew mom ... she said, 'Hey, you're Eunice ... you're my favorite character.'"
But co-star Morgan Fairchild said Williams' most cherished role was being a mother.
"She loved those kids," Fairchild said. "She loved them and talked about them all the time."
But tragedy struck in 1982, when the children's father, Bob Welch, died in a car crash while driving through the night from New England.
The children, whose ages ranged from 4 to 16 at the time, said they helplessly watched as their mother struggled with the loss of her husband.
"She wandered around the house crying," Amanda Welch said. "I mean, she just never stopped crying."
Exactly one month after their father's death, tragedy struck again when Williams was diagnosed with cancer.
"Our life was already ripping apart at the seams," Liz Welch said.
Their mother battled the disease and continued to star in ABC's soap opera "Loving."
"I would actually take her in a wheelchair," Dan Welch said. "[I would] wheel her from one set to the next and she would be able to get up and perform the scene and just collapse."
It was like a bad dream, he said.
"I was kind of waiting to become an adult and waiting to survive my childhood and everything was just, 'I can make it through this if I just wake up tomorrow,'" Welch said.
The cancer was terminal, and Williams died in 1985. Suddenly orphans, the four children -- three girls and one boy -- were forced to separate because no one could take them all in.
"I think being split up really was the most painful thing for us," Liz Welch said. "Losing both parents is awful but not to have one another to compare those feelings was really hard."
Although the children stayed in touch through phone calls and letters, they rarely got together.
It was especially hard for Diana Welch, who was only 8. Her guardians did not let her see her brother and sisters often. and for five years, she said she longed to be with them.
"I didn't know how to find them. I was only 8," she said.
By 1990, the Welch children reunited and drew from one another's strengths in order to move forward.
"My siblings really were so strong and so there for me," Diana Welch said. "When I moved back in with them when I was 13, I thought, 'Oh, that's better now ... life is good.'"
Today, Dan Welch is engaged, and the three girls are all married and the first Welch grandchild has arrived.
"They got themselves through it," family friend Karen Benson said. "They found their hearts, they found each other and the kids are all right."
Click Here to read an excerpt from the book, "The Kids Are All Right," by Diana, Liz, Amanda and Dan Welch.