Screening for osteoporosis, if used as frequently as current guidelines suggest, may be doing more harm than good, an influential task force said.
The bone disease can be disabling to elderly people, and even threaten their lives after a hip fracture. As many as half of all Americans aged 50 or over will be at risk for osteoporotic fractures during their lifetimes, according to a 2004 Surgeon General's report.
Medications can help and doctors are continually looking for ways to detect the disease earlier.
But when the U.S. Preventive Services Task Force (USPSTF) reviewed 33 studies on osteoporosis screenings, it said it could not find enough evidence to show whether the current screening guidelines are more helpful than hurtful.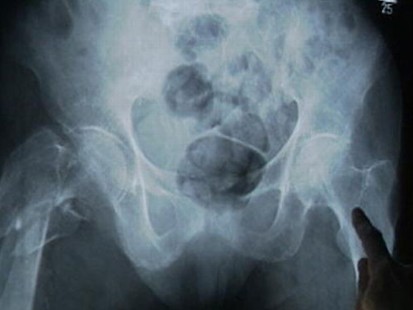 The USPSTF reported Monday that more studies are needed to show if men and postmenopausal women who have no history of fractures should be screened for osteoporosis. In the meantime, the panel now recommends screening all women whose 10-year fracture risk is equal to or greater than that of a 65-year-old woman who has no additional risk factors.
"The message to consumers may be that it's okay not to get every test every time every year, but it is important to take the test at the right recommended time," said Dr. Heidi Nelson, lead author of the review and a researcher at the Oregon Health and Science University in Portland, Ore.
Nelson said the task force had tried to find more information on men and osteoporosis screening, but "we're still quite limited in that area."
According to the Mayo Clinic, fractures from osteoporosis are almost twice as common in women as they are in men.
Last November, USPSTF sparked a debate about screening when it recommended against routine mammograms for women in their 40s who aren't at increased risk for breast cancer.
Questioning the Benefits of Extra Osteoporosis Screening
While there were plenty of studies to examine for the basis of those recommendations, some doctors say they aren't impressed by the evidence in the UPSTF review for osteoporosis screenings.
"The authors excluded treatment trials where more than 20 percent of study participants had a spine fracture on x-ray in an effort to limit their data to primary osteoporosis prevention," said Dr. Deborah Sellmeyer of the Johns Hopkins Metabolic Bone Center in Baltimore.
"However, exclusion of these studies resulted in exclusion of many of the major osteoporosis treatment trials, greatly limiting the data available on effectiveness of treatments," she said.
Dr. Ethel Siris, a professor of Clinical Medicine at New York Presbyterian Hospital in New York City, was also skepitcal of the review's conclusions.
"What they're saying is nobody's done a 30 year-long study in people in their 60s and older, comparing those who take bone density tests versus not taking the test to find if those who took the test would have better outcomes."
"The best thing about this paper is the folks at the National Institutes of Health would read this and commit money to do long-term studies on the outcome value of taking this test," said Siris.
But Siris said she doesn't think the review will drastically change the way doctors treat people at risk for osteoporosis.
"As a physician who knows this disease, if the harm [of testing] is the anxiety, then we can calm them down. But right now, it's cost-effective to screen, because the test is relatively cheap," she said.