In the small town of Scobey, Mont., registered nurse Lois Leibrand remains optimistic that the elderly population in her community will have little to fear from the cutbacks many in-home care centers are undergoing in the face of rising gas prices.
A combination of rising costs, particularly for fuel, and declining compensation from Medicare has forced some care centers across the country to cut back on staff and services and others to close their doors completely. And the prospects for staffing and funding in-home care amid the rising expenses could become even more difficult as baby boomers begin entering old age.
Leibrand says her care center, attached to Daniels Memorial Hospital, will persevere as it has in the past.
"We were very fortunate that we keep ours open, just to serve this community, even though we had to cut almost all of our staff," she said. "It's such an elderly population here, and it's such a service that is needed, that I know our facility would do its very best not to close."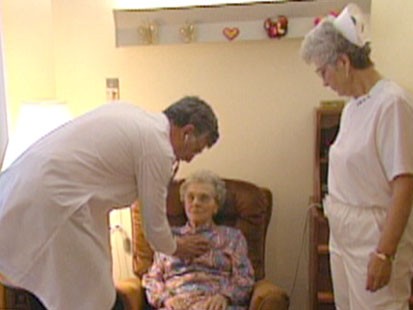 Leibrand said reductions in Medicare in 1988 led her office to be cut back to a staff of two — herself and an in-home aide — who perform all the administrative work in addition to their house calls.
She said that many patients' homes are at least 20 miles away. And some require multiple visits per week, for an average of two months.
"Home care agencies in rural areas are being pushed to the brink," said Val Halamandaris, president of the National Association for Home Care and Hospice (NAHC). "We've been entrusted with the care of these people for whom there is no other way to care for them."
The NAHC released a paper at the end of June estimating that home care nurses traveled 4.8 billion miles in 2006 to be with patients, an amount they say is more than double the 2 billion miles driven by UPS drivers to make deliveries.
They are currently pushing a measure before Congress that calls for a 5 percent increase in the amount rural health care providers are compensated for driving.
That measure is part of the Preserving Access to Medicare Act of 2008 currently before the Senate. The Congressional Budget Office projects that the measure will cost $200 million during the next fiscal year.
But while the legislature sorts that out, many other health care providers share Leibrand's optimism despite the combination of rising costs and declining Medicare compensation
"We're struggling, just like everyone else," said Louise Cleary, a spokesperson for The Hospice of The Florida Suncoast. But she maintained that her organization, which serves roughly 2,500 patients per day in Pinellas County, Fla., has not had to cut services, despite financial setbacks.
Gas Prices Hit Home Care in Many Ways
Cleary said Florida Suncoast has brought people in to speak with staff members about maintaining cars and other ways to maximize gas mileage and has also promoted carpooling and better planning for patient visits.
The drop-off, she said, has come in volunteer time.
"[We're] beginning to see a decline in hours because they can't keep up with the mileage costs," said Cleary. "Even though they do reimburse, it just becomes costly."
The other problem has come when family members cannot afford to come in to town to say goodbye to their loved ones, she said. They have used quality of life funds in order to facilitate those final visits.
Future Consequences
With fuel prices unlikely to return to previous levels in the foreseeable future, some health care organizations are already looking at the possible long-term effects.
"Since there's already a nursing shortage, which is very serious, it's going to make it even harder to do some distance traveling for home care," said Lauren R. MacArthur, a registered nurse in Waterbury, Conn., who does some in-home care. "You're not only taking care of the patient, you're taking care of the family at the same time."
MacArthur is currently taking some time off to watch her grandchildren and alleviate fuel costs for her children.
"I'm relieving a cost that can now go into the gas tank," she said.
But MacArthur sees some benefit in the rising fuel costs. "This just might force peoples of all nations to conserve, which, in turn, will reduce pollution and other harmful practices," she said. But she worries about some of the short-term consequences.
Steven Lieberman, the president of Lieberman Consulting and formerly the assistant director for health and human resources at the CBO, said there are a number of possible solutions to the problem, but they will likely mean a drop in services or a rise in costs.
Home care services could have less-trained people provide the services that currently come from nurses, he said. But money will have to come from somewhere in order to continue the services currently available.
"Generally, providers aren't going to deliver services if their costs systematically exceed their revenues."
And that source of extra money will have to be taxes.
"Primarily, working Americans would pay more," he said.
While having homebound patients live in communal housing might alleviate the transportation problem, Lieberman doesn't see that happening.
"Historically, Medicare has taken the view that Medicare rates should generally be adequate to provide access to services throughout the country."
Based on her area, and the independence of people in her community, Leibrand agrees.
"The population we have here would never go to an alternative site," she said.
End in Sight?
With no long-term solutions imminent, some see the problem getting worse in the near future.
"How do we manage that group of people with fewer and fewer nurses and the economic challenges that we have?" said Halamandaris.
He sees some of the problems being alleviated by personal responsibility.
"Seniors who are well-bodied need to get busy and care for their colleagues that are less well-off," he said.
But he doesn't think that will be enough to counter the aging of the baby boomers.
"We haven't seen the problem at all, but it's going to hit like a tidal wave … all you have to do is play out the demographics."
He also sees the Boomers having a higher disability rate, and therefore needing more services.
"Baby Boomers worked hard to stay young forever; all that activity has a lot of good points, but it also puts a lot of stress on the body."
For more information, visit the National Association for Home Care and Hospice at www.nahc.org