Agony of de feet? Blame it on de shoes.
That's the result of a large population-based study of foot pain and shoe style, according to Alyssa Dufour of the Institute for Aging Research, Hebrew SeniorLife in Boston, and colleagues.
But the finding applies only to women and only to one type of foot pain, Dufour and colleagues said in the October issue of Arthritis Care & Research.
Women who wore "good" shoes were 67 percent less likely to develop hindfoot pain -- in other words, pain in the heel area of the foot -- than those who wore "average" shoes, they found.
Although earlier studies have looked at the influence of footwear on foot problems, most have been small or have focused on people with specific conditions, the researchers said.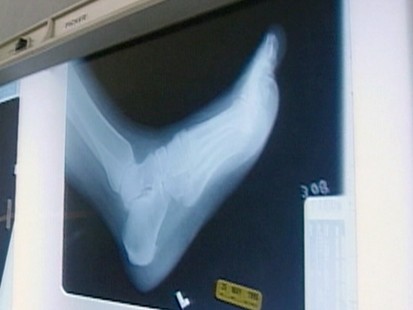 At the same time, foot pain is a relatively common complaint, but little is known about its prevalence or cause, they said.
To help fill the gap, the researchers turned to participants in the long-running Framingham Study, both the original cohort and the cohort formed of offspring of original volunteers.
They also recruited a new group of study subjects from the same town in order to broaden the demographic make-up of the study group, dubbed the Framingham Foot Study.
All told, the researchers analyzed data on 1,472 men and 1,900 women who had had complete foot examinations as part of the study. On average, they were 66 years old and 56 percent of them were women.
Of those participants, 25 percent reported generalized foot pain on most days -- including 19 percent of the men and 29 percent of women.
Participants were asked about pain in specific parts of the feet -- the nails, forefoot, hindfoot, heel, arch, and ball of the foot.
They were also asked what sort of shoes they wore currently and most often during five stages of their life -- ages 20 through 29, 30 through 44, 45 through 64, 65 through 74, and 75 and older.
Shoe types were then classified as good, average, or poor, depending on their support and other characteristics. Good shoes included athletic shoes or sneakers; poor shoes included pumps and sandals.
High-Heeled Shoes Linked to Foot Pain
Average shoes, which were used as a reference group, included such things as work boots and rubber- or hard-soled leather shoes.
The researchers found that most men wore good or average shoes -- 41.6 percent and 56.8 percent, respectively -- and only 1.6 percent reported habitually wearing poor shoes.
On the other hand, 13.3 percent of women reported wearing poor shoes; 41.3 percent said they wore good shoes and 45.4 percent average shoes.
Analysis showed that there was no association between generalized foot pain and any shoe type compared with average shoes, the researchers said. That finding was true for both men and women.
However, after adjusting for age and weight, women who habitually wore good shoes were less likely to have hindfoot pain, compared with those who wore average shoes.
But there was no significant difference between women who wore poor shoes and those who preferred average shoes, the researchers found.
The researchers said one of the limitations of the study was that it primarily included whites, which may make it hard to generalize to other groups. Plus, they said, the design of the study makes it hard to determine causal relationships.