Parents who take their sick kids to the pharmacy expecting to get the child-friendly liquid version of the antiviral drug Tamiflu may be surprised to discover that their pharmacist is fresh out.
With the government having disbursed the last 234,000 courses of liquid Tamiflu from its strategic national stockpile last week, pharmacists across the country now find themselves staring down the barrel of a shortage of the version of the drug that they often prescribe to children who have difficulty swallowing pills.
"It's a real challenge nowadays," said Ron Keech, pharmacist at Village Green Apothecary in Bethesda, Md. "My understanding is that we can get about one bottle a month from the local wholesaler. [They're] kind of rationing it out so that at least some places have it, but it's enough for maybe one prescription."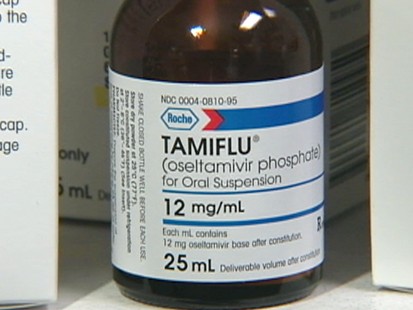 Dr. Anne Schuchat, director of the National Center for Immunization and Respiratory Diseases for the U.S. Centers for Disease Control and Prevention, said Tuesday that options to get Tamiflu to the kids that need it still exist.
"There are capsules for children that are available in good supply," she said. "In addition, there's a way that pharmacies can convert capsules that adults get into liquid form for children, called compounding, and that's another way that we can expand availability."
Specifically, on Oct. 31 the U.S. Food and Drug Administration issued a reminder on its guidance to pharmacies on "emergency compounding" of liquid Tamiflu, which instructs them on how to use Tamiflu pills to mix their own batches of liquid Tamiflu. Schuchat added that the CDC is also helping parents make their own liquid form of the drug by letting them "know how to use the pediatric capsule and mix it up with chocolate syrup or some other kind of syrup at home."
Keech said that in his 32 years as a pharmacist, this is the first time he has seen the FDA and the CDC issue such notices urging compounding because of a shortage of a commercially made drug. Michael Olzinski, director of Pharmacy Services at the University of Connecticut in Storrs, is just one of the pharmacists who has resorted to this approach.
"We can't get any pediatric Tamiflu from our wholesalers right now," he said. "We have compounded some from the capsules, but would prefer not to."
Dan Karant, a pharmacist at the Medicine Shoppe Pharmacy in Norton, Ohio, related a similar experience.
"Most pharmacies are having great difficulty ordering Tamiflu in suspension form," he said. He added that even though he had some of the liquid form left, he is already planning to mix his own supply when that runs out.
Time for Government to Step In?
Roche, the company that makes Tamiflu, insists that even though the government's supplies of liquid Tamiflu are now exhausted, there is enough of the antiviral to go around. Roche spokesman Terence Hurley said that the overall supply of Tamiflu is "robust throughout the U.S." He added that the company is pressing forward with production of all formulations of Tamiflu, and that there is no shortage yet of Tamiflu in its capsule form.
And in a statement issued Tuesday, Roche announced that they are currently shipping new supplies of lower dose capsules, which can be given to children who are old enough to swallow capsules. The statement said that new supplies of liquid Tamiflu are expected to reach pharmacies next month.
But Dr. Aaron Kesselheim, a physician with Brigham and Women's Hospital in Boston and an attorney, said that if the government deems the shortage of the drug to constitute an emergency situation, it can take steps to increase the supply.
"If the manufacturer is unable to produce amounts of drug necessary to meet the government needs, the government can use a principle called eminent domain, to step in on the patent and assume control of the intellectual property, and then can use that power to then develop its own supply."
In short, Kesselheim said, the government could suspend the patent, making it possible for another manufacturer to make the drug – at least until the crisis has passed.
But, he noted, even this would take time.
"You are looking at a minimum of a number of months of time, and possibly longer than that," Kesselheim said.
Meanwhile, the number of pediatric H1N1 deaths continues to rise. In the week ending Oct. 30, the CDC reported 19 new confirmed deaths, the largest one-week pediatric death toll since the outbreak began last spring. The deaths brought to 114 the total number of laboratory-confirmed cases of pediatric death from the virus.
No Government Intervention on Tamiflu Shortages Yet
Still, health officials have yet to suggest that the government will step in. And not all pharmacists are reporting difficulties in getting their hands on enough Tamiflu, whether it be in liquid or pill form.
Keech said that despite the shortages in his area, he is still able to make do with compounding – although he noted that lately, even the two types of suspension liquid that the FDA recommends to make liquid Tamiflu out of the pills has been in short supply.
"We can't get either of those through the wholesalers," he said.
Editor's note: The original version of this story incorrectly identified the FDA's update on the emergency compounding by pharmacists of liquid Tamiflu as an emergency use authorization, or EUA. ABC News regrets the error. The above version of this story has also been modified to make clear that while the government stockpile of liquid Tamiflu has been exhausted, some pharmacists still have access to supplies of Tamiflu in its liquid form.
Susan Schwartz, Brian Hartman and Tilesha Brown contributed to this report.