Hospitals today began to receive the first doses of a vaccine designed to ward off a potential H1N1 flu pandemic -- this, after months of anticipation and debate over who would be the first to be vaccinated.
Le Bonheur Hospital in Memphis and Wishard Health Services in Indiana were among the very first hospitals in the nation to receive vaccines on Monday, vaccinating about 150 and 100 staffers respectively.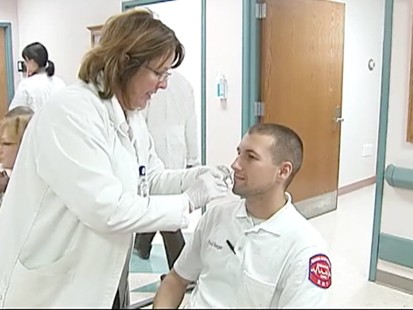 And though rollout was limited to healthcare workers, both said that so far, at least, the deployment of immunizations has gone smoothly. Hospitals in Nebraska, Missouri, Minnesota and Chicago also reported receiving their first
batches
.
"This has been a shining example of no delay," said Susan Cooper, Commissioner of the Tennessee Department of Health, after Le Bonheur's shipment arrived. "The vaccine has come out, it's come out a little bit earlier than expected, it hit the ground and we were able to very quickly start the immunization process, and that's something I think that we should be very proud of."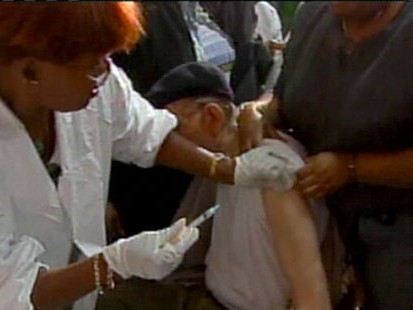 While she was not certain why Le Bonheur got the H1N1 vaccination early, Cooper said she suspected it was because the Memphis area has been particularly
hard hit
. More than 6,000 cases have been reported there, and more than 100 children have been hospitalized, so people in the region are more likely to seek the vaccine.
"It would make good sense, since Le Bonheur is the premier pediatric hospital in that area, it would make sense to make sure their workforce is protected," she said.
For Wishard, based in Indianapolis, it may have been a matter of good homework.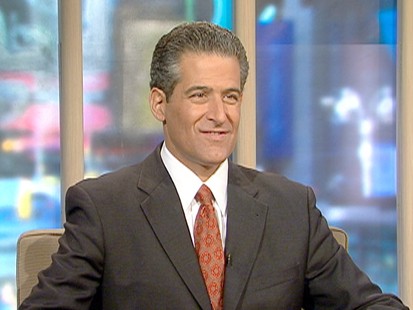 "Indiana was one of the first states selected because they were one of the first states that had their paperwork in very quickly," said Collette Duvalle, director of communications for the health department in Marion County, which includes Indianapolis.
Hospitals have begun immunizations for health care workers, following the recommendations made for swine flu, but Cooper said that since the first vaccines are available in the nasal mist form, giving it to health care workers is the only proper way to go.
"What we know is this nasal mist that's been distributed cannot be given to pregnant women, or children or adults with chronic disease," she said. Those are groups that public-health officials say should also be high on the priority list for vaccination.
"Healthcare workers certainly need to be at the front of the line, because if any Tennessean gets sick with H1N1 or has a heart attack or has any condition [that requires medical attention], we want to make sure that the healthcare workforce is sufficient to take care of their needs."
Jockeying For Position
Both Wishard and Le Bonheur hospitals said that so far people have been understanding of the priority given to health care workers for the vaccine.
"My sense is people understand that healthcare professionals will be the ones taking care of people, so it's important for them to be immunized," said Michelle O'Keefe, director of public affairs for Wishard. "We want our employees to be here and be well, and I get the sense that people understand that."
Hospital officials said they could not predict what might happen as vaccines become available to members of the general public.
Sara Burnett, a spokeswoman for Le Bonheur, said that while hospital workers have begun to receive vaccine, they have also received inquiries from people who cannot yet get vaccinated but want to receive it.
"We've had questions about when is it available," she said. "We've referred those back to the Tennessee Department of Health."
And some primary care doctors, responding to an ABC News inquiry, said they have not yet received the vaccine, but they have gotten plenty of inquiries.
"I'm getting pounded," said Dr. Randy Wexler, assistant professor of clinical family medicine at Ohio State University Medical Center. "People want to know when they can get it, and they want to be placed at the top' of the waiting list."
A similar rush is taking place in Washington, D.C.
"Yes, patients are asking when the H1N1 flu vaccine will be available," said Geeta Nayyar, an assistant clinical professor of medicine at George Washington University. "So much so, that they are trying to coordinate their office visits with when the vaccine is available, so they can make one office visit."
But while many people may be asking for vaccinations now, Tennessee's Cooper said she has chosen to look on the bright side.
"This is just the beginning," she said. "So again, we will continue to see vaccine being delivered to our state and hopefully within a very few weeks there will be enough vaccine for any Tennessean who wants it to get it."
Doctors nationwide are hoping the same thing.