— -- Hugging took center stage at Emory University Hospital today as officials announced that American Ebola patient Dr. Kent Brantly would be discharged after spending three weeks in the isolation ward.
Far from fearing that they would catch the deadly virus, dozens of hospital staff members wrapped their arms around Brantly and held onto him for several seconds before letting him move on to the next person. And that's exactly what experts say was needed to remind Americans that Ebola survivors are no threat to the general public.
"There was not a tentative hug in the group. They all went cheek-to-cheek," said Dr. William Schaffner, chair of preventive medicine at Vanderbilt University Medical Center in Nashville, Tennessee. "It was exactly the right thing to do. It was wonderful."
How Ebola Survivors Have Fought the Stigma
Ebola Patient Dr. Kent Brantley Released from Emory Hospital
Dr. Richard Besser, ABC News chief health and medical editor, agreed.
"The image of Dr. Kent Brantly hugging the medical staff will do much more than words in dispelling fear of contagion in the community," Besser said.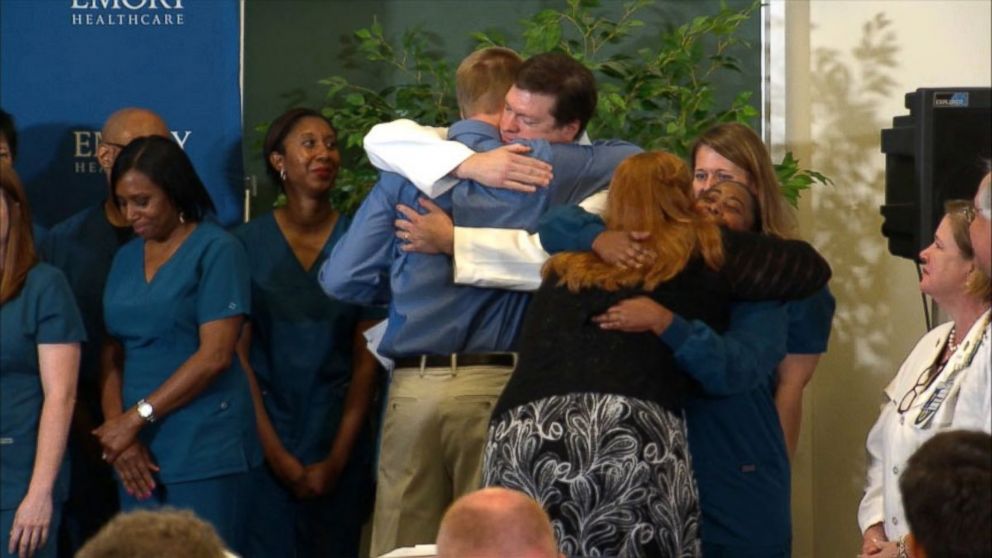 Brantly was among two American aid workers who caught Ebola while working in Liberia. He and missionary Nancy Writebol were given doses of an experimental Ebola drug and flown to Emory earlier this month for supportive care.
Writebol was released on Tuesday. Brantly was discharged today.
"I will not forget you and all that you have done for me," Brantly said, turning behind him to look at a gaggle of medical staff members in scrubs and white coats.
Though more than half of the 2,473 people who've become ill with Ebola in West Africa since March have died, those that have survived have been shunned and feared.
But Schaffner said those who have recovered from the virus are not contagious. Though Ebola virus lingers in semen and vaginal fluid for a few extra weeks, survivors are not a threat to the general public.
Still, it may take more than words to convince the public of this, he said.
"I'm reminded of Princess Diana hugging HIV-infected children," Schaffner told ABC News. "That's what you need. You need other validating people to grasp Kent Brantly by the hand, say, 'Welcome home,' and then put their arms around him."
And that's just what they did.
When asked about the hugs during the press conference after Brantly left, Dr. Bruce Ribner, who oversees Emory's isolation unit, told reporters, "If the hugging translates that we don't think it's contagious, that's accurate."