— -- Dr. Jeanelle Folbrecht, a psychologist at City of Hope National Medical Center near Los Angeles, first met the boy she now calls her son, Dominick, two years ago when he was, at age 13, battling leukemia for a second time.
"He was in the hospital. He had relapsed leukemia," Folbrecht told ABC News. "He didn't have a family to care for him."
Folbrecht was asked to provide counseling for Dominick at that 2014 meeting at City of Hope, but realized he needed something more.
"I thought, 'Wow, this kid doesn't really need a psychologist. He needs somebody to care for him,'" Folbrecht recalled. "He needs a mom."
Folbrecht and her husband, Eric Folbrecht, decided to welcome Dominick into their family, which already included two sons. They became guardians of Dominick, who was first diagnosed with acute lymphoblastic leukemia in 2010 when he was just 9 years old. He was treated and went into remission before the cancer returned in 2014.
Dominick was able to find a life-saving bone marrow donor -- Vanessa Brobbery of Toronto -- through the Be The Match marrow registry.
His new family, which includes brothers Kyle and Kevin, cared for Dominick every step of the way through the transplant and recovery process.
"The donor gave me a bone marrow transplant, the family gave me lots of love," Dominick said. "It makes me feel good a lot since they were there for me when I went through this."
"[It's] just a great joy inside having another brother that can play," said Kevin, who will turn 14 later this month. "Someone that helps you through the hard times … and then someone that helps him through the hard times as well."
The family is in the process of adopting 15-year-old Dominick, who is now leukemia-free.
"I'm so glad that Dominick is in our family," said Folbrecht.
"It's been a wonderful experience to learn and to accept somebody into your family and learn from them as well," said her husband, Eric.
The Folbrechts' story drew the attention of The Walt Disney Co., which sent the family on a dream Adventures by Disney trip to the western U.S. "Good Morning America" co-anchor Robin Roberts, who received a life-saving bone marrow transplant herself, surprised them with the news.
"Thank you for bringing attention to bone marrow transplants. The story of your family's special gift of adopting Dominick has touched all of us at 'GMA,'" Roberts said in the taped message. "So we have a surprise for you. Are you ready? We are sending you on vacation, an Adventures by Disney! Enjoy!"
The family began their vacation in historic Jackson Hole, Wyoming, and continued on to stops in national parks, including Yellowstone.
"The Tetons was just beautiful. The falls in Yellowstone were amazing, the hikes they took us on," Eric said. "This is going to be a trip I always remember."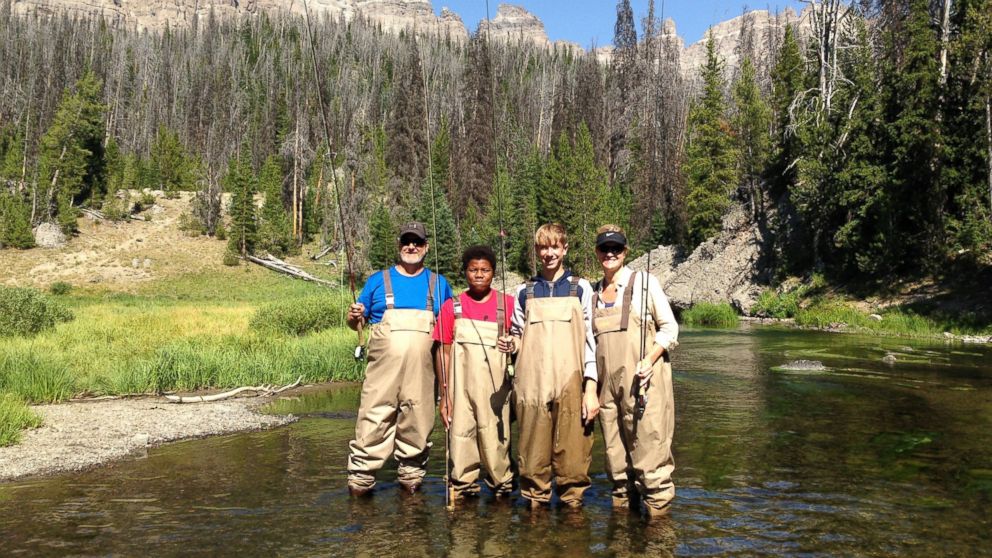 The family also enjoyed a stay at a private dude ranch, Brooks Lake Lodge, in Dubois, Wyoming, arranged by Adventures by Disney, which provides guided group vacations in over 30 destinations on six continents.
Eric added, "I'm thankful for Adventures by Disney because we're able to experience a vacation with Dominick and start making memories where Dominick is now included in our family."
After their experience helping Dominick fight his health battle, the family was glad to be able to enjoy a trip together.
"Something that's been cool about this trip is that we didn't plan it, we haven't had to take care of things, all we had to do was pack our bags," said Folbrecht.
The Walt Disney Co. is the parent company of ABC News.