On a spring day in March 2009, 29-year-old Ron Haynes' life would change forever.
Flying back to New Hampshire from a wedding in Michigan he experienced a complete black out while in his seat. His four-year-old son Benjamin was sitting next to him. The next thing Haynes would remember was waking up in a hospital in Cleveland not knowing where he was or how he got there.
"They had to pull me off of the plane and I woke up four days later," he said. "They asked me what year it was and I said 2008. I could barely remember going to the wedding at that point. It took a month for me to remember everything."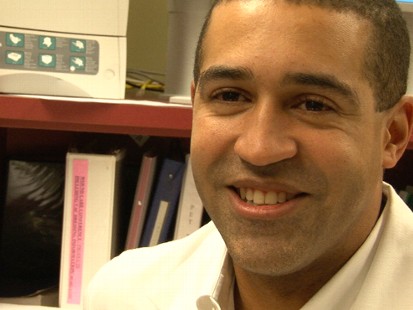 While Haynes was recuperating, his parents flew in from Grand Rapids, Mich. to take care of young Benjamin.
On the plane, Haynes had a hyponatremic seizure, which can be caused by a mixture of excess water and low amounts of sodium in the blood. Five months prior to the airplane seizure, Haynes had been receiving treatment for low sodium levels. The causes, however, had remained unclear.
Watch "Boston Med" Thursdays at 10 p.m. ET
Searching for an answer, Haynes returned to Nashua, N.H., where he lived and worked as a calibration technician. An exam by an ear, nose and throat specialist revealed a polyp -- an abnormal growth of tissue -- in his nose.
Two weeks later at the Massachusetts Eye and Ear Infirmary, Dr. Derrick Lin performed a surgical biopsy on Haynes's nose. The biopsy revealed he had a very rare and malignant form of cancer in his olfactory cells called esthesioneuroblastoma.
Esthesioneuroblastoma affects nearly 4 out of 10 million individuals and accounts for about 5 percent of all sinonasal tumors. Researchers believe the cancer takes hold in the cells that line the nasal cavities and surfaces that govern our sense of smell. If left untreated, it can cause loss of sight and taste and can be fatal. The only treatment for this highly malignant cancer is surgery followed with radiation and chemotherapy.
With no history of cancer in his family and in great physical shape, Haynes was stunned to learn the news.
"I was eating very healthy, had quit smoking, very rarely drank. Worked out 4 days a week, ran 13 miles every week, then all of a sudden I get cancer, so it was kind of strange." Haynes said.
Treating Rare Nasal Cavity Cancer
Dr. William Curry, a neurosurgeon specializing in the treatment of malignant brain tumors at Massachusetts General Hospital performed Haynes's surgery.
"Even though the cancer's in your sinuses, it grows up into your brain. It happens to be the type of tumor that if we can get all the cancer cells out, and follow with radiation, as a standard, a lot of these cases we can cure," Curry said.
According to Curry, the best prognosis in the surgical treatment of esthesioneuroblastoma, is aggressively treating the tumor by making sure you've removed all of it.
If not removed properly, "this tumor can track back along those areas and return." Curry said.
Working closely with a team of ear, nose and throat surgeons, Curry's surgical plan for Haynes was a "craniofacial resection." During surgery, Curry would need to entirely take apart Haynes's head and face, remove the tumor, and then put his face back together.
"It's amazing, if the patients ever saw a picture of themselves during this operation or what this operation looks like, I think they'd be horrified. I can't even imagine what it would be like. And I'm a surgeon." Curry said.
Dr. Fred Barker, associate professor of Neurosurgery at Mass General for 15 years, who trained Dr. Curry as a resident in the program and mentored him later as an attending physician, has performed more than 50 surgical procedures to treat esthesioneuroblastoma.
The causes of this cancer continue to remain a mystery.
"Esthesioneuroblastoma is the kind of tumor that's very rare and thus makes it difficult to research. Aside from a few cases like lung cancer, where there is correlation to smoking, the causes can't be determined, like most cancers in individual people -- why one person gets it and not another. Those reasons, I think are still unknown." Barker said.
But because of the tumor's location in the nasal cavity, the prognosis for many patients is hopeful if doctors can reach them in time.
"For many cases, doctors believe that it's usually possible to remove the tumor without damaging the brain because the part of brain it affects is often amenable to safe removal or it may not invade the brain at all. The key to success is to re-establish a durable barrier between the brain and the nose, like the normal anatomy, that can withstand the rigors of normal life and any other future post treatment such as radiation." Barker added.
In Sickness, Love Life Takes Unexpected Turn
During the initial stages of his diagnosis, Haynes's personal life also took an unexpected turn. A divorced, single dad raising a young son, Haynes had been casually dating for two months a woman named Alison whom he met online. Sharing a love of sports and the outdoors, they felt an immediate connection.
"Haynes's an amazing person. What drew me to him was his smile, his laugh, his personality; we have a lot in common. Alison said.
Alison had planned to move to Texas to be closer to her family, but a week after Haynes was diagnosed with cancer, she canceled her trip to be by his side, because she told Haynes she couldn't imagine life without him.
"She's awesome, she stuck around through all the drama of a guy with a kid, an ex-wife and cancer. That's a lot of baggage. We get along very well." Haynes said.
Despite the intimidating diagnosis, Haynes remained optimistic that he would emerge from his treatment and surgery with the cancer in remission.
"Going into the hospital with a seizure on an airplane, I thought I should have died way before then, but I made it through that ordeal. When they told me esthesioneuroblastoma is actually more treatable, it was definitely a relief. At that point, even though I was not looking forward to the next couple of months, I knew I was going to make it." Haynes said.
Dad's Life Back on Track
Today, over a year after his surgery, Haynes' health has steadily improved and he says he feels better than ever and very fortunate to be able to get back to his life.
But his lengthy chemotherapy and radiation treatments were some of the most difficult pieces of his healing process. During radiation he was unable to eat solid food for many months and he had to deal with a staph infection that erupted from exposure to radiation during his treatments.
"Although the staph infection made me look like I had been hit in the face with a brick, thankfully, that was the end of my treatment." Haynes said.
The one permanent result of the surgery -- losing his sense of smell, hasn't changed Haynes's outlook on the future.
"It's not as bad as you would think, sometimes, I think I smell things. But there are probably more smells I don't miss than ones that I do," he said. "I really do have to pay attention when I am cooking though; I have burned a few things."
He's back at work and doing what he loves most -- spending time with Alison and his son Benjamin. In April 2010, Haynes and Alison tied the knot in a ceremony in Alison's hometown in Iowa. For the future, Haynes says he hopes to stay healthy for his family.
"I really got to see how special Alison is, she was there for me every minute she could be, and she really made everything better. I want to have a long and happy life with her." Haynes said.