— -- Alosha O'Brien was born perfectly healthy, but after living through the 1986 Chernobyl nuclear disaster when he was nearly 2, his body didn't grow properly, and he developed disabilities.
Now 30 and living in the United States since leaving Russia, O'Brien mostly gets around with the help of crutches or a wheel chair. He never could have guessed that he would be preparing for his second Boston Marathon, where he'll be pushed in a specially designed wheelchair by Craig Welton, the Massachusetts director of Best Buddies International, a nonprofit working to give opportunities to people with disabilities.
"Your dreams can be true," O'Brien told ABC News. "You have to believe instead of always thinking negatively. There are people around the world, so many, that are nice."
O'Brien's chair was specially designed for him by Team Hoyt, the father-son team that became a fixture at the Boston Marathon after running it more than 30 times, including last year. Dick Hoyt pushed his son Rick, who has cerebral palsy, for the first time in 1977.
To O'Brien, the Hoyts are celebrities, he said.
"They are just inspiring at what they do," O'Brien said, adding that he met them last year. "To me, they're amazing."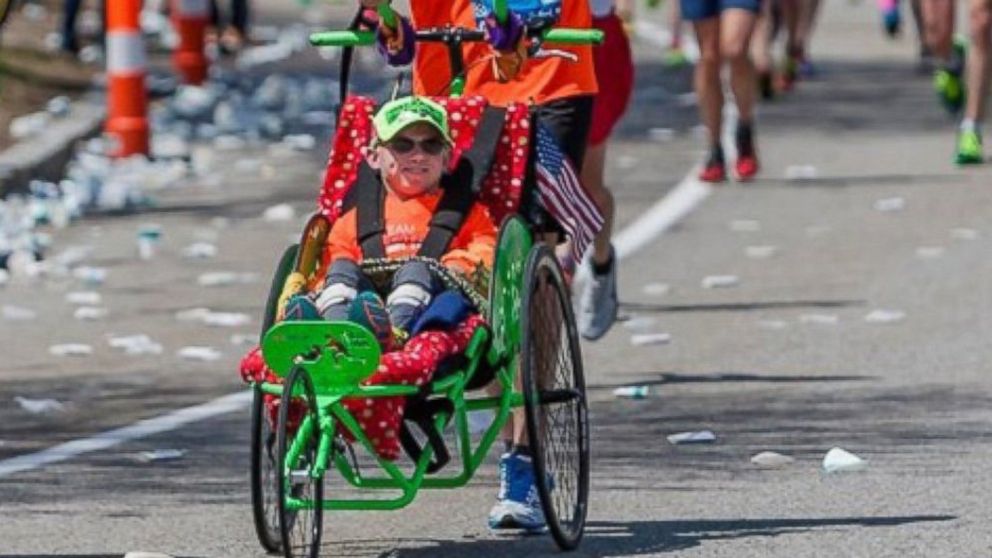 O'Brien, who is often approached by strangers who know his name, has become a celebrity in his own right, but he said Welton is the real hero.
"It's not the easiest to run 26.2 miles, especially pushing a chair," he said. "He's a great guy because... he can make things happen and believes that yes, you can do it. And there's no answer that you can't."
Welton told ABC News the two of them have run three marathons together so far because they needed to qualify for each Boston Marathon. They talk the whole time, and O'Brien plays music from his iPod on speakers attached to the chair. The first time they approached a big hill, Welton said he'll never forget when O'Brien changed the song to "Eye of the Tiger."
"It was hysterical," he said. "Everyone running around us is just laughing. It made it easier for all the other runners."
Welton said the race is a great opportunity for O'Brien to show the world that being different isn't a bad thing. "He's a great example of what people with disabilities are capable of doing if given the opportunity," he said.