Facebook Post Helps Toddler Get Kidney From Parents' Former High School Classmate
Miles Wagner underwent a second organ transplant today.
February 6, 2017, 1:15 PM
— -- A simple Facebook post helped change the life of an Illinois toddler today after it connected him to a woman willing to be a living kidney donor.
Miles Wagner, 2, underwent a successful kidney transplant today after his parents put up a Facebook post asking people to volunteer to be a donor. Elizabeth Wolodkiewicz, a former high school classmate of Miles' parents, saw the post and volunteered.
The organ transplant is the second for Miles in as many years after he was born with genetic case of primary hyperoxaluria, a rare condition that can lead to kidney failure.
"He was 8 weeks old when he had a seizure and we took him to the ER and found out he was in kidney failure," Miles' mother, Ashley Wagner, told ABC News.
Ashley and her husband, Ryan Wagner, were no stranger to serious diseases when Miles was diagnosed. Ryan Wagner was diagnosed with stage 4 colon cancer during his wife's pregnancy and the couple started a Facebook page to update friends and family on his condition. After Miles was born, they started to include updates on him as well and their online following kept growing.
"It started long before we had Miles and ... we had a following for quite a while," Ashley Wagner said of the Facebook page. "It's kind of crazy how much strength we've gotten from their support [online] and they're complete strangers."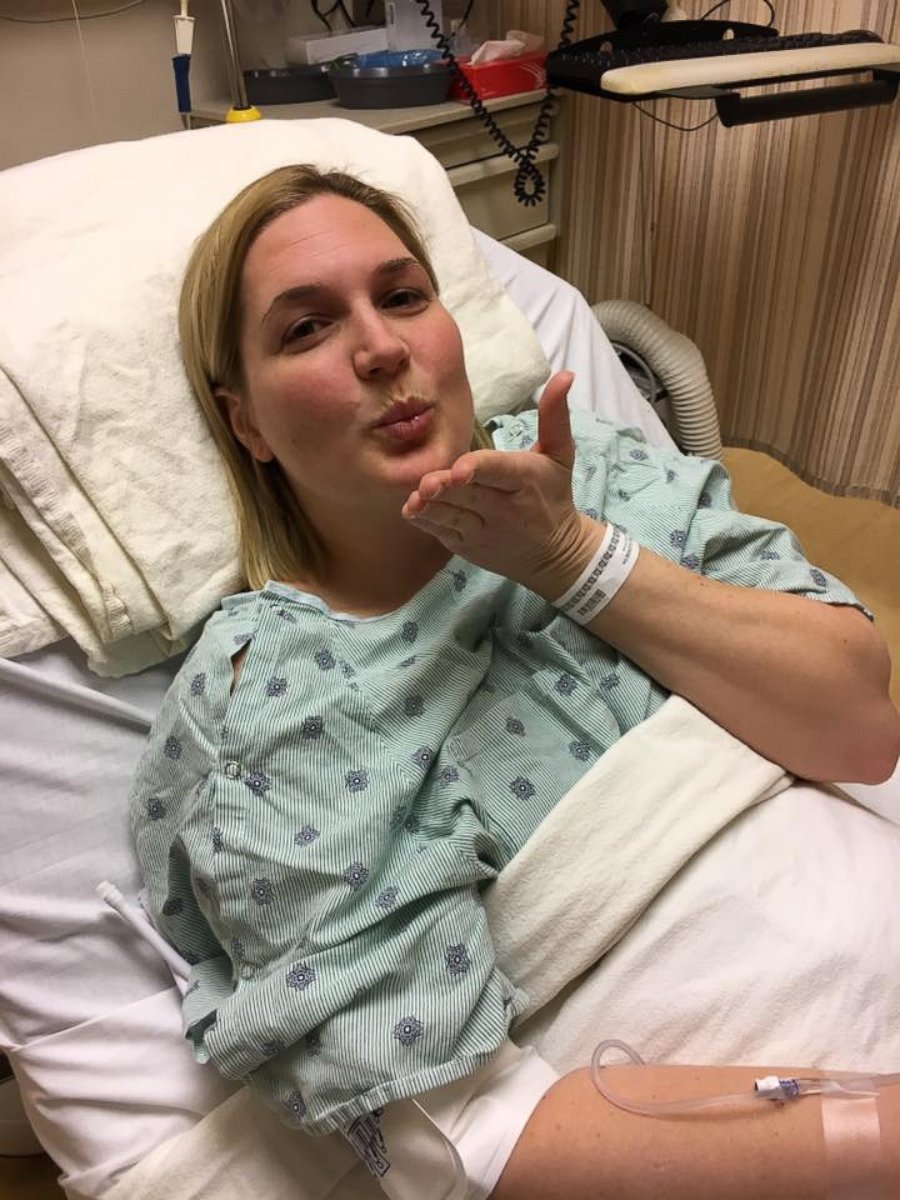 As Miles' condition worsened, his doctors determined he would need both a liver transplant and a kidney transplant. While Miles successfully underwent a liver transplant from a deceased donor in January of last year, he still needed a kidney donor. In search of a donor, the Wagners turned to their online support network.
"I put it out there," Ashley Wagner said. She asked people to volunteer to be a living donor, "if it is on your bucket list to save a life."
One of the people who responded was Elizabeth Wolodkiewicz, a former high school classmate of both Ashley and Ryan Wagner from the same small town of Johnsburg, Illinois.
"She was very adamant and very on top of things," Wagner told ABC News.
It took weeks of tests before doctors determined that Wolodkiewicz was a donor match.
"There were tears of joy and relief and excitement and just thinking about the future," Wagner said of the moment they learned Wolodkiewicz was a match.
Wagner said for her husband, the news that Miles had a donor helped give him some peace of mind about the future.
"He's been fighting [stage 4 cancer] for 3 years and the odds are not in his favor," Wagner said. "It's a relief for all of us but especially him. Whatever happens to him, if he passes away from cancer ... he knows that his legacy will live on through him."
After months of tests and planning, Miles underwent the kidney transplant today at Ann & Robert H. Lurie Children's Hospital of Chicago. Hospital officials said the operation was successful and that Miles and Wolodkiewicz, who underwent surgery at Northwestern Memorial Hospital, are in recovery.
Just days before the surgery, Wagner told ABC News about the activity she was looking forward to going on trips outside of Illinois with Miles and showing him places he's never seen before. Before the surgery, the family could never travel far since Miles had to remain close to the hospital for ongoing dialysis treatment.
"This is the big light at the end of the tunnel," Ashley Wagner told ABC News. "When we started this whole journey, it seemed like the light at the end of the tunnel was never going to be there."