Nine-year-old Miranda Olivera didn't ask for much, but a few little girl touches were obvious at her parents' wedding last week: a pink cake with white bows and a chocolate fountain for dipping strawberries.
Social workers at Seattle Children's Hospital threw the wedding together in a week because Miranda's parents wanted to wed before Miranda's bone marrow transplant today. She was diagnosed with leukemia exactly a year ago, and the bone marrow transplant is her last chance at survival.
"She was the bride's maid, the maid of honor, everything," Miranda's mother, Alejandra, 30, told ABCNews.com. "It was just me and her. That's all you can ask for."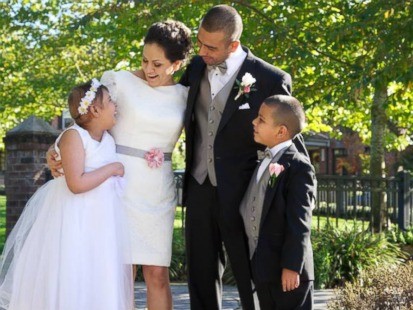 Want the latest leukemia news? Visit our topic page.
Miranda's parents have been together for 10 years and planned to marry in August 2013 after a three-year engagement. But when a high fever that sent Miranda to the emergency room turned out to be cancer last October, they had to put their plans on hold.
Miranda had acute myeloid leukemia that had resulted in severe brain hemorrhages. Doctors had to intubate her so she could breathe, but they did it so quickly that her vocal chords were damaged in the process.
She spent six weeks in a medically induced coma and doctors weren't sure she would ever walk again. Once she was awake, it would be about a month before she was able to whisper "mom."
Miranda defied the odds and was declared in remission in April, so she and her mother went home after six months in the hospital.
But a checkup a few months later would reveal that the cancer wasn't gone.
"As soon as the doctor said she needed to talk to us, we knew what that meant," Alejandra said. "They told us to go home, and there was nothing else we could do."
Instead, Miranda told her parents she wanted to do more chemo. After that, Alejandra offered to donate her bone marrow in the hopes of saving Miranda.
"Any mom would do it," she said.
Doctors aren't confident that the bone marrow transplant will work, so Alejandra and her fiancé, Saul Olivera, 33, decided to get married before the surgery.
Miranda used to tease Alejandra that she was "only his girlfriend," and nagged that her parents should really get married. They wanted Miranda to enjoy their wedding day with them.
Saul and Alejandra thought they would wed at a local courthouse and celebrate with Miranda in the hospital, but a few hospital social workers had other plans.
"Our role as social workers are not clearly defined in a box," said Ashlei Brooks, one of the hospital social workers who planned the wedding and got everything donated within about a week. "They've had a lot of trauma here in the hospital and the last thing we wanted was to have this joining of their lives to commence … here."
The team was able to get Miranda out of the hospital for the day so she could go to the wedding venue in a Seattle suburb called Issaquah.
"The joy on her [Miranda's] face was pretty priceless," Brooks said.
Alejandra had her own way of knowing her sassy daughter loved it:
"She said that I look pretty," Alejandra said with a chuckle. "She never says I look pretty."