— -- Mario Batali has 28 restaurants, 10 cookbooks (with an 11th on the way), a daytime cooking show ("The Chew"), a food emporium in New York City (Eataly), and now plans for a food theme park.
"We're working on a green gastronomic theme park in Bologna, [Italy]," Batali told ABC News' Dan Harris during an interview on his podcast, "10% Happier." "It'll be about food decisions but it will all be interactive. I'm not sure if we're having rides yet but we're trying to figure them out."
The world-renowned chef and restaurateur sat down with Harris to talk about how he got into cooking, what he thinks about veganism, his prediction for the next food trend and how meditation has helped change him for the better.
Watch the full interview in the video player and download the "10% Happier" podcast on iTunes, Google Play Music and TuneIn.
Batali said he started practicing mantra-based Transcendental Meditation (TM) six years ago after having "a couple of dinners" with Jerry Seinfeld and his wife, Jessica, who suggested it. Batali said he now practices twice a day for 20 minutes, and that it's helped calm his temper.
"I just wasn't able to rid myself of little bits of anger about stupid s--- like waiting in line for a long time in traffic and someone not turning, or someone on my team not doing exactly what I told them to do," Batali said. "After about a month of doing TM ... it allowed me to more carefully or more slowly react to something that was offending me, bothering me."
Growing up in a "food-obsessed family" in Washington State, Batali said his first restaurant job was at the Stromboli sandwich place Stuff Yer Face in New Brunswick, New Jersey, while he was in college at Rutgers University. From there, he studied at the Le Cordon Bleu in London and eventually started working in the New York City restaurant scene.
Batali had a near-death experience when a rare cerebral aneurysm ruptured as he was about to open a new restaurant.
"I was at the dishwashing machine at Lupa," Batali said, referring to one of his 10 N.Y.C. restaurants. Then, he said, the voice of the person he was talking to became muffled. He said it felt like "a headache in the back of my neck," and he was taken to the hospital, then rushed into surgery. He said he's lucky to have survived.
"Five out of 10 [people] die immediately," Batali said. "Four of the remaining five have permanent damage ... [I'm] the one out of 10."
Today, he is one of the world's most respected chefs. He even has a trademark outside of the kitchen -- his orange Crocs. He loves the foam clogs so much he became a part-time spokesman for the company.
"I take a lot of heat on the fashion blogs, but none in the comfort blogs," he joked.
In fact, when Crocs told him they were discontinuing his signature color, Batali asked the company to make him a microbatch, which worked out to be 200 orange pairs.
"I quickly did the math, 'I use two and a half pairs a year. Yeah, that's a lifetime supply. I'll take them,'" he said, laughing. "They're hanging in my office across these little strings, and when I need a new pair, I go get them, like for a big fancy event. If I was going to have dinner with [President] Obama, I'd get a new pair out because they're shinier."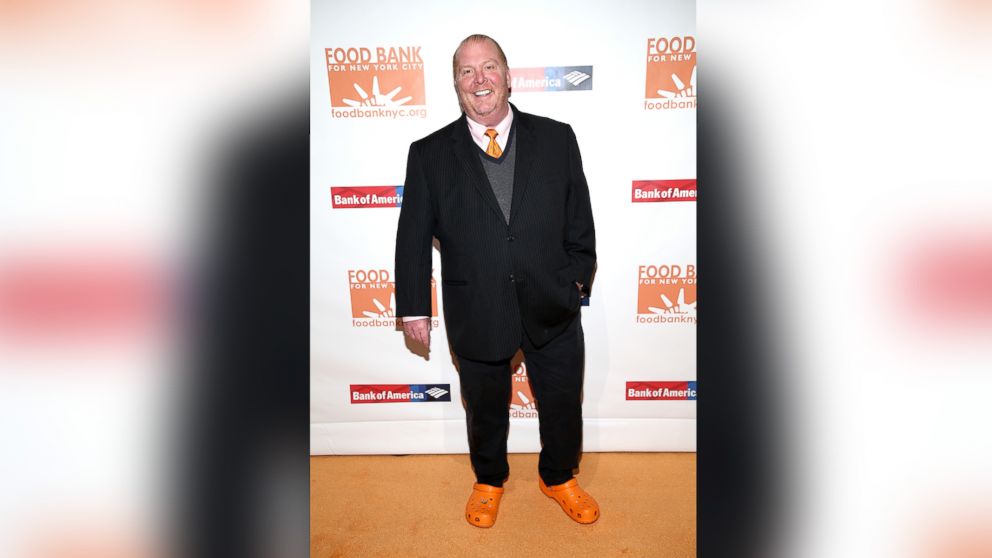 The world of famous restaurateurs and celebrity chefs has become more crowded in recent years, bolstered by daytime cooking shows like "The Chew," but also competitive cooking shows like "Top Chef," and TV series featuring elite chefs crisscrossing the globe as adventurous food tour guides -- not to mention social media. But when asked how much competition or jealousy existed among these chefs, Batali said, there's a difference between the two.
"Jealousy is when someone does something really good and you're just proud of them, but you're also like, 'Man, that's so great. I wish I thought of it first,'" he said. "But you can't possibly think of everything first."
"You know, I'm incredibly jealous of my good friend Tony Bourdain. He got to have lunch with President Obama in Hanoi," Batali continued, referring to the meal celebrity chef Anthony Bourdain shared with the president when they both were visiting Vietnam in May. "So there's jealousy, but it's not like you want to do them bad. Actually, what you really don't want to do is sit here and talk about what they really said."
As for the next big thing in food to go mainstream, Batali thinks the varied cuisines of China and India, focusing on noodles and using the whole animal, will soon grow across the country and already have a strong foothold in N.Y.C.
And for the chef who has made a name for himself in Italian cooking, Batali predicts we will eventually see a dinner plate revolution with vegetables moving "a little toward the center of the plate" as the entrée -- something he already features on his menus.
"I'm omnivorous and proudly so," Batali said. "But I must say, compared to my diet 20 years ago, I'm eating a lot more plant-based stuff then I used to."