— -- Even though patient Garrett Lambert is in an isolation room at Memorial Sloan Kettering Cancer Center in New York City, meaning visitors must don masks and gowns to enter, music therapist Holly Mentzer's harp makes the enclosed room feel like a serene, welcoming space as she and Lambert harmonize.
Lambert says "Don't Let Us Get Sick," written by Warren Zevon, is one of his favorite melodies to sing and strum in the hospital.
"Don't let us get sick. / Don't let us get old. / Don't let us get stupid, all right? / Just make us be brave. / And make us play nice. / Let us be together tonight."
For almost 25 years, Lambert has been a part of the New York City Gay Men's Chorus (NYCGMC) — about 260 singers of various ages, backgrounds and experiences who perform widely and "champion love, equality and acceptance," according to its website. Recently, members of the group raised their voices in honor of the victims of the tragic shooting at a gay nightclub in Orlando.
Ever since Lambert became hospitalized, he has continued to rely deeply on music for strength and support. The music therapists with MSK's integrative medicine service offer individualized and group sessions — as well as art and movement therapy — which aim to ease pain, nourish social connections and bring peace and familiarity to patients in the hospital.
"There have been times when Holly knocks on the door and asks if I'm up for a session and I sort of feel like I'm not, like I don't feel well," Lambert said. "But I usually say yes, and I'm always glad I did in the end, because I'm definitely lifted up by it. I'm taken to another place."
Music and Medicine
MSK is not the only hospital offering music therapy. Music has been used therapeutically with special needs children since the 1940s in the U.S., but in recent years it has "expanded to treat the medically ill, including neonatal care, hospitalized children and adults and palliative care and hospice," according to Barbara Hesser, the director of the music therapy program at New York University.
The field is not necessarily captured by a single description or intervention, but music therapists rely on "clinical and evidence-based use of music interventions" to accomplish "individualized goals within a therapeutic relationship," according to the American Music Therapy Association's (AMTA) website. These therapists must be accredited in through programs that include 1,200 hours of clinical training.
Sometimes, music therapy involves playing a song at a rhythm that matches the human heartbeat to help lull a patient to sleep or help regulate breathing to reduce pain.
"There's a notion in music called entrainment," said MSK's lead music therapist, Karen Popkin. "When we offer a regular pattern, we are able to kind of establish a river of sound or a gentle babbling brook, something that the listener can travel with."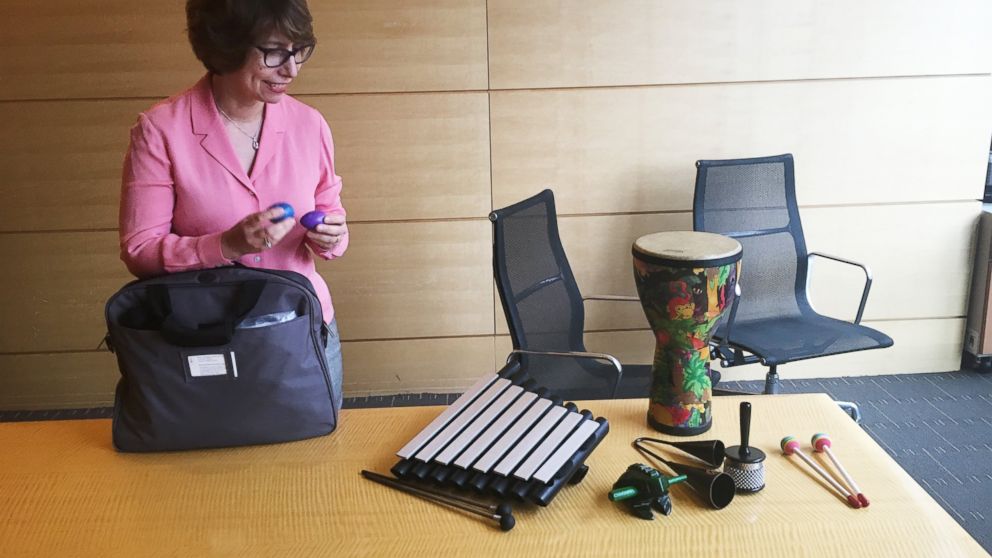 Sometimes it's about improving someone's mood or distracting them from the daily realities of being ill.
Todd O'Connor, the senior creative arts therapy supervisor at the Kravis Children's Hospital at Mount Sinai Hospital in New York City, said music therapy is about "being able to take something familiar like a piece of music and adapt it in the moment to what the conditions of the patient are in terms of their mood, their pain level, their need for sleep."
"It's about how we tailor the music to hold the environment and support the patient in that moment," he said.
Communication and Collaboration
For other patients, the goal is to encourage communication or collaboration — like encouraging children being treated for psychiatric disorders to play music together and express themselves through song.
A 2014 Cochrane Review analysis concluded that music therapy was effective at improving social interaction, as well as nonverbal and verbal communication skills, for children with autism spectrum disorder compared to standard treatment and placebos.
Jonathan Weiss, a creative arts therapist at Mount Sinai St. Luke's, works primarily with child adolescent psychiatric inpatients. Collaborative group music sessions are a major part of his therapeutic approach for children with many different diagnoses, he said.
"I try to provide an environment that almost necessitates collaboration," Weiss said. "If they all are so into the musical creation, that is a kind of microcosm of a world for them where they are achieving success and working together."
He noted that many of these children are grappling with traumatic pasts and that music can help patients process and communicate about trauma in a way that is nonthreatening.
"The musical environment — even if the topic verbally is sad or depressing — when we put it into the song form, it's kind of a celebration of who we are in this moment and what we're a product of and moving past our pasts, in a sense," he said.
Popkin has seen music facilitate communication for adults in more subtle but equally powerful ways. She recalled one hospital-bound patient who engaged in a musical improvisation exercise with her husband. The patient later shared that the improvisation had allowed her to rediscover an "intimacy" with her husband that had been missing.
"She felt that this kind of communication was allowing them to really feel more like a couple," said Popkin, who says she could sense the connection.
Rerouting the Brain
O'Connor said he loves that music therapy balances "psychotherapeutic and psychodynamic knowledge," but noted that the neuroscience component has been "reaching a forte" in recent years, he said.
Dr. Gottfried Schlaug runs a lab at Harvard Medical School that examines the connection between music and the brain. He investigates everything from the neuroscience underlying tone deafness to brain lesions that cause verbal deficiencies.
He mentioned that music therapy can be used to improve function in patients that have lesions resulting from stroke or other disorders. Music therapy famously helped former Arizona Rep. Gabrielle Giffords regain communication abilities after she was shot in the head in an assassination attempt in Arizona.
Because verbal and music centers are in different parts of the brain, singing can help patients "bypass damaged regions of the brain, help them vocalize and help them express their desires and needs," Schlaug said.
Even for less severe cases, Popkin and Mentzer have found that musicmaking has tangible physiological impacts. Music that facilitates regular breathing can enhance blood oxygenation and raise energy levels, while working with others to produce music can release endorphins that improve mood.
The science supports this notion that music can lift your mood. Another Cochrane Review analysis from 2008 concluded that music therapy is associated with improvements in mood for patients with depression, though further studies are needed to make the findings more robust.
Enjoying music can also reduce stress, which can even boost immune function.
"I haven't met anyone who says they didn't feel better after singing," Mentzer said. "It lifts your spirit."
Music is strongly linked to memory. Joanne Loewy, the director of the Louis Armstrong Center for Music and Medicine and an associate professor at the Icahn School of Medicine at Mount Sinai, has been researching what she calls "songs of kin" — music with particular meaning to a patient or family, often across generations.
This music can "spark a memory" or bring back feelings of familiarity and warmth, according to O'Connor.
"Familiarity counts for a lot in the hospital," he said.
'I Have Music'
In a recent NYCGMC show, which they call the "No Talent Show," Lambert submitted a recording of his and Mentzer's rendition of "Don't Let Us Get Sick." The moving performance garnered a standing ovation from the chorus. Before and throughout his illness, Lambert said he has thought of the chorus as a "brotherhood."
He recalled when the NYCGMC started more than 35 years ago, it was "a very big deal that men were standing up and saying, 'I'm gay, and I'm singing,'" he said. He described the impact of the HIV/AIDS epidemic on members of the chorus in its earlier years and how the group would sing the song "Love Lives On" each time a member passed away.
"That just brings us even more together," he said.
No matter where or how it enters one's life, Popkin said she feels strongly that music has a way of touching people in ways they never anticipated.
"Music itself is multimodal," she said. "We experience it in so many different ways. It has ways to get to the parts of us that need it the most."
She hopes to see an expansion of the prevalence and availability of music therapy resources. Mentzer said that the music therapy program at MSK is well supported but that the field needs more advocacy in some regions where it's not available as an option for patients.
Since 1994, music therapy has been identified as a reimbursable service for Medicare patients, according to the AMTA website. Music therapy is covered by Medicaid in a few states, but not most. The AMTA has been working increase coverage by private insurers as well.
O'Connor agreed that more patients should be offered music therapy, noting that for people who are "severely compromised in terms of their health," engaging in a musicmaking process can allow them to "experience themselves as a healthy individual."
Lambert said he has to remind himself to keep coming back to it, even when he is tired and feeling weak — because music always gives him strength.
"There are days when I forget about the music," he said. But then he remembers "I have music — that's what I can do right now."