ALBANY, N.Y. -- After a day of work at WMHT, a local public broadcasting TV station in Albany, N.Y., John Robinson does the things that countless dads do: Sitting at the kitchen table, he asks his children about their days at school and decides with his wife who will pick up 12-year-old daughter, Ariel, from swim practice.
But Robinson's story is unlike any other.
Robinson, 40, was born without elbows, forearms, wrists, hands, knees or thighs. He's currently featured in a PBS documentary called "Get Off Your Knees" and has just published an autobiography of the same name, which describes his remarkable journey toward independence, a family and a career.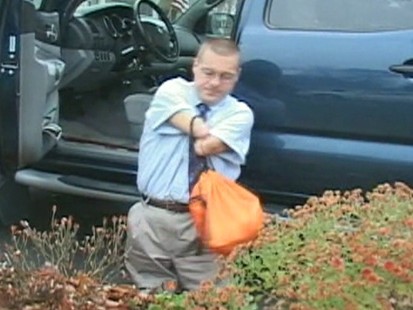 "The last few weeks have been really busy," said Robinson. "But you come to appreciate your time and the things you have."
Robinson has spent the last few months speaking at high schools, colleges and organizations about overcoming life's challenges. "In looking at some of the things that people perceive as obstacles, I have worked very hard to look at those obstacles as opportunities to prove to people that I can achieve what I want in life, and they can, too," he said.
To this day, doctors are not sure why Robinson was born without all his extremities. Doctors initially told his mother that she had been exposed to Rubella, or German measles, during pregnancy, but many others have dismissed that theory. The drug Thalidomide caused abnormalities in babies during the late 1950s and early 1960s but was off the market well before John's birth in 1968.
Robinson subscribes to one doctor's theory that his birth was just "a fluke of nature." His sister was born without any birth abnormalities and his own children are healthy. "It was just meant to be," he said.
Childhood
From an early age, Robinson loved sports. His grandfather would toss him tennis balls for hours until the sun set on their country farm in LaFayette, N.Y. The young boy held a bat between his small arms and swung with authority.
Every year, while his peers were outgrowing sneakers and clothes, John and his father, David Robinson, would make the three-hour drive to East Orange, N.J., where John would be fitted for prosthetic limbs. But John disliked the limbs; they restricted his ability to play sports. By the time he'd completed the seventh grade, he decided to stop using them.
"None of us was sure that it was the right decision," Doug Morris, his uncle, said. "But it was one of the earliest examples of John saying, 'I am who I am. I don't want to be 6 feet tall on stilts.'"
There were other challenges growing up, such as being prohibited from playing Little League or learning to dress and drive.
"I remember seeing John in the bathroom with a tear rolling down his face after they told us they weren't going to let him move up from T-Ball," his father, a retired Episcopal priest, said. "It's one of the only times I ever saw John show he was frustrated with his disability."
In high school, John learned to drive on his grandfather's tractor. Through a lengthy process of trial and error, he learned to use a curtain rod to zipper his pants and a wooden cane to put on socks. With time, he would learn to knot a tie. To this day, dressing himself remains "the greatest accomplishment of my life," John said. "It was the only way I could go to Syracuse."
'Get Off Your Knees'
Robinson's high school graduating class had fewer than 50 students. He had help carrying his books, changing clothes and going to the bathroom. John said his high school was a tight-knit community where "everybody liked each other because we were always together."
Two weeks into his freshman year at Syracuse University, Robinson's roommate moved out, saying he was uncomfortable with John's disability. Robinson struggled at first, but eventually found a group of friends who would last a lifetime.
One night his friends decided to play a prank: They duct-taped Robinson's walking cane to his dorm room ceiling.
"Early on, we forgot about his disability and just treated him as one of the guys," said Dave Allen. "We didn't cut him any slack, and that's what he wanted. If we were picking on him like everyone else, it meant that he was accepted."
Toward the end of his college career, John and two of his friends were waiting in line to exit a nightclub when a woman shouted at him, "If you would just get off your knees this line would move a lot faster!"
His friends erupted with laughter.
An Inspiration
"Get off your knees" became Robinson's life mantra.
The slogan would also become the title of his autobiography and a 2009 PBS documentary about his life. The documentary has aired in 100 of 130 markets across the county and the autobiography is currently one of the top sellers for its publisher, Syracuse University Press.
For most of his life, Robinson has shrugged off questions about how he's overcome some of his life's challenges. In the last few years, he said he's realized he could inspire others by telling his story.
"Growing up, I never had a role model," Robinson said. "I'm hoping people from all walks of life can look at my story and understand that they can overcome some of their challenges."
When Allen lost his job three weeks ago, the first person he called was Robinson, his old college buddy.
"As bad as I was feeling, talking to John made it easier," said Allen, who was about to close on a house before he lost his job. "He's got no hands and short legs, but he never sulks about it. So why should I have this attitude? I got back from him that I can get through this."
Last year, Robinson approached one of his co-workers at WMHT about shooting a short video segment that he could show during inspirational speeches. After following Robinson for a few days, Dan Swinton, a producer at the station, said he realized he could turn the story into a documentary.
"When you see John for the first time, you're shocked by what he can do," Swinton said. "And eventually you become so comfortable with him that that those things become second nature. It is an amazing process."
Life Today
In 1991, Robinson moved to Toronto to take a job in telemarketing. When he arrived at his apartment, his next-door neighbor, Andrea, spotted him in his car and wondered, "How is he driving without hands?"
Robinson says he's forever thankful for that curiosity. In Andrea, he found someone who would make him spare ribs during their first dinner together without wondering how he would eat them. Andrea had worked at a camp for children with disabilities during high school and said she was comfortable with John from the start.
The two spent hours on her porch watching people, sipping beers and getting to know each other. They were married on his grandfather's farm in June 1993.
"One of the first things that I learned about John is that he doesn't use his disability as an excuse," Andrea said. "He just gets up every day and goes about his business."
On Nov. 5, 1997, the couple had their first child, Ariel. John recalls the anxious moments during the pregnancy and the relief that came when a sonogram showed the fetus was developing normally. Their son, Owen, is now 6.
His marriage to Andrea and the birth of his children have put to rest John's final questions about his disability.
"Everyone has the same questions. We're all wondering what our lives are going to be like," John said. "For me, the question had that extra label, 'What is my life going to be like, because of my disability? What is my education going to be like, because of my disability? My marriage? My career? My children?
"I don't have any of those questions anymore. I still worry about life, like everybody else, but those other questions are gone."
The Serenity Prayer
Robinson never questioned why he was born without the extension of his arms or legs. He says it doesn't matter why.
Every day on his way to work, Robinson passes a framed copy of a prayer that has been with him since his childhood.
"God grant me the serenity to accept the things I cannot change; courage to change the things I can; and wisdom to know the difference."
His parents displayed a needlepoint version of the prayer in his bedroom from the day he was born. Robinson said the prayer has shaped his life perspective and helped him find the determination to face each and every day.
"I'm extraordinarily lucky with what I have," Robinson said. "But I think if most people take stock of where they are, they might say the same thing. So, in that case, I've lived and am living a normal life and that's what I wanted all along, and I'm very happy with that."
ABCNews.com contributor Matthew Nojiri is a member of the Syracuse University ABC News On Campus bureau.