— -- A pregnant model's tiny belly is causing a huge uproar on social media.
Sarah Stage, a 30-year-old model from Los Angeles, regularly posts pics showing off her eight-and-a-half-month, barely-there pregnancy belly on Instagram and other social sites. Despite being just a few weeks away from giving birth, her abs seemed to have remained sleek and toned.
"Eek officially 81/2 months... And he's now 5lbs," she posted on one of her latest Instagram pics.
Stage did not immediately return ABC News' request for comment.
Her 1.3 million Instagram fans are vocally divided on whether she looks fit or famished.
"Check this out...almost 9months pregie and look at that tummy!!!" Commented one admirer of a modeling shot depicting Stage in lingerie.
"Hope I look like this when im 8 months pregnant," wrote another on a post that has garnered over 10,000 comments.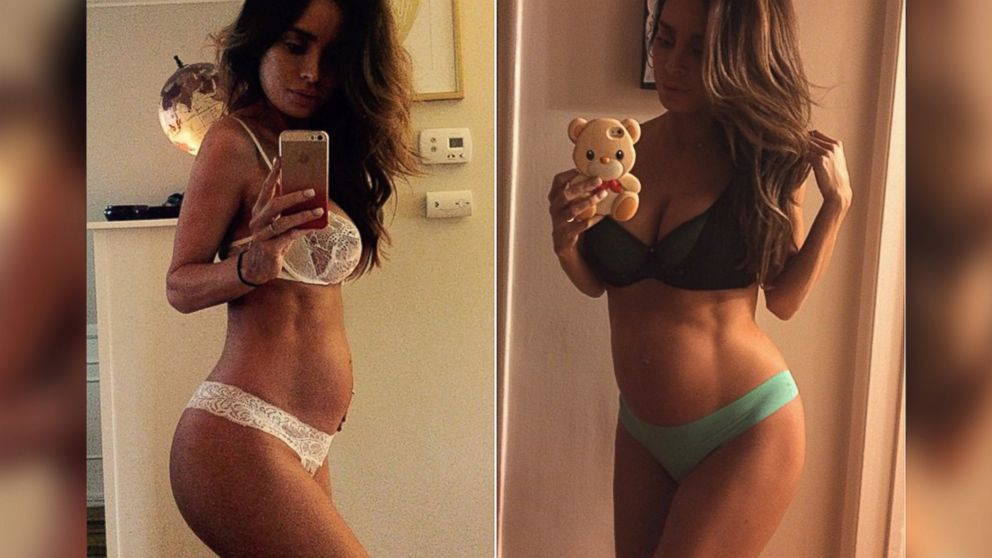 But just as many followers posted negative comments.
"Where's this baby hiding at?? Definitely not her tummy!!" one wrote, while many others suggested she was somehow harming the baby and should seek medical attention.
But Stage is exactly where she needs to be at this stage in her pregnancy, according to experts.
"She is young, tall, slim and it's her first baby so she has all that going for her," said Dr. Jennifer Ashton, ABC News medical contributor and a practicing obstetrician and gynecologist. "She has gained the appropriate amount of weight for this point in her pregnancy and seems very healthy."
Stage has posted saying she has gained about 18 pounds during her pregnancy so far. Ashton said this is considered normal and healthy.
Women should gain between 20 and 40 pounds throughout their pregnancy, according to the American College of Obstetricians and Gynecologists. She will probably gain about half a pound a week from here on in so her bump will, no doubt, grow larger in the coming weeks, Ashton said.
Ashton is also supportive of Stage's regular exercise routine, which the model blogs and posts about frequently. Stage has said she has modified her workouts for pregnancy and is careful not to push her heart rate up too high during cardio sessions.
"Pregnancy is an incredible physical feat and labor and delivery are athletic events so training for them isn't such a bad idea," Ashton said. "Having stamina, strength and muscle tone are good for both mom and baby."
Besides, pregnancy is not a disease, Ashton stated. And whatever Stage chooses to do during her pregnancy is between her and her doctor, she added.
"We should also stop being so judgmental about everything pregnant women do. Most are trying to do what's best for their fetus and for themselves under medical guidance," Ashton said.
Besides her busy social media feeds, Stage has been blogging about her maternity journey on her website. She has also designed a line of maternity clothes for the retail site Want My Look.