From a small Florida office, Nelson Martin and Aurelio Benavides' plan to trick the government into giving them millions of dollars was fairly straightforward. Posing as major suppliers of medical equipment, part of their plan enabled them to use Medicare identification numbers from doctors who were dead to file false claims and bill Medicare.
According to court documents, the pair submitted $14.3 million in false claims for reimbursement. As a result, Medicare paid them about $1.3 million.
Congressional Report Finds Millions in Abuse
A new report finds those scams happen far too often.
It reveals that people have successfully used dead doctors' IDs for years to defraud the government through the federal program that provides health insurance to elderly and disabled Americans.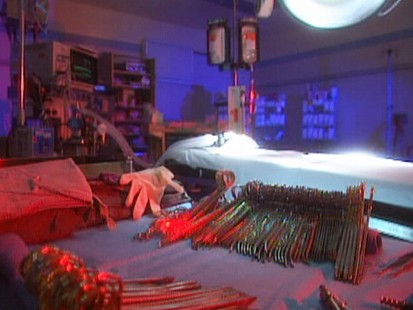 The report, to be released Tuesday night by an investigative subcommittee of the Senate Homeland Security and Governmental Affairs panel and obtained exclusively by ABC News, reveals how common those practices are.
The system is supposed to work by allowing doctors to order medical equipment like wheelchairs, prosthetics or orthotics from supply companies, who then request reimbursements. But the report estimates that Medicare paid for around half a million claims containing identification numbers of more than 16,500 dead doctors between 2000 and 2007.
By pretending that a prescribing doctor had signed off on the claim, the report estimates that the cost of those abuses added up to "well over $76.6 million, and it is possible that that number actually exceeds $92 million."
In more than 50,000 of those claims, the report found the doctors had been dead a decade or more.
"These numbers are so huge, that in the final analysis you're looking at perhaps a hundred million dollars' worth of fraud from claims provided by dead physicians using their identification number, even though they had been long laid to rest," Senator Norm Coleman, R-Minn., told ABC News on Tuesday in an exclusive interview.
Coleman is the ranking member of the subcommitee that released the report and will examine its findings at a Wednesday hearing.
The Centers for Medicare & Medicaid Services has said it has now started to correct the problem.
Medicare Subject to Fraud
After May 2008, the existing identification numbers were discontinued, and the database taken down and replaced with a new one.
Still, Medicare has come under fire in recent years for being susceptible to rampant abuses and fraud, and this is not the first time these particular problems have raised concerns.
As cited in today's report, a 2001 report from the Health and Human Services Inspector General came to similar conclusions, finding that Medicare paid $32 million for medical equipment and supplies for claims with invalid physician identification numbers.
CMS consequently took action to stop the practice, but Tuesday's report concludes that those efforts were largely ineffective.
"The fact is that, seven years after the problem was first identified, the claims review process is still not working properly to reject claims containing the provider numbers of deceased physicians," the report states.
Abuses in Florida were especially problematic, the report found.
Findings released today revealed "alarming case studies" in that state, including one in which scammers used the identification number of just one physician, dead for more than six years, to file 484 claims to the tune of more than $544,000.
"What is so offensive about the cases that we see is these are criminals who are preying upon our desire as a society to help the elderly, the sick and the needy obtain the medical services that they need," said Matthew Friedrich, acting assistant attorney general at the criminal division of the Justice Department.
Given how much money is set aside for Medicare, Louis Saccoccio, executive director of the National Health Care Anti-Fraud Association said today's report is not surprising.
"When there's that much money involved, there are folks out there that are gonna come up with schemes to steal from the system, and obviously it hurts patients, it hurts taxpayers, it hurts the entire healthcare system," Saccoccio said.
He also expressed doubt that the abuses will stop.
"Once you catch them doing one thing, they'll come up with another way," he said. "It's a matter of trying to stay ahead of the curve, really."
Staying Ahead of Abuse
To stop people from abusing the Medicare system, the subcommittee calls on CMS to examine how it flags deceased doctors to keep the system up-to-date.
The report also suggests the center periodically audit its registry to make sure no one is slipping through the cracks. It also recommends conducting tests on payments to make sure none are being attributed to physicians who have already died.
"Time will tell whether, in fact, we have stopped the bleeding here, but the bottom line is, up til now, up til this new system, that those who wanted to rip off the system found a very easy way to do it," Coleman said.
ABC News' Brian Hartman and Randy Gyllenhaal contributed to this report.