At 8 months old, little Passion Fulton sleeps soundly through the night, and doesn't fuss when ribbons are tied in her few hairs. She appears to be a happy, normal baby ... except for the coils of razor wire fence outside.
Her mother is 29-year-old Sarah Fulton, prisoner 71256 at the Ohio Reformatory for Women in Marysville, Ohio, about 30 miles from Columbus. Brought to the prison on drug trafficking charges a year ago, she was five months pregnant and petrified that the state was going to rip her baby from her arms at birth and place her in foster care, the same way Sarah grew up.
"I could never make up for it if she was taken," Fulton says, "because my real mom never was able to make up for it with me."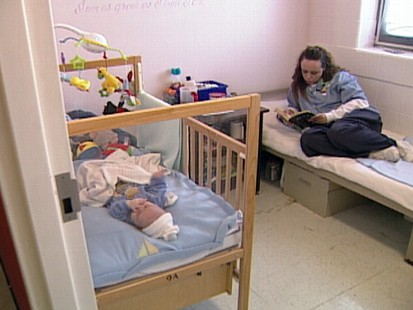 Watch "World News" on ABC tonight for the full story (check local listings for times).
Instead, Sarah was able to keep her baby behind bars with her while she serves her time and takes parenting classes at the Achieving Baby Care Success program, which began in June 2001. Participating mothers live in a special wing of the prison, and the babies sleep in cribs in their mothers' cells. Only nonviolent offenders who are pregnant when they enter prison are eligible to participate.
It is one of a growing number of prison nursery programs around the country. Washington state, California, Indiana and Nebraska have begun similar programs in recent years. These programs are developing at a time when the nation's female inmate population is rising, and the number of minors with incarcerated mothers has increased by more than 100 percent in the last fifteen years, according to the Bureau of Justice Statistics.
The idea behind allowing women prisoners to live with their newborns is to preserve the basic mother/child bond, which is formed within the first few months and is considered crucial to a child's development -- and to keeping the next generation out of prison.
"She needs our guidance on being a mother," says Sheri Duffey, the warden at the Ohio reformatory. Duffey says some limited studies have shown that children who are separated from their inmate parents wind up with more behavioral problems. "The main reason we do the program in the first place is to save that baby's life, " says Duffey. "It's not that baby's fault that their mom is in prison and the baby is the one we're trying to protect."
It also may help the mothers, giving them incentive to stay out of trouble. Thirty percent of women in prison wind up committing another offense. That's compared to only 11 percent of the women in the nursery program at the Ohio Reformatory for Women.
Still, these types of programs can be controversial. Some critics argue they coddle criminals who don't deserve it. "They're getting a privilege that I think is not fair." says Lew Cox , the executive director of Violent Crime Victim Services in Seattle, "especially since there is very little funding for victims services out there." Cox does not think prison is the right environment for a baby to be raised in. "It's just not good parenting practice, " says Cox.
But Sarah Fulton, who is being released in two weeks, says she now has hopes for her daughter's future that she never would have had: "That she grows up to be a beautiful young woman. That she stays out of prison. 'Cause her mom sure as heck is."