The federal government has launched a criminal investigation into the Georgia peanut processing plant linked to a national salmonella outbreak that has sickened more than 500 people and killed eight, officials said today.
The criminal probe will be carried out by the Food and Drug Administration's criminal division and the Department of Justice.
The FDA said there have been 28 new cases of salmonella-related illness diagnosed since last Sunday.
The investigation came after a fresh report surfaced about bad peanuts coming out of the Georgia plant before the health scare erupted. Today the FDA said it wasn't until that shipment was rejected that the FDA knew this plant was in the peanut butter business.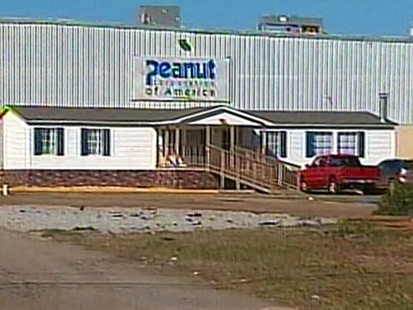 The FDA also said for the first time that some peanut butter on store shelves may not be safe to eat. Health officials repeated assurances that major national brands were considered safe, but said some boutique brands may be suspect.
Watch "World News With Charles Gibson" TONIGHT at 6:30 p.m. ET for the full report.
A fall 2008 FDA incident report first described today by the Associated Press documented that a peanut shipment from Peanut Corporation of America's Blakely, Ga. processing plant was denied entry into Canada in April 2008.
The FDA report said the shipment "appears to consist in whole or in part of a filthy, putrid, or decomposed substance, or is otherwise unfit for food in that it appears to contain foreign objects."
Today FDA food safety director David Acheson told ABC News that inspectors did not find salmonella in any peanuts coming in from Canada, but did find bits of metal fragments.
Responding to the AP story, Acheson denied allegations that the FDA had failed to follow up.
"The FDA indeed confirmed that there were metal fragments in there, which is why we understand Canada refused entry," Acheson said. "What that did was to trigger a report back to the state of Georgia, who under FDA contract went into the PCA facility looking for problems that may have led to the introduction of metal fragments into product. They didn't find anything."
The FDA said today that after the shipment was rejected, it was sent back to Peanut Corporation of America, where employees tried unsuccessfully to clean it up.The shipment was destroyed under the eyes of the FDA on Nov. 17, 2008.
Salmonella poisoning in peanuts has been linked to the same Georgia plant. A massive recall of hundreds of items was expanded Wednesday to include every peanut product to come out of the Georgia plant in the last two years.
"I think the revelations have no doubt been alarming," White House press secretary Robert Gibbs said today. "Whether it was our own regulatory system or a company that repeatedly found salmonella in its own testing and continue to ship out that product is beyond disturbing for millions of parents."
Gibbs said that President Obama hopes to announce his pick for FDA Commissioner in the next few days.
On Friday Acheson also highlighted the complexities of keeping food safe as it travels into, out of and around the country.
"We do not routinely look at returned goods for every possible microbe, agent, chemical problem that could be in there," Acheson said. "There's just hundreds. It would be very resource-intensive and time-intensive. This issue was around metal fragments. And it did trigger an inspection to look for metal fragments and had nothing to do with salmonella."
Advice for Consumers
Despite reassurances on Wednesday, the FDA said today that it's possible not all store-bought peanut butter is okay to eat. The FDA said that due to the expanded recall -- among the largest ever -- there may be some boutique brands of peanut butter sold in grocery stores that may be suspect.
The expanded recall means the number of companies potentially involved has mushroomed from 77 to an additional 350.
More than 400 products have already been recalled, including items such as peanut butter-flavored cookies, candies, power bars, cereals, crackers, ice cream and dog biscuits. More are expected to be pulled out of the supply chain.
To make sure shoppers don't get sick, health officials have posted several resources online, including updates on recalled products listed by the FDA and updates on illnesses, compiled by the Centers for Disease Control.
The American Peanut Council has also posted a list of companies that say their products are safe to eat.
"If they're not sure even after all of that, the safest thing to do is not to take the chance," Acheson said Friday. "Just simply put the product back in the pantry, back in the refrigerator, and wait as this ongoing recall gains greater clarity and we know that these products can be safely consumed. What we don't want is people to get sick from consuming peanut products around Super Bowl or at any other time of the year."
Lawmakers Call for Criminal Investigation
On Friday, two Democratic lawmakers asked for a criminal investigation of Peanut Corporation of America.
"It is clear that the behavior of the Peanut Corporation of America was egregious – harming hundreds of Americans and endangering many thousands more," wrote Patrick Leahy, D-Vt., and Rosa L. DeLauro, D-Conn., in a letter to acting Attorney General Mark Filip. "We believe it is critical to determine whether the actions and omissions of this company rose to the level of criminal conduct. If crimes were committed, those responsible must be identified and held accountable."
Earlier this week, the Peanut Corporation of American faced reports that it knowingly shipped peanut products from the Georgia plant that could have been tainted.
According to an FDA inspection report, the plant found some type of salmonella in its products 12 times over the last year-and-a-half. After working with outside labs to test the products, the plant then shipped the products if follow-up tests came back negative, despite the initial findings. The FDA inspections also documented unsanitary conditions at the plant, including cockroaches, mold and leaking roofs.
"This is one of the worst inspection reports I've seen in 15 years of practice," food safety attorney Bill Marler told ABC News on Wednesday. Marler is suing the company on behalf of one consumer.
"To any consumers affected by these issues, to the food industry and to peanut consumers everywhere, we are sorry our process fell short of not only our goals, but more importantly, your expectations," the Peanut Corporation of America said in a statement late Wednesday.
"We want our customers and consumers to know that we are continuing to work day and night with the FDA and other officials to determine the source of the problem and ensure that it never happens again," the company added.
But Rep. John Dingell, D-Mich., said the FDA is in such desperate need of money, personnel and authority that something like this could happen again unless the government strengthens the nation's food safety system. Dingell cited a slew of problems that have recently faced the FDA as evidence the agency is not up to the job.
"Go and tell the people who got sick or died from salmonella and peanuts," Dingell told ABC News on Friday. "Go and tell those who have gotten unsafe seafood or shellfish from China. Go and tell those who got heparin or other bad pharmaceuticals from China about how wonderful a job Food and Drug is doing, then come back and tell me how they feel about it."
"Until Congress acts, until this administration undoes some of the doings of the prior administration, I think you can look forward to more scandals of this kind," Dingell said.
President Obama has said before that food safety concerns will be addressed by the new administration.
"When I am president, it will not be business as usual when it comes to food safety," Obama said last year in response to meat from sick cows being sold to the school lunch program. "I will provide additional resources to hire more federal food inspectors."
"As the parent of two young daughters, there are few issues more important to me than ensuring the safety of the food that our children consume," Obama said.
Michael Taylor, professor at George Washington University's School of Public Health, said companies should be required to put a system in place to ensure food safety because right now, there is "no comprehensive prevention system."
"This case was so egregious it should have been caught," Taylor said.
ABC News' Brian Hartman contributed to this report.