Suicides increased during the second year of the COVID-19 pandemic, new federal data shows.
There were 48,183 people who died by suicide in 2021, according to a report published Thursday by the Centers for Disease Control and Prevention.
It comes after two consecutive years of declines and is an increase of 4.7% from the 45,979 deaths recorded in 2020. It's also the highest number recorded since 2018, when 48,344 Americans died by suicide.
What's more, the total rate hit 14.1 per 100,000, slightly less than the 14.2 per 100,000 in 2018.
It's also a 4% increase from the rate in 2020 of 13.5 per 100,000 -- the largest seen in two decades.
Both males and females saw an increase of 4% in suicide rates from 2020 to 2021.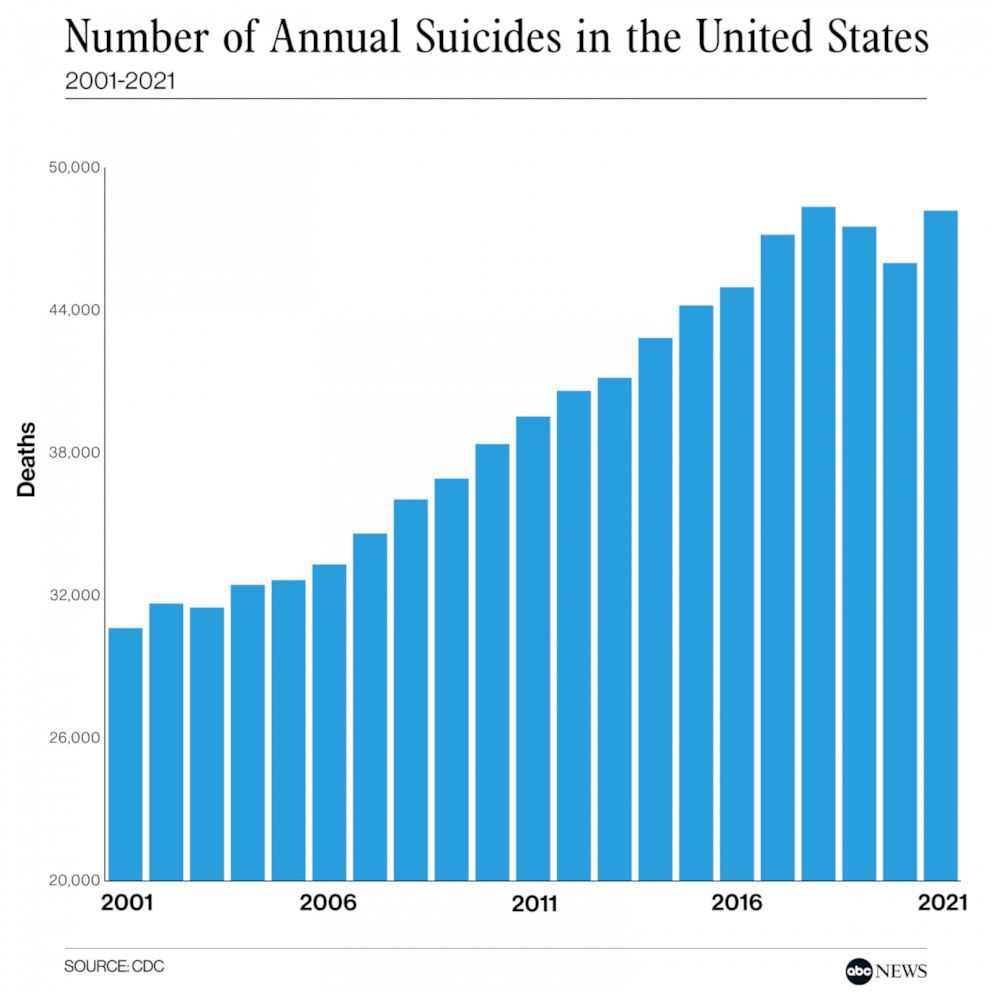 The rate for males went up from 22.0 per 100,000 to 22.8 per 100,000 while the rate for females rose from 5.5 per 100,000 to 5.7 per 100,0000.
Males were found to be more greatly affected, with rates increasing for those aged 15 to 24, 25 to 44, 65 to 74, and 75 and older.
By comparison, the only significant increase for females was in the age group 75 and older, the report found.
However, both Black females and white females saw suicide rates significantly increase.
Black females saw rates rise by 14% from 2.9 per 100,000 to 3.3 per 100,000 while white females saw a 3% increase from 6.9 per 100,000 to 7.1 per 100,000.
Although the increase was not significant from 2020 to 2021 for American Indian or Alaskan Native women, they had the highest rate during the second year of the pandemic at 13.9 per 100,000.
In addition, in 2021, suicide was the 11th leading cause of death in the U.S. While this is higher than in 2020, when it was the 12th leading cause, it's lower than in 2019, during which it was the 10th leading cause of death.
Specifically, it was the second leading cause of death for Americans between ages 10 to 34.
The report did not discuss why suicides increased in 2021, but research has shown the COVID-19 pandemic had a negative impact on mental health.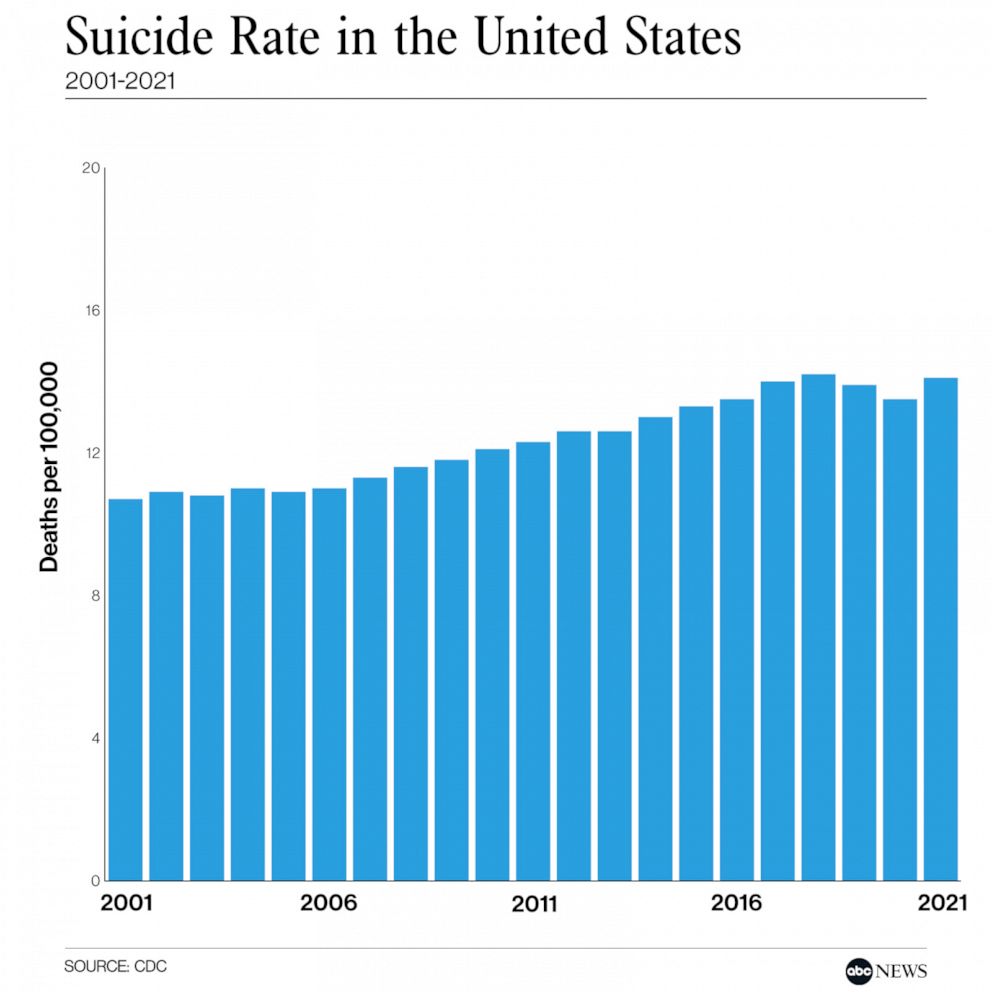 According to the KFF, four in 10 U.S. adults reported symptoms of an anxiety or depressive disorder during the pandemic, an increase from one in 10 adults who reported similar symptoms from January 2019 to June 2019.
The impact on young adults was particularly severe. According to a 2021 study from Boston College, rates of depression and anxiety rose 61% and 65%, respectively, among those aged 18 to 29 during the first year of the pandemic. Both disorders are known to increase the risk of suicide.
Researchers are also studying if there is a link between long COVID-19 patients and higher rates of depression and suicidal thoughts.
If you are struggling with thoughts of suicide or worried about a friend or loved one, call the Suicide & Crisis Lifeline at 988 for free, confidential emotional support 24 hours a day, seven days a week.