— -- A terminally ill man took on the daunting task of finishing a marathon on Sunday to draw attention to the disease that is killing him: pulmonary fibrosis.
Evans Wilson, 63, finished the Seattle Marathon in 10 hours and 55 minutes yesterday, walking the entire thing with his oxygen tank in tow and coming in under his goal time of 14 hours but lagging a bit behind winner Kota Reichert, who won in 2 hours and 33 minutes.
As he recovered from the ordeal today, Wilson said he wasn't in too much pain.
"I'm in pretty good shape if I didn't have heart and lung disease," Wilson told ABC News. A former runner, Wilson decided to return to races after being diagnosed with pulmonary fibrosis when he was 57.
The disease refers to a scarring of the lungs and can have many causes, including genetic, particle exposure and autoimmune diseases. Wilson said it took two years for doctors to give him a clear diagnosis of pulmonary fibrosis.
His symptoms first started when he found himself out of breath after walking up a single hill in his neighborhood. "I got to the top and I couldn't breathe," said Wilson.
It took multiple similar events before doctors discovered he had pulmonary hypertension or a type of high blood pressure in the lungs that indicates the heart is working overtime and possibly damaged. That diagnosis led to doctors discovering scarring in his lungs.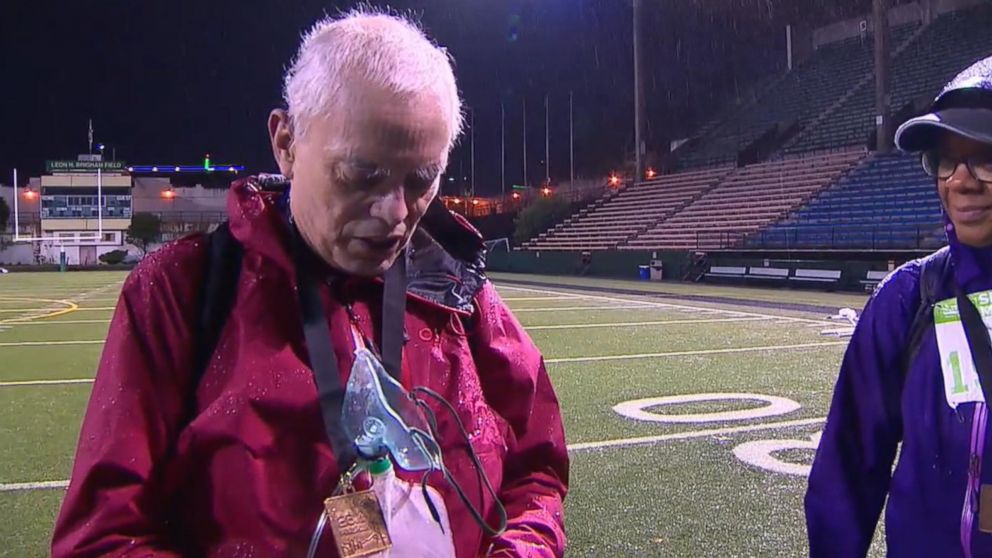 Wilson has already defied predictions. While most people with pulmonary fibrosis live about three years, according to Wilson, he has already survived for five.
"It's a terminal disease and a progressive scarring of the lungs that is currently irreversible," Wilson said. "I've lived five years and I'm one of the fortunate ones and I'm doing pretty well."
The amount of people living with the disease in the U.S. is difficult to know, but a 2006 study that examined health insurance data estimated that as many as 42 for every 100,000 people in the U.S. may have pulmonary fibrosis. The American Association for Respiratory Care estimates up to 40,000 Americans may die every year from this condition.
Wilson said that despite the condition affecting thousands in the U.S., there are virtually no options for survivable treatment other than a lung transplant.
He decided to run the marathon as a way to raise money through the First Giving website for the Pulmonary Fibrosis Foundation in the hopes that more medications could be developed to help reverse the devastating effects of the disease.
Wilson was given the green light to participate in the marathon with an hour and 15-minute head start.
"I was in first place at mile 6 with some of the fastest marathon runners in the world behind me," Wilson said. "The first 10 miles actually felt kind of good."
Joined by his wife and another volunteer, all three took turns carrying or rolling the heavy oxygen tanks all 26.2 miles so that Wilson could finish.
Wilson said after mile 12, the race became much more difficult.
"If I'd been there by myself, I don't know if I would have finished," said Wilson. "As a former runner when I got to mile 23 ... it doesn't matter what it feels like, you're going to finish."
Wilson said he was surprised by the enthusiastic support of other marathon runners who passed him during the race.
"A lot of them, they'd give me a clap as they'd run by," said Wilson, explaining others had seen him on ABC affiliate KOMO-TV as he trained. They said "'I saw you on KOMO, way to go!' It makes you feel good."
Wilson now has no plans to run again anytime soon but is hoping his nearly 11-hour feat can help raise at least $50,000 for more treatment research for pulmonary fibrosis.