— -- After finishing three tours of duty in Iraq, Jim Stanek was grateful to head home with all his limbs intact. But a traumatic brain injury and post-traumatic stress disorder made it difficult to live a normal life.
"I didn't want to socialize, I had a terrible memory and my anxiety through the roof," he recalled.
The only thing that seemed to help the 36-year-old New Mexico native calm his nerves was being around a friend's therapy dog. So in May of 2010, he and his wife Lindsey decided to train his 5-year-old rescue mutt, Sarge, for therapy work.
The Staneks quickly learned that it can take up to two years and $60,000 to train a therapy dog properly -- big obstacles they felt, for any veteran who might benefit from having a canine partner to help cope with the psychological and physical wounds of war. They decided to start Paws and Stripes, a non-profit that matches up therapy dogs with veterans.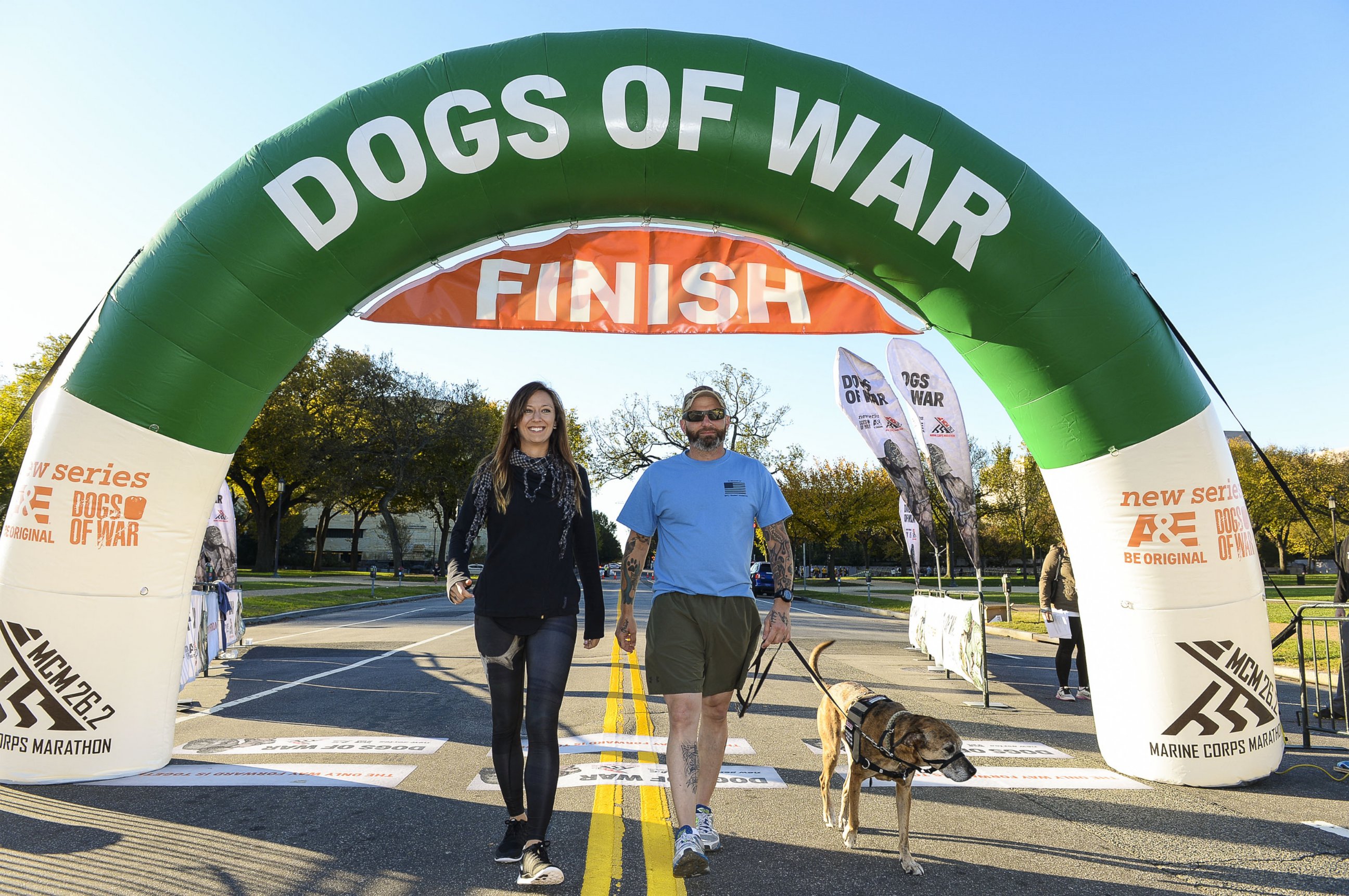 Stanek's wife Lindsey said she felt they were blessed because they quickly found trainers willing to help. The next step was to search for the dogs.
Normally therapy dogs are purebreds that start training with a handler as puppies and turned over to their owners at around the age of two. But the Staneks decided to scour local shelters to look for adult mixed breed dogs that were smart, friendly and confident.
"We wanted to give veterans a dog and the dogs a second chance," Stanek's wife said.
They cut training time down to about nine months by matching each dog with veteran-in-need at the beginning of the process so they could learn the ropes together. They also managed to pare down the cost to just over $6,300 which they fund largely through public donations.
The dogs help their partners deal with a variety of common problems that plague returning veterans. Some dogs help deal with psychological problems like PTSD while some alert their owners to oncoming migraines or low blood sugar. Others are trained to assist their owners with physical disabilities resulting from their battle injuries.
Sarge for example, is trained to spot Stanek's panic attacks and keep him calm.
"I can tell the rest of the world I'm doing fine but she calls me a liar by wrinkling her forehead to alert me when my anxiety is getting higher," he explained.
Sarge has also been taught to peak around the corners when out in public, wagging her tail to give the all clear. Stanek said this helps him deal with the "dead space" he learned to fear in combat.
The American Kennel Club is supportive of the Stanek's efforts and other programs like it. "Dogs give unconditional love and support and have an uncanny ability to detect when we are having a hard time," said Mary Burch, an animal behaviorist and the AKC's canine good citizen director.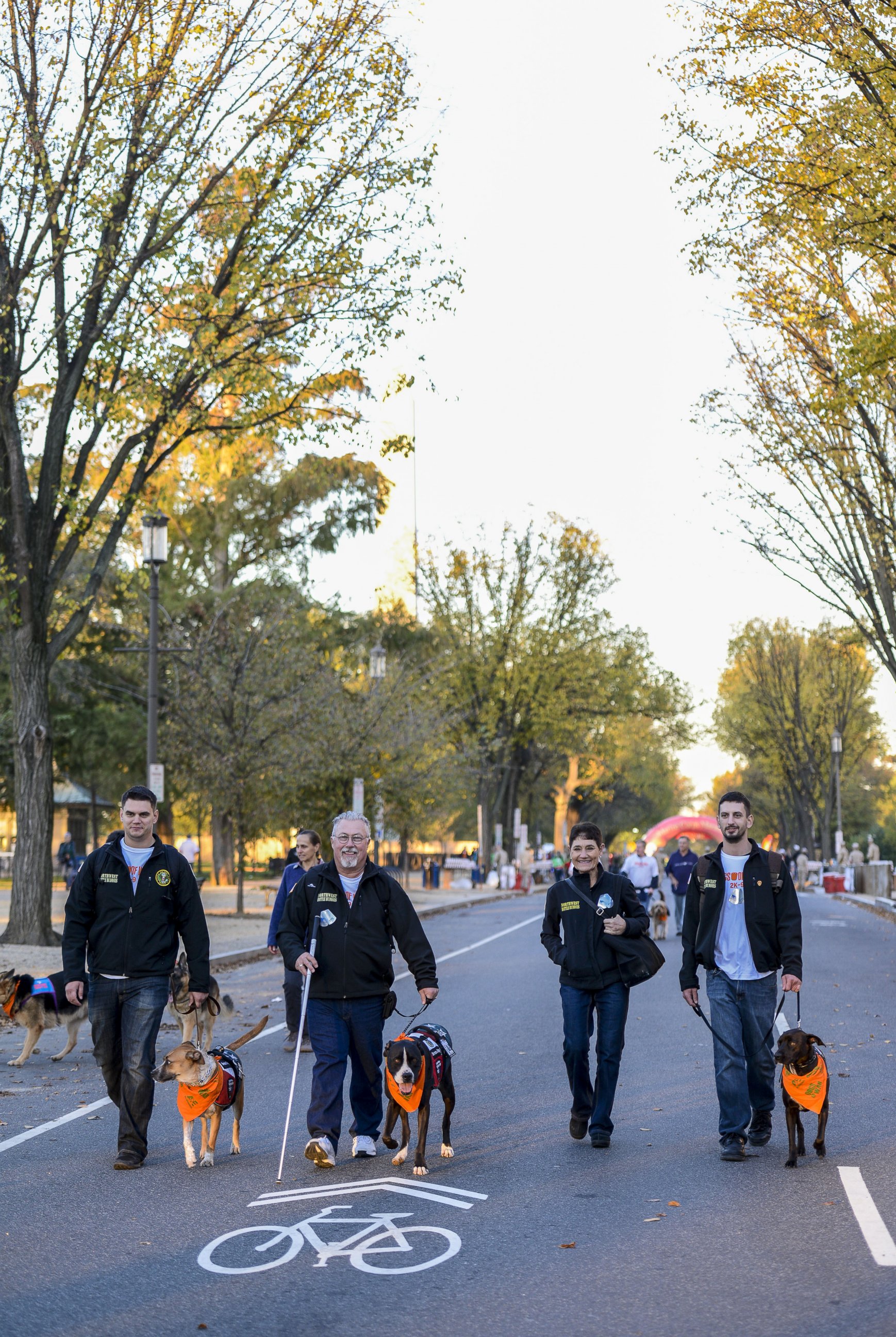 The Staneks said they've graduated more than 50 veteran-and-dog teams throughout the country from their program. They have 600 veterans on the waiting list and hope to match each one with a dog.
Stanek for one is grateful for his relationship with Sarge.
"She makes me feel like the luckiest guy in the world," he said. "I'd take a bullet for that dog."
The Stanek's efforts are chronicled on Dogs of War, a new show on A&E premiering tonight in honor of Veteran's Day.