Transplant patient holds her own heart after lifesaving operation
Lisa Salberg, 48, underwent a heart transplant earlier this month.
February 15, 2017, 4:38 PM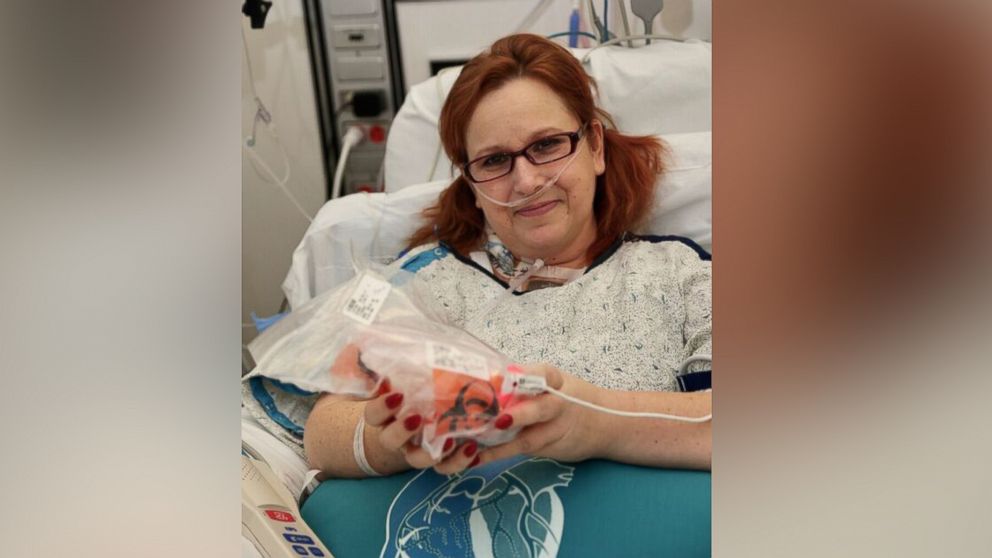 — -- For decades, Lisa Salberg, 48, grappled with complications from a dangerous form of heart disease called hypertrophic cardiomyopathy. She was diagnosed with the disease at 12 years old, had a stroke at 21 and had multiple operations over the years to try to preserve her heart.
When her heart began to fail, her doctors decided she need a transplant. She was placed on the organ donor list in November. Earlier this month, Salberg was matched to a new heart and underwent the lifesaving transplant surgery.
But before she went into the operating room, she had an unusual request for her surgeon: Save the damaged heart.
Salberg has been an activist for heart disease research and started the Hypertrophic Cardiomyopathy Association after her sister died from the condition. At least five other family members have been diagnosed with the disease, in which the heart muscle cells enlarge and cause the ventricles to thicken, making it more difficult for the heart to pump blood.
According to the Cleveland Clinic, 600,000 to 1.5 million people are afflicted with the disorder in the U.S., or about 1 in 500 people.
Salberg said she wanted her damaged heart to become a tool to raise awareness of the condition and educate others.
"We were friends for 48 years," she said about her heart.
Her transplant surgeon at Newark Beth Israel Medical Center, Dr. Margarita Camacho, said she was surprised by the request.
"I've never had anybody ask that. The first thing I thought was, 'How wonderful she wanted to do that,'" Camacho told ABC News.
Four days after her surgery, Salberg's husband and Camacho presented Salberg with her original heart, which had been frozen. After nearly a lifetime of hearing her heart beat extra-loudly in her chest, she said she was surprised when she held it.
"I was struck by the density and the weight to it," Salberg said. "It was really, really heavy."
Salberg said that although she greeted her damaged heart with a profanity, she also felt grateful that it was functional long enough to get her through until her transplant.
"I said, 'Thank you. You worked hard for 48 years,'" she told ABC News. "It [was] with me every moment of the day of my life. It was nice to be able to say goodbye."
Salberg said that after the transplant, she instantly felt a difference in her energy and overall well-being. The renewed energy has pushed her to focus on the Hypertrophic Cardiomyopathy Association and help others who are afflicted with her condition.
"The reality clicked in I have an entire community of people who feel badly," Salberg said. "I have an entire life ahead of me to find ways to improve their health, and I'm doubling down. You ain't seen nothing yet."