— -- At least 230 people, including 21 schoolchildren, are dead after a magnitude 7.1 earthquake rocked central Mexico on Tuesday afternoon, hitting on the 32nd anniversary of the biggest quake to strike the country's capital.
Rescuers worked tirelessly on Wednesday night as reports surfaced of at least one girl -- and possibly other children -- who have been located alive beneath the rubble of the Enrique Rebsamen school.
Yesterday's earthquake was centered about 75 miles southeast of Mexico City and caused extensive damage, leveling at least 44 buildings, including homes, schools and office buildings, according to Mexican President Enrique Pena Nieto, who did a flyover of the city Tuesday afternoon.
Among the dead are at least 25 people — 21 students and four teachers — at a collapsed primary school in the south of the capital. So far, 11 people have been rescued, but two students and one teacher remain missing, according to Education Minister Aurelio Nuno.
In Mexico City alone, 52 people have been rescued from damaged buildings, according to city officials.
Pictures from the Mexico earthquake and the race for survival
The coffins of Agueda Mendoza and Gabriel Morales, a couple who died in the September 19 earthquake are taken out of the the hearse for their funeral in Mexico City on September 22, 2017.
Pedro Pardo/AFP/Getty Images
President Donald Trump spoke with Mexico's President Enrique Peña Nieto Wednesday to extend condolences for the lives lost and the damage caused by the earthquake, the White House said in a statement. Trump also offered assistance and search and rescue teams, which are being deployed now.
Rescuers continued to comb through the wreckage, looking for survivors Wednesday, pausing to listen for voices. Relatives told The Associated Press they received WhatsApp messages from two girls inside.
"Children are often the most vulnerable in emergencies such as this, and we are particularly concerned because schools across the region were in session and filled with students," said Jorge Vidal, the director of operations at Save the Children in Mexico.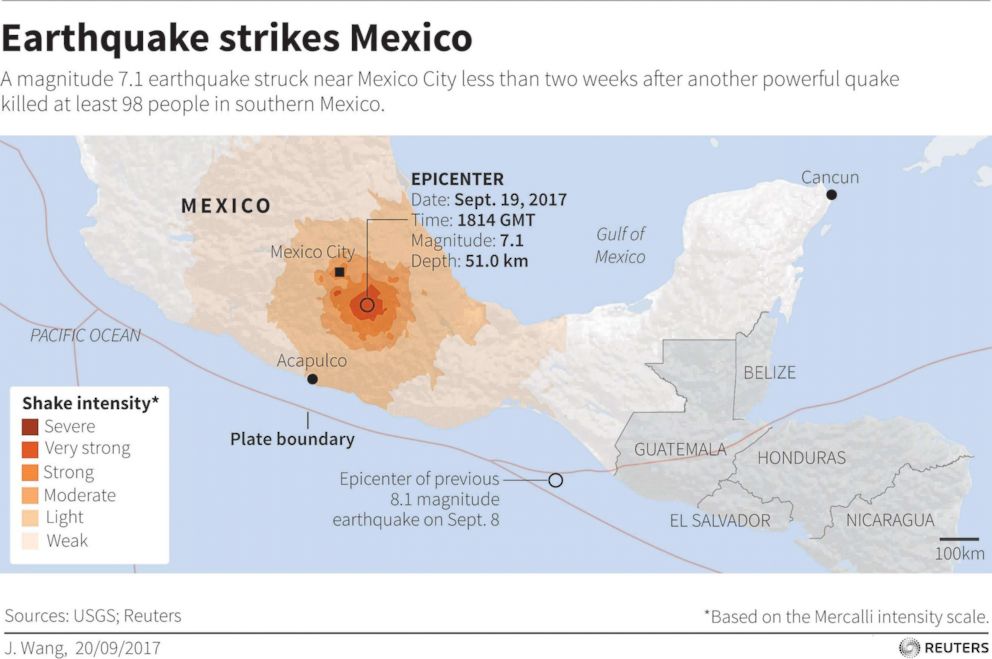 Hanna Monsivais, the programs coordinator for Save the Children in Mexico, said she has been out on the streets in Mexico City with hundreds of other people trying to help their neighbors. But entire streets have been cordoned off, and numerous buildings are still too dangerous to enter because of damage.
"Volunteers are bringing water, food, clothes and face masks so that they can help the official authorities move all the debris and rocks, because there are still people trapped under buildings," she said.
She added, "Every once in a while, authorities ask for silence so they can hear the people who are still trapped. It's amazing what people are doing for others, but some people are clearly still in complete shock."
Many areas were still without power today, and communications remained limited, Monsivais said.
"This night is going to be tough," she said. "For sure, tomorrow the death toll will rise."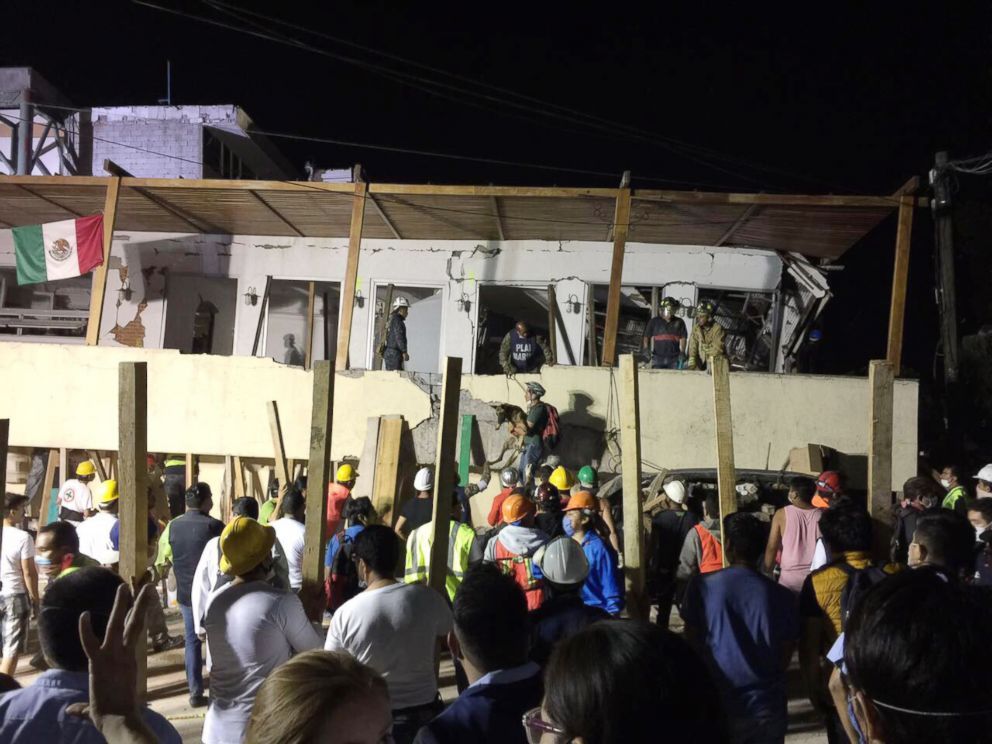 Mexico City's airport descended into chaos as the ground rippled and chunks of plaster fell from walls when the earthquake hit, Dallas resident George Smallwood told ABC News.
"I felt the ground shaking, and I heard everyone screaming and starting to run," he said, adding that he initially thought he was in the middle of a terrorist attack.
Smallwood stopped in Mexico City for a long layover after a vacation in Medellin, Colombia, and spent the day exploring the capital. He was getting ready to go through security at Mexico City International Airport for his 3:35 p.m. flight back to Dallas when the earthquake struck.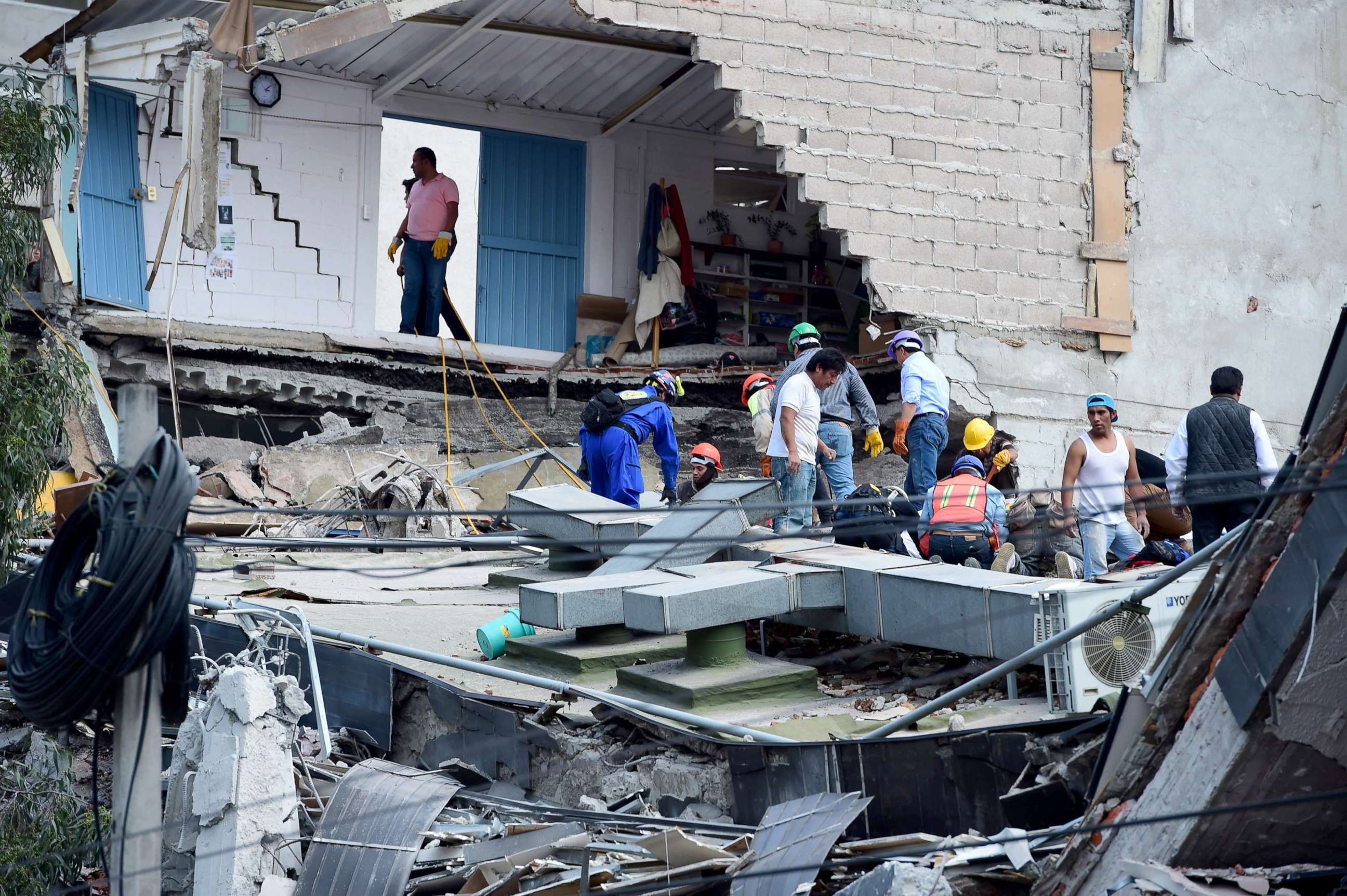 Parts of the ceiling were "swinging back and forth," he said, and the panicked crowd took off "running in every different direction."
The tremors lasted for six to seven minutes, he estimated. After the shaking subsided, first responders swooped in to help the injured, and a fleet of military and police helicopters buzzed overhead, he said.
Smallwood's flight was rescheduled for 8:30 a.m. today, so he needed to find somewhere to stay for the night, he said.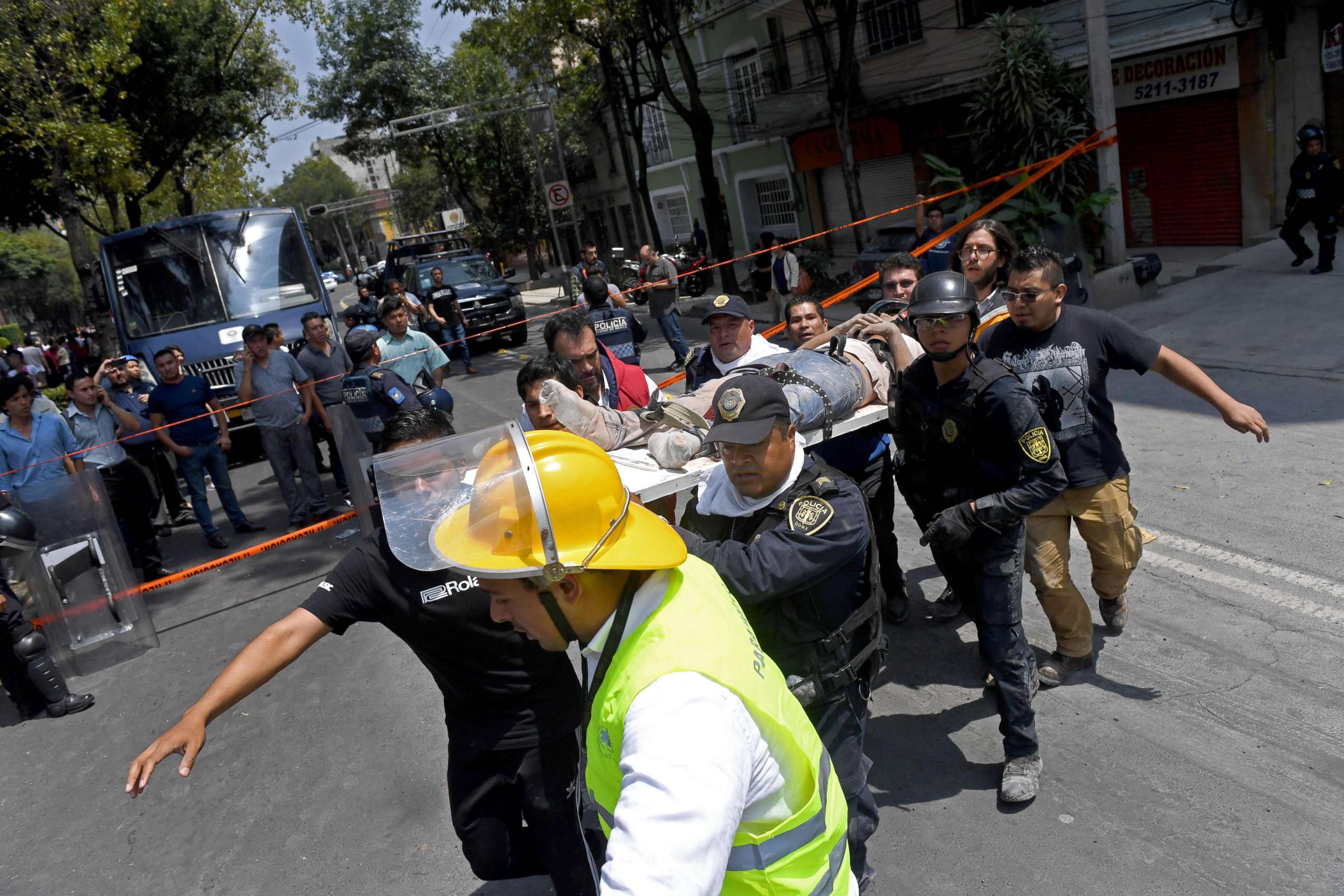 Tuesday's earthquake — which hit around 1:14 p.m. local time near the town of Raboso in Puebla state, according to the United States Geological Survey — came 12 days after a magnitude 8.1 quake struck off Mexico's southern Pacific coast, killing dozens of people.
The Sept. 7 earthquake devastated Juchitan in Oaxaca, where at least 36 people died and one-third of the city's homes collapsed or were rendered uninhabitable, according to Mexico's president.
Residents there were still reeling from that quake when they were rattled again Tuesday.
"People, rightfully so, were already sleeping outside because of fear for aftershocks, and then comes this big earthquake," said Eduardo Mendoza, a senior program manager for Southern California–based medical supplier Direct Relief.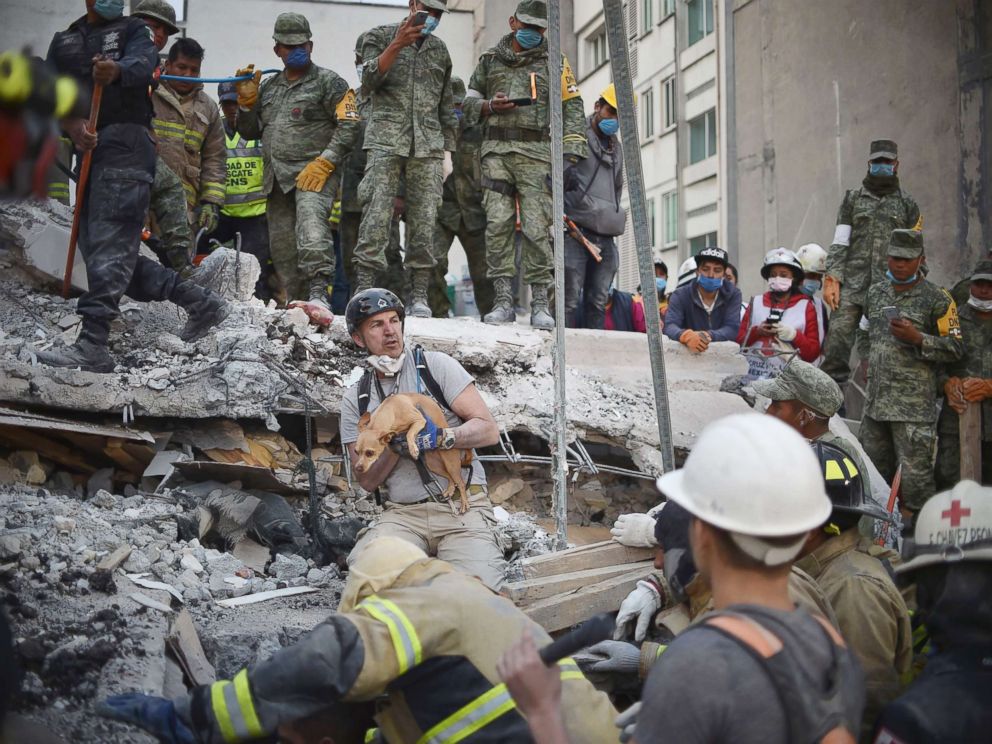 Mendoza, who was in the Oaxaca region mobilizing disaster relief, said Hurricane Katia and now two devastating earthquakes have taken a psychological toll on residents, who are too afraid to sleep inside their adobe homes.
Shelters in Juchitan are still filled with children and the elderly, he said.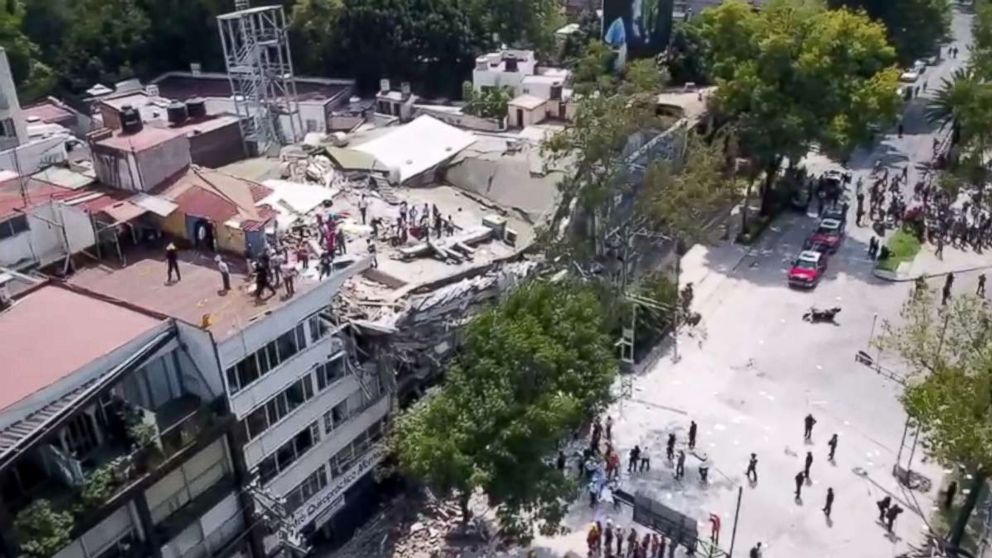 First responders there have been in a rush to return to Mexico City to help and "focus on what's coming next," he added.
Pena Nieto was supposed to be en route to Juchitan to commemorate the anniversary of the Michoacan earthquake of 1985 when Tuesday's quake sent ruinous ripples through Mexico City.
"It was like a kick in the gut for everybody," Mendoza told ABC News in a telephone interview today. "The emergency response teams were here, and a good number of them for two hours were just trying to find their family members."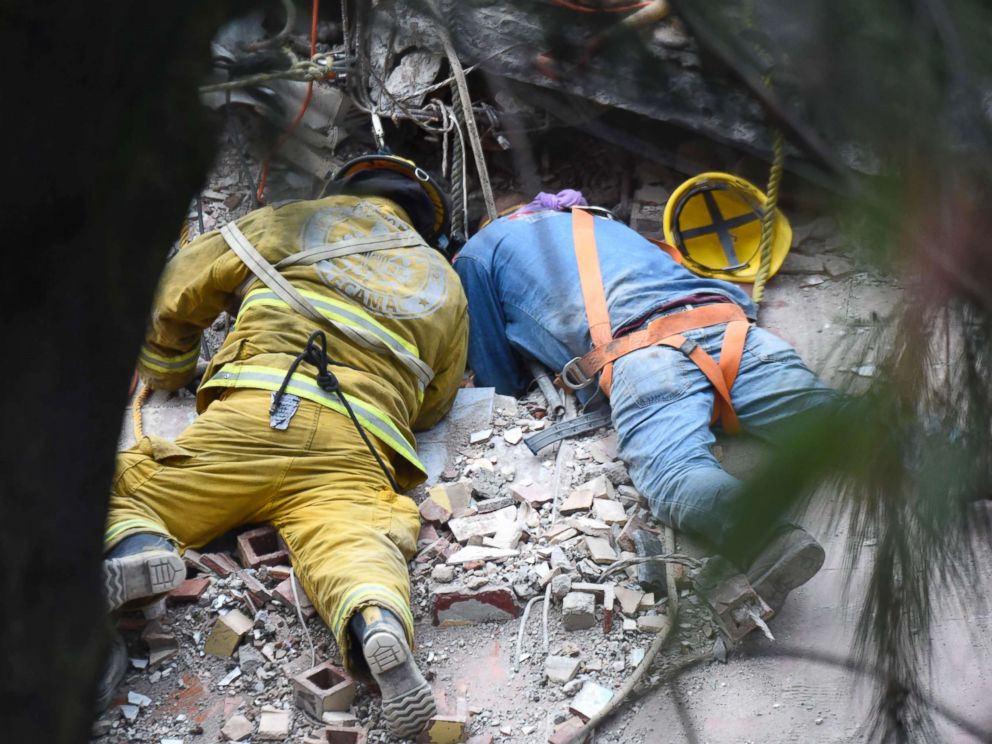 Thousands of people on Mexico City's main boulevard streamed out of buildings and into the streets in panic when the quake struck.
"I was just paying at the supermarket, and suddenly the floor went boom, boom," Mexico City resident Lara Rodriguez told ABC News on Tuesday. "People were obviously panicking."
She added, "So I rushed out, and I went to get my kid from school to make sure he was OK. Luckily, everything was fine, but on the way there was a lot of debris. There were clouds of sort of dust flowing up as if a bomb had hit or something."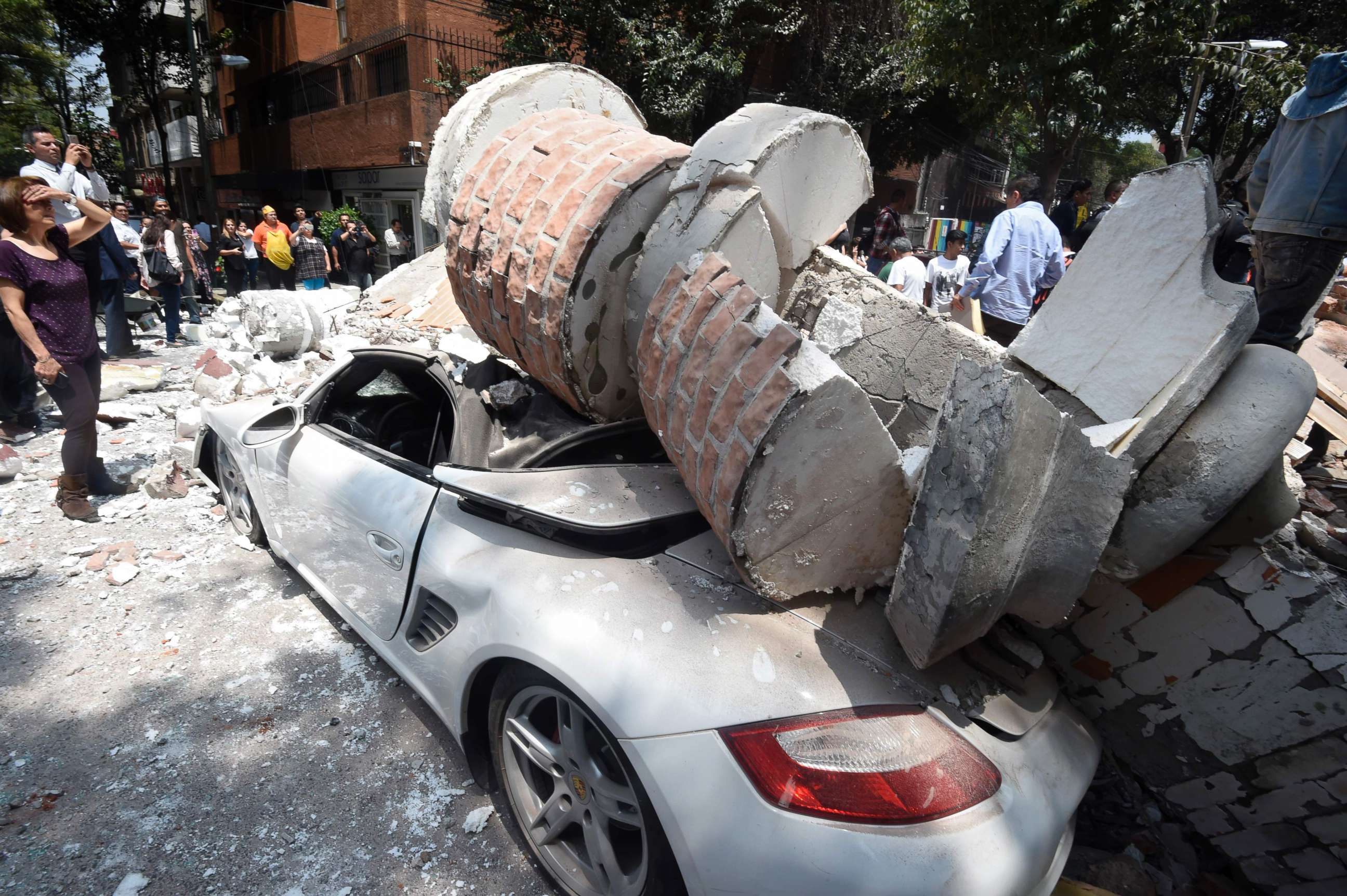 Dramatic photos and video depicted the destruction in Mexico City.
Flames and a large explosion could be seen in a video posted on Twitter, and a window panel was spotted falling from an office building in Mexico City in a video posted on Instagram.
Video recorded inside an office building showed the overhead lights swinging wildly as the ground shook.
Meanwhile, chaos broke out in the newsroom of Milenio, a Mexican news site.
Several cars were damaged by falling debris.
Mexico City, built on a former lake bed, is one of the worst possible places for an earthquake to strike because of its soil, which can amplify shaking by factors of 100 or more, California-based seismologist Lucy Jones told ABC Los Angeles station KABC-TV. By comparison, in Los Angeles the worst earthquake amplification is fivefold, Jones said.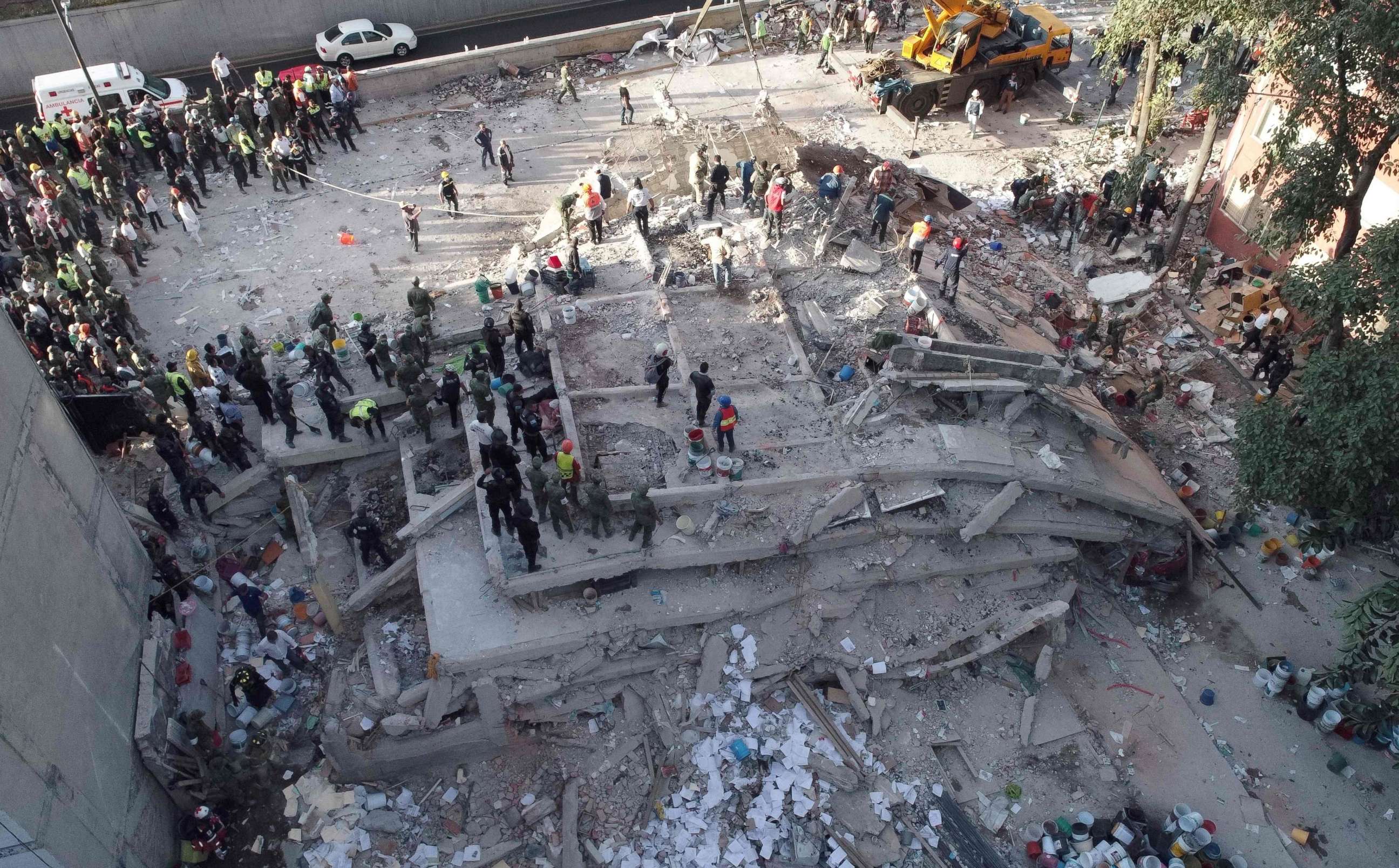 Earlier in the day, earthquake drills were held in Mexico City to mark the anniversary of the Michoacan earthquake, which caused widespread deaths and injuries as well as catastrophic damage in Mexico City.
At the Instituto Morelos secondary school, which partly collapsed, school director Adelina Anzures told The Associated Press that the school conducted an earthquake drill in the morning, just two hours before the quake struck.
"I told them that it was not a game, that we should be prepared," she said of the drill.
When the quake came, she said, the children and teachers rapidly filed out.
"It fell, and everything inside was damaged," Anzures said, adding that nobody there was hurt.
Narciso Suarez of Mexico City said he was attending a meeting on the ninth floor of a high-rise building when he first felt the quake. He said authorities in the building ordered those inside to shelter in place, "at least until the shaking passed."
Suarez, who was also in the area Sept. 7 when the last earthquake struck, said Tuesday's temblor was "a lot worse."
With the previous earthquake, "we immediately evacuated the building, and we saw no damage," he said. "But today ... there are a lot of buildings that have collapsed in this neighborhood. It's really sad."
U.S. President Donald Trump tweeted Tuesday afternoon, "God bless the people of Mexico City. We are with you and will be there for you."
Vice President Mike Pence echoed those comments, tweeting, "Our hearts are with the people of Mexico City. We're thinking of you and, as @POTUS said, we are with you."
The State Department said in a statement, "We stand ready to provide assistance should our neighbors request our help. Our embassy in Mexico City has sent out public messages to U.S. citizens in Mexico, and the embassy stands ready to provide consular assistance to any U.S. citizens who may have been affected. We offer our condolences to any who were injured or lost loved ones."
ABC News' Fergal Gallagher, Benjamin Gittleson, Matt Gutman, Joshua Hoyos, Bonnie Mclean, Kirit Radia and Robert Zepeda contributed to this report.