— -- A Nigerian man claims a flight crew bound and punched him and taped his mouth shut for hours onboard a Chicago-bound flight he was taking to reunite with his family.
David Ukesone, 71, was eight hours away from landing at Chicago's O'Hare International Airport, his attorney said, when a dispute with flight attendants turned hostile.
"He apparently sits in the wrong seat and was told to change seats by a flight attendant," attorney Howard Schaffner told ABC News. "He didn't think he was in the wrong seat and there was an argument and, at some point, he was hit."
Emirates Airlines released a statement Monday morning confirming an incident did occur.
"Emirates can confirm that a passenger on flight EK235 from Dubai to Chicago on 23 January had to be restrained by cabin crew due to unruly behavior during the flight. The passenger was handed over to the authorities on arrival in Chicago. The safety of our passengers and crew is of the utmost importance and will not be compromised. We would like to take this opportunity to thank the other passengers on the flight for their understanding, in particular the individuals who had assisted our crew during the flight."
Schaffner said Ukesone first flew from Nigeria to Dubai "with no incident at all."
After a layover on Jan. 23, Ukesone received a boarding pass to sit in seat 35D on Emirates flight EK 235, which departed at 9:45 p.m. for Chicago. He had just received a visa to enter the U.S. and was traveling to join his wife, who had immigrated four months earlier, Schaffner said. His adult son and daughter had also immigrated.
The dispute began when Ukesone abandoned his seat to use the bathroom at the rear of the plane. When he returned, Schaffner said, he miscalculated and sat in a seat that wasn't 35D.
Ukesone sat down in a seat that was "very close" to 35D, Schaffner continued, but did not attempt to upgrade himself to first class or occupy a seat meant for the crew.
An exchange between Ukesone and a flight attendant, he added, left Ukesone confused.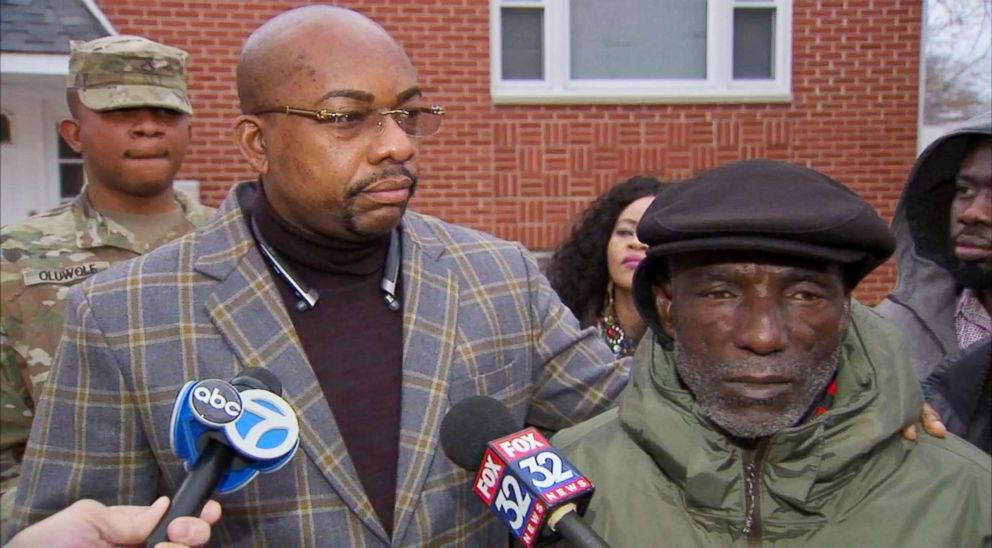 "He was asked to move and he wants to take his bag in the overhead compartment with him," the attorney said.
He also believed he was "in the right" and didn't understand why they wanted him to move.
"They told him he was in the wrong seat and they laid hands on him to move him and that's when everything escalated," Schaffner said.
Ukesone, he said, speaks and understands English, but "he has some difficulty understanding" it when it's spoken by someone who isn't Nigerian.
The argument intensified and, Schaffner said, a member of the flight crew allegedly struck him "at least once" leaving a "large welt on his face."
"He also has significant wounds on his wrists and ankles" Schaffner added, that he believes were caused by a hemp rope allegedly used to restrain Ukesone from his ankles to his head.
Schaffner said Ukesone claims his "mouth was taped" and the flight crew allegedly left him alone to ride out the rest of flight "without any food or water."
Once the plane arrived, the Nigerian man's family waited in the international terminal for hours after Ukesone's plane had landed and taxied.
"He's waiting for hours and he starts to check and asks people about his dad," Schaffner said, adding that he ultimately was told that his father was pulled off the plane and admitted to the hospital.
When the plane arrived at Chicago O'Hare International Airport, Schaffner said Ukesone was wheeled out on a stretcher and taken to the University of Chicago Medical Center, where he was allegedly treated for lacerations and bruising, and where he remained for several days.
The man was disoriented after being hospitalized, Schaffner said.
Until last week's two international flights, Schaffner said it had been 35 years since Ukesone, a retired police officer, flew on an airplane.
He added that his client wasn't on any medication, hadn't drunk alcohol and has no history of mental illness.
"The man did nothing more than sit in the wrong seat," his attorney said. "Even if he's in the wrong seat you don't have to beat the guy."
Despite the airline's statement that the passenger in question was turned over to local authorities, Ukesone's attorney is unaware of any criminality.
Ukesone has not been charged with a crime, Schaffner said, and no police report or other paperwork claiming criminal behavior has been produced.
The Chicago Police Department told ABC News that a passenger on the Emirates flight that day was removed from the plane by the U.S. Customs and Border Patrol.
ABC News' repeated attempts to reach a CBP official about this incident were not immediately returned.
Going forward, Ukesone's lawyer is planning to take legal action.
"There's no question we're going to file a lawsuit," Schaffner said, adding that he hopes other passengers who were flying with Ukesone that day come forward.
"Everybody needs to step back for a second and take a deep breath," Schaffner said. "He hasn't flown in a long time and he's clearly from another country ... he just made an honest mistake of sitting in the wrong seat and people have to be trained to deal with things like that, without escalating them into something crazy."