To be a prince or princess in the Middle East today -- a sheikh or sheikha, as they're known in the Gulf -- means inheriting a country vastly different from the one where you were born. By some measures, cities like Dubai and Doha have seen a generation's worth of change within the past five years, with skyscrapers surging from the sand and oil wealth driving societies more at speed with New York than with old Arabia.
The current rulers of the region have set the exacting pace. Sheikh Mohammed bin Rashid Al Maktoum, the ruler of Dubai, has turned a sleepy port town into the aspiring business and bling capital of the Middle East. Sheikh Khalifa bin Zayed Al Nahyan of Abu Dhabi is spending billions to bring home the Louvre, the Guggenheim and New York University -- all institutions building outposts in Abu Dhabi.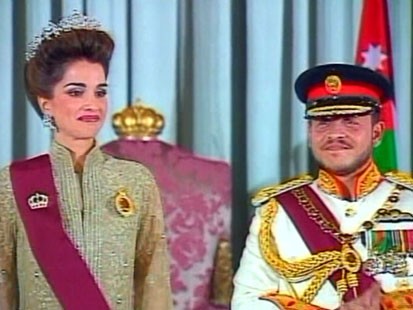 In Qatar, Sheikh Hamad bin Khalifa Al-Thani, who reigns over the world's third-largest natural gas reserve, is raising his country's profile as a diplomatic player and peacemaker. In the past year, Qatar, a close U.S. ally, has hosted Israel's Tzipi Livni and brokered a truce between the Lebanese government and its Hezbollah-led opposition.
The royal leaders of the Gulf are not purely ceremonial figures, as in most of Western Europe, but rather combine the role with a kind of CEO status: they serve as the top tier of governance, aided by able foreign and domestic technocrats. The CEO comparison is fitting, given that the engine of economies in most Gulf countries rests on companies that are fully or mostly state-owned, from oil-producing firms to real estate conglomerates building the region's mega-museums and seven-star hotels.
Arab Royalty Looks for Global Growth
The rising sovereigns of the Arab world are pursuing the same social and economic development programs as their forebears, but their approach is vastly more globally integrated and externally oriented. Today's Abu Dhabi flexes its wealth through Mubadala, a powerhouse investment firm, and the Abu Dhabi Investment Authority, the world's largest sovereign wealth fund at an estimated value of $875 billion. Those resources are driving initiatives like the Louvre and projects like Masdar, an attempt at the world's first zero-carbon city -- all profile raisers for the oil-rich emirate.
Crown Prince Mohammed bin Zayed Al Nahyan of Abu Dhabi, already in his third decade as a government official, is pushing the city's economic growth and political engagement. In November President Bush hosted Mohammed at Camp David for the second time this year, a sign of America's close ties with the UAE.
It was also in part a credit to Mohammed for rebuilding ties between Iraq and the Arab world, while other Sunni Arab states maintained chilled relations with Iraq's Shiite-led government. Mohammed, a graduate of England's Royal Military Academy Sandhurst, was among the first Arab leaders to visit post-war Iraq and to announce the reopening of an Embassy in Baghdad.
In neighboring Dubai, the much younger Crown Prince Hamdan of Dubai is emerging as a public figure who's part executive, part poet and part pinup model. The handsome prince, ranked sixth on Forbes' list of hottest royals, goes by the nickname "Fazaa" -- "the courageous," in local Arabic -- and has a Web site that features his photos and writings (http://www.fazza3.com). His face graces billboards, mousepads and birthday cakes.
Named Crown Prince last February at age 25, Hamdan is chairman of the Dubai Executive Council and engaged in Dubai Cares, a charity aimed at children's development. A modern monarch with a taste for the traditional, he set a world record when he paid a sale price of $2.7 million for a prized camel at a camel beauty pageant.
"He supports camel racing, camel competitions, camel beauty contests -- it's part of supporting our culture," said Sultan Al Qassimi, a writer and businessmen in nearby Sharjah who belongs to one of the UAE's royal families.
"He's not just going for skyscrapers… he was raised in a very traditional way, and we're very happy with that," Al Qassimi, said. "For example, he supports the Emirati tradition of 'yola,' a dance that young people do. The dance was dead until Sheikh Hamdan revived it. It had faded in our Playstation generation."
Arab People Get a Voice With Royalty
Mohammad Al Rahma, a citizen of Dubai, says the fact that Gulf monarchs maintain traditions like the majlis, an open sitting in which rulers hear directly from their citizens, keeps the royals and their subjects connected.
"The culture does not have a power distance. There's a majlis culture, where they hear our requests in an open forum… the ruler or deputy ruler will have a certain time of day when the court is open. You can bring your requests, you can even go just to say hi. You might not go to him with every small request. But you still interact with him in a normal way," said Al Rahma, 28, who works at Dubai's International Financial Center.
"We don't feel there's a barrier between the people and the ruling family, especially the young generation," he added. "We don't find many bodyguards around them, they network and interact freely."
Aside from Hamdan, only one other Gulf royal made it to the Forbes hot list: his sister, Sheikha Maitha. A black-belt beauty, she's a karate champion who took home a silver medal in the 2006 Asian Games. At age 28, Maitha went to this summer's Olympic games in Beijing to compete in Taekwondo, the first Emirati woman to compete in the Olympics. As her country's flag bearer, she helmed the national team as it marched into the Bird's Nest stadium.
"We're very proud as a UAE citizen, an Arab and a Muslim to see Sheikha Maitha carrying the flag," Ibrahim Abdul Malik, the country's Olympic Committee chief said in August.
"Even though most of the other competitors were men, it projects internally and externally that a woman can take a role in leadership," Al Qassimi told ABC News, noting that women hold a number of high posts in federal government. The first woman to hold a cabinet post, Sheikha Lubna Al Qasimi, is a royal from Sharjah currently serving as the UAE's Minister of Economy.
Women Play Role in Public Life
Elsewhere in the Gulf, royal women are taking advantage of 21st century openness and opportunity.  Qatar's Sheikha Mayassa plays an active public role, heading the Qatar Foundation's "Reach Out to Asia" initiative, aimed at disaster relief and supporting the UN's Millennium Development Goals.
In line with the royal family's emphasis on education -- Qatar is home to outposts of Cornell University and Texas A&M -- the Qatari princess went to college at Duke University in North Carolina and is now pursuing a masters at Columbia University in New York. Her activism that earns comparisons to her mother, First Lady Sheikha Mozah, and the princess is a patron of the new Museum of Islamic Art, which opened in November in the capital city of Doha.
The Middle East's most famous royals, King Abdullah and Queen Rania of Jordan, have no official successor for now. The Kingdom is without a crown prince, and the presumed next in line is the royal couple's teenage son, Prince Hussein. As for the region's largest monarchy, the heir to the throne in the petroleum powerhouse of Saudi Arabia is no young royal. Crown Prince Sultan bin Abdulaziz, son of the country's founder, is well into his 80s.   "There certainly are up and coming young princes -- most of the provinces of Saudi Arabia are governed by young princes… At the ministries you have young princes shadowing and working alongside their fathers," said Robert Lacey, an ABC News consultant and expert on the Saudi Arabia.
"But it still remains the case that the ruling generation in Saudi Arabia -- the generation that counts -- is the senior generation, the sons of King Abdulaziz," Lacey said, referring to the country's founder and adding that there are more than a dozen living sons eligible for the throne.
The diverse monarchies of the Arab world have much in common in terms of the challenges they inherit, including a young population facing high unemployment, pockets of poverty and underdevelopment, and militant Islam threatening the region's stability.
To maintain their power and public loyalty they must all do the same: assert their authority and use it well.