A ruling by Malawi's highest court today cleared the way for Madonna to adopt 4-year-old Chifundo "Mercy" James.
For two years, the international superstar has tried to add Mercy to her growing brood. In April, a lower court stunned Madonna when it denied the adoption, saying the pop star hadn't lived in Malawi long enough.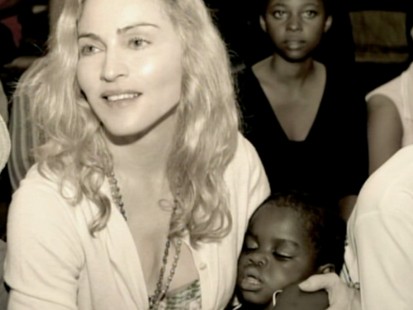 But Chief Justice Lovemore Munlo said the lower court had failed to take into account Madonna's commitment to helping Malawi's children, according to The Associated Press. Malawi is home to an estimated 2 million orphans, with many parents killed or sickened by HIV and AIDS. Madonna co-founded the charity Raising Malawi, which has raised millions for schools, orphanages and health care.
Madonna released a statement Friday through her publicist Liz Rosenberg:
"I am extremely grateful for the Supreme Court's ruling on my application to adopt Mercy James. I am ecstatic. ... My family and I look forward to sharing our lives with her."
The pop star has drawn criticism from some, saying she has used her celebrity and enormous wealth to railroad her way through the Malawi adoption process. Malawi does have a law on its books stipulating that an adoptive parent must live in the country for 18 months before being eligible to adopt.
But today Munlo said the lower court interpreted the law too narrowly, saying "[i]n this global village a man can have more than one place at which he resides. "The matter of residence should be determined at the time of application of the adoption. In this case, Madonna was in Malawi not by chance but by intention. She is looking after several orphans whose welfare depends on her. She can therefore not be described as a sojourner."
Madonna's Malawian lawyer Alan Chinula told the AP that he called the superstar at her New York home in the "wee hours of the morning" and she was "excited" to hear about the ruling. Chinula said he was now arranging a passport for Mercy, which could take several days. So far, Madonna has not indicated when she would travel to the southern African country.
Madonna met Mercy in 2006 at Kondanani Children's Village, an orphanage in Bvumbwe, just south of Blantyre. In 2006, Madonna adopted David Banda from another area of Malawi. It took until last year to finalize that adoption.