— -- The U.S. ambassador to South Korea survived a knife attack Thursday morning in the capital, Seoul. Here's how it unfolded:
The Attack
Shouting "No to war training," Kim Ki-jong, 55, allegedly lunged at U.S. Ambassador to South Korea Mark Lippert in Seoul with a 10-inch blade at 7:40 a.m. Thursday morning, local time.
Seconds later, video shows the ambassador hustling out of the room, blood dripping from his face as his staff applies pressure to the knife wounds.
"I need an ambulance fast," he says calmly. "Get me to the hospital."
The ambassador is put police car to take him to the hospital, blood splattered on his pink tie.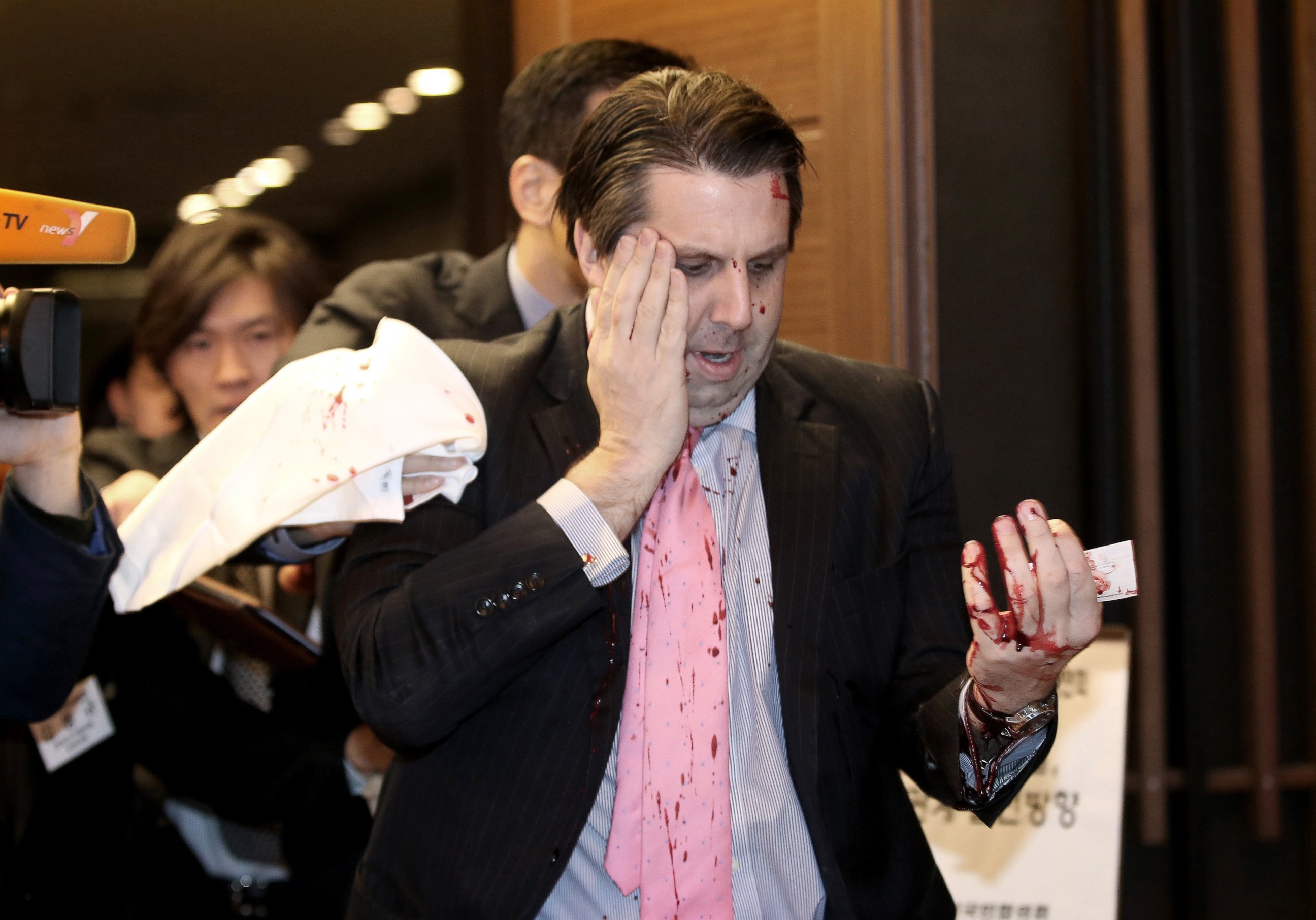 The alleged attacker was part of the group of people who had invited Lippert, and shortly after the ambassador entered the Sejong Center for a breakfast event across from the U.S. Embassy in Seoul, Kim allegedly thrust the knife into the ambassador's left arm, making an incision measuring longer than 4 inches and about 1 inch deep.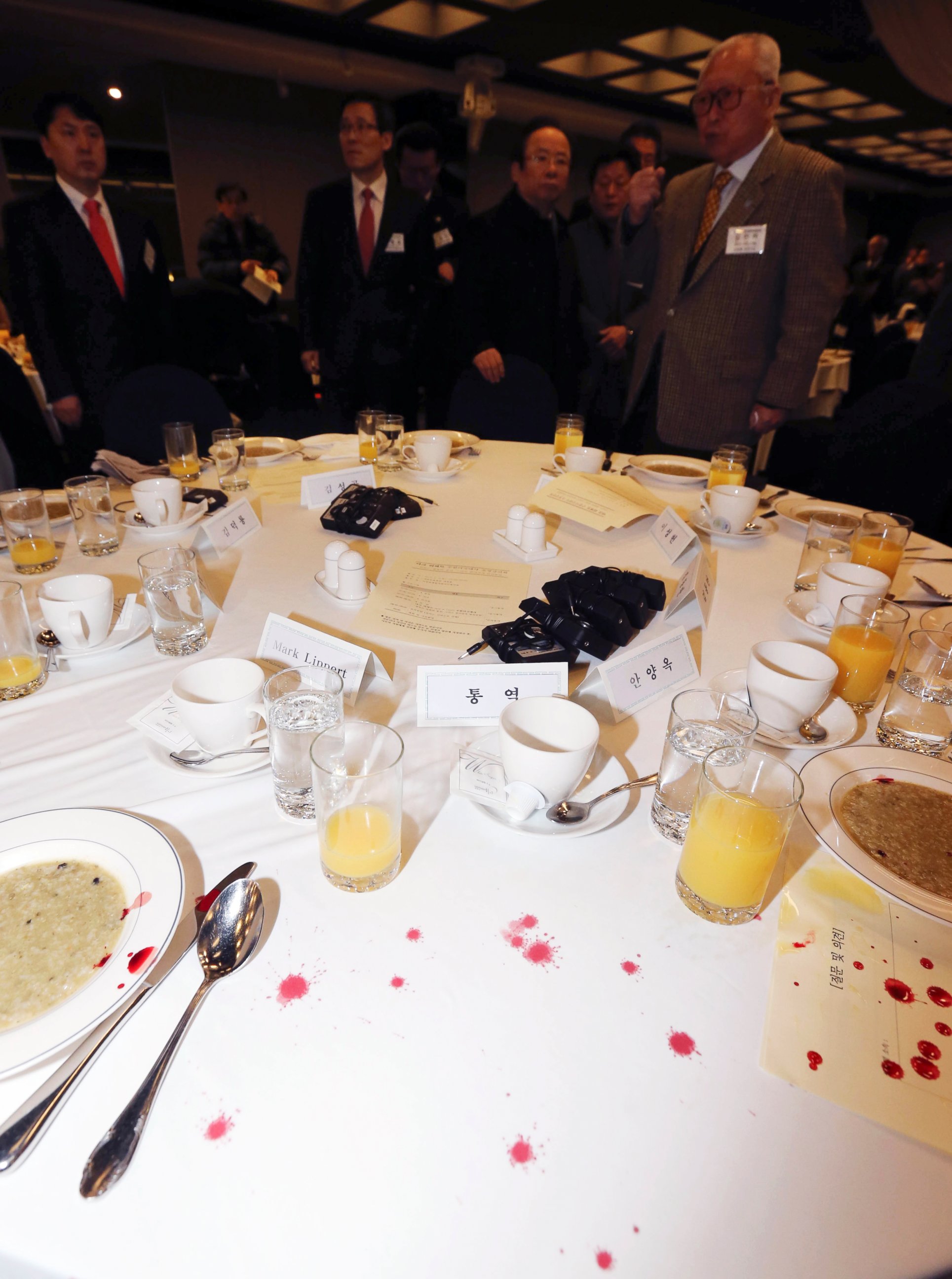 Only one unarmed bodyguard was assigned to the ambassador's personal security detail Thursday morning, U.S. officials told ABC News. They say the guard assigned to Lippert was an out-of-uniform Korean National Police officer, adding it's customary in Seoul for police officers not to carry guns.
Yoon Myeong-song, head of the Jongno Police Station I, said police were not checking people who were entering Thursday morning's event because the embassy had not requested it, according to reporters there.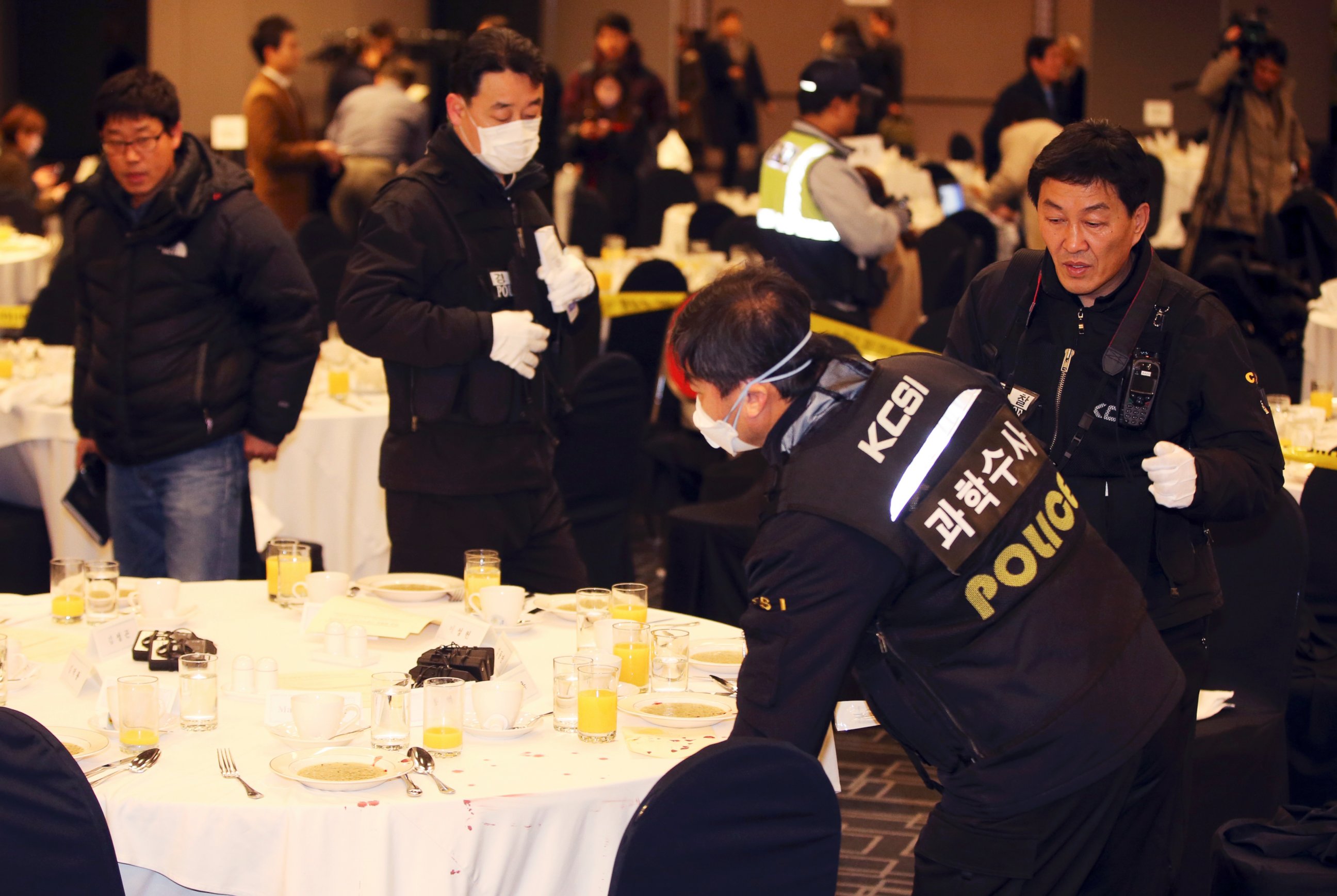 "We had received no request from the embassy for bodyguard service," he said.
The suspect's battle cry is a nod to a deep political divide in South Korea over the still-fresh legacy of the 1950-53 Korean War, which is still technically ongoing. Some South Koreans blame the presence of 28,500 U.S. troops stationed in the South as a deterrent to the North for the continuing split of the Korean Peninsula along the world's most heavily armed border – a view North Korea's propaganda machine regularly pumps out in state media.
Suspect Wrestled to the Ground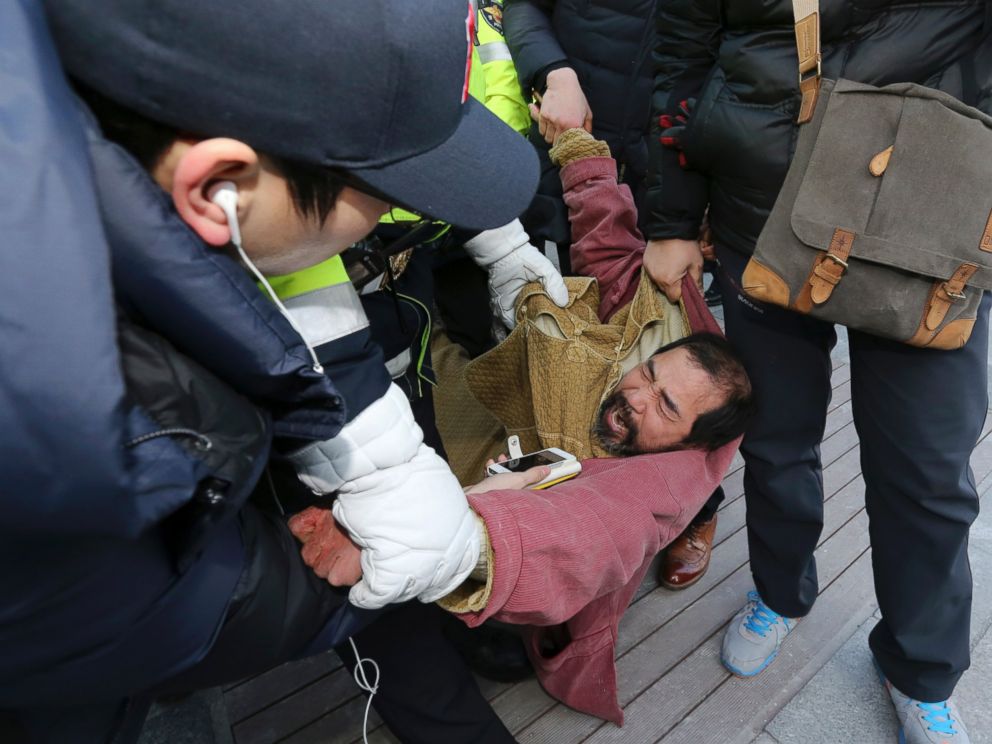 Seconds after the attack, the suspect was tackled to the ground.
Cellphone video shows Kim shouting as he is detained.
Kim was later taken to the Jongno Police Station in central Seoul.
80 Stitches, Surgery at the Hospital
Chung Nam-sik, a representative for Seoul's Severance Hospital, said the knife penetrated through Lippert's left arm and damaged the nerves connected to his pinkie and tendons connected to his thumb. Lippert will need to be treated at the hospital for the next three or four days and might experience sensory problems in his left hand for several months, Chung said.
After 80 stitches, the U.S. Embassy confirmed, Lippert was in stable condition after undergoing surgery.
Nearly two hours after the attack, at 9:34 a.m. local time, the ambassador tweeted that he was in "great spirits!"
Earlier Thursday, both President Barack Obama and Secretary of State John Kerry called Lippert to say "he and his wife Robyn are in his thoughts and prayers, and to wish him the very best for a speedy recovery," according to National Security Council spokeswoman Bernadette Meehan.
Republic of Korea President Park Geun-hye, a victim of a knife attack several years ago, called Lippert to express "her empathy with Ambassador Lippert for the profound suffering." She called for an immediate investigation, according to the Ministry of Foreign Affairs.
Speaking in Korean, Ambassador Lippert responded, "It is an honor to listen to your warm words."
ABC News' Joohee Cho, Justin Fishel and Ben Gittleson contributed to this report.