— -- The relationship between the United States and Russia is at a "low point," U.S. Secretary of State Rex Tillerson said after meeting with Russian President Vladimir Putin and Foreign Minister Sergey Lavrov Wednesday.
The previously unscheduled, high-level meeting with Putin — the first for any senior Trump administration official — and the day-long meetings with Lavrov come amid heightened tension over U.S. cruise missile strikes in Syria that targeted the regime of Bashar al-Assad, a Russian ally, after a sarin gas attack on the Syrian town of Khan Sheikhoun last week.
"The current state of U.S.-Russia relations is at a low point. There is a low level of trust between our two countries. The world's two foremost nuclear powers cannot have this kind of relationship," he said alongside Lavrov at a joint press conference in Moscow.
Striking a friendlier tone
While acknowledging their differences, both Lavrov and Tillerson mentioned areas where the two countries could cooperate and struck a more conciliatory tone than in remarks prior to their meeting.
"We both believe in a unified and stable Syria, and we agree that we want to deny a safe haven for terrorists who want to attack both of our countries," said Tillerson. "We agreed North Korea has to be denuclearized. But there's a broad range of issues where we have differences."
"I do not think that Russia and the U.S. have so great a distance it cannot be bridged on many issues of the international agenda. Both with regard to Syria and Ukraine, it's not impossible," said Lavrov.
Lavrov said the delegations discussed the threat from North Korea and ways to find a peaceful solution, and agreed to reinstate the deconfliction channel -- the special hotline the two countries use to prevent midair collisions in the skies over Syria.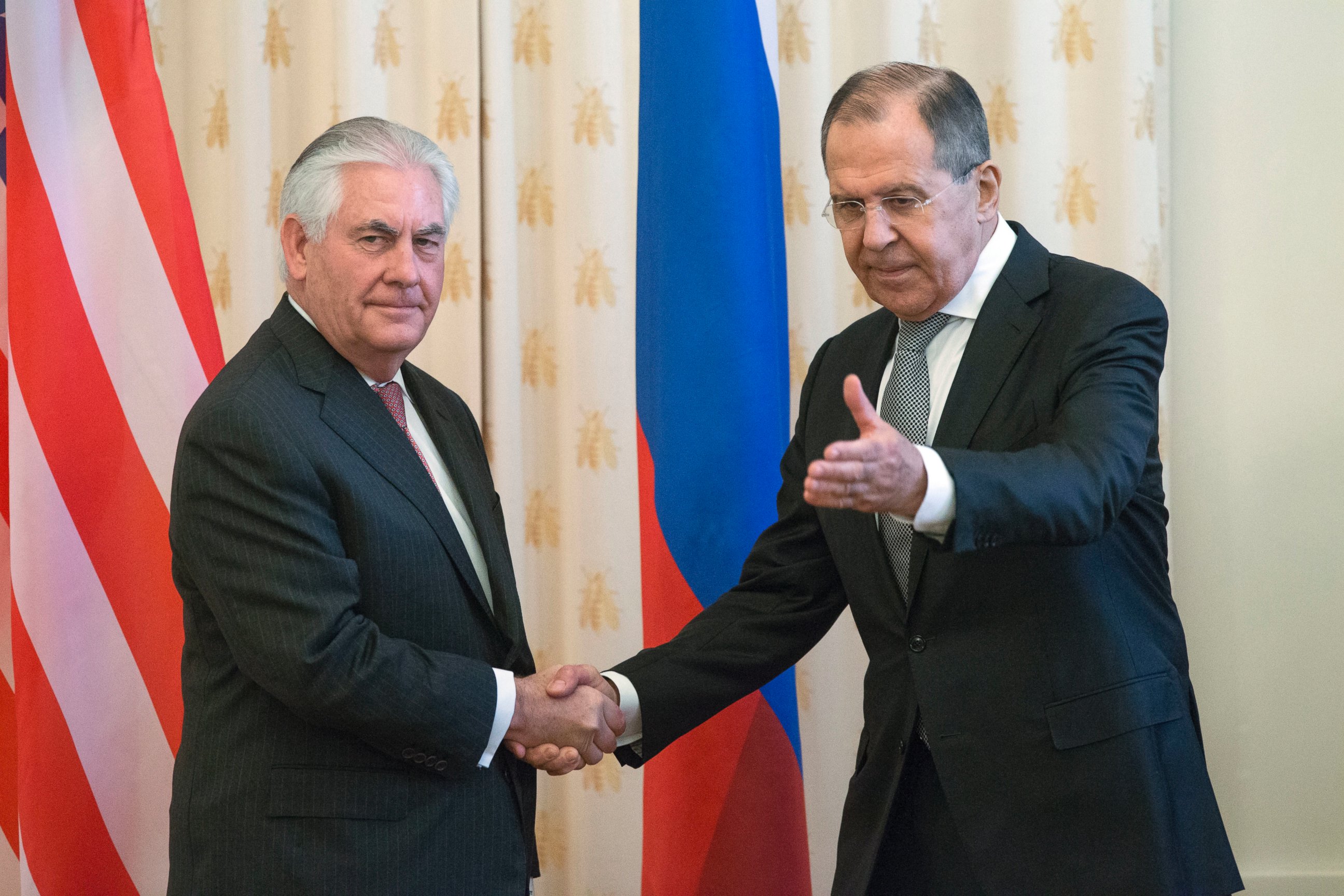 Even on Syria, there was a more measured tone, with both sides seeming to inch closer together on Assad's future.
Tillerson reiterated that, "Our view is that the reign of the Assad family is coming to an end," but said that his transition from power must be done in an "orderly way" -- a sign the Trump administration wants to avoid the kind of regime change in Libya that Russia opposes.
Lavrov defended Assad as the "legitimate" ruler of the Syrian people, but said Russia would not impose anyone, including Assad, on the Syrian people -- leaving the door open to his departure.
The U.S. and Russia remain far apart on several key issues
Still, there are sharp differences between the two powers and it's unclear what specific actions both countries will take beyond changes in rhetoric
The Trump administration's decision to strike the Assad regime remains one of the most glaring areas of disagreement. Tillerson again defended the administration's assertion that Assad is responsible for the chemical attack, saying the results are "conclusive... and we're quite confident of that."
Lavrov dismissed these findings as premature, but announced that Russia wants a "frank" U.N.-led investigation into the attack that examines the attack site and the air base where the U.S. alleges the strike originated. He said the U.S. agreed to that.
The two sides did not reach a consensus in other key issues beyond Syria either.
Tillerson said that U.S. sanctions against Russia will remain in place for its annexation of Crimea and incursion into eastern Ukraine.
"Until full progress is made under the Minsk accords, the situation in Ukraine will remain an obstacle to improvement in relations between the U.S. and Russia," he added.
Tillerson also stood by the finding of 17 U.S. intelligence agencies that Russia meddled in the 2016 election by hacking into the emails of the Democratic Party and some of its leaders -- a finding that Russia dismisses.
"It is a serious issue; it is one that we know is serious enough to attract additional sanctions," he said. "So we are mindful of the seriousness of that particular interference in our elections, and I'm sure Russia is mindful of it as well."
Lavrov continued to reject the claim, saying, "We have not seen any facts, even hints at facts. We haven't seen any evidence."
A war of words over Syria
Earlier in the day, Lavrov criticized the U.S. for its strikes against Assad, warned that similar action was unacceptable to Russia and chided the Trump administration for an inconsistent foreign policy and vacant positions at the State Department.
"I will be frank that we have a lot of questions regarding very ambiguous as well as contradictory ideas on a whole plethora of bilateral and international agendas coming from Washington," Lavrov said through an interpreter.
"We have seen just recent highly alarming actions, when there was the unlawful attack against Syria," he added. "We believe it fundamentally important not to let these actions happen again in the future."
Before he arrived in Moscow, Tillerson blamed Russia for being either "complicit" in last week's chemical attack in Syria or "incompetent" for failing to prevent it, while the White House on Tuesday accused Russia of trying to cover up the Assad's responsibility.
The Russians responded with their own harsh rhetoric: Putin compared the accusations from Washington to its claims that Iraq had weapons of mass destruction before the U.S. invasion in 2003, and Prime Minister Dmitry Medvedev warned that the U.S. is "on the brink of military conflict with Russia."
ABC News' Bianca Seidman contributed to this report.