Sharapova. Petrova. Dementieva. All banner names in the world of women's tennis and just a handful of the powerhouses to emerge from Russia onto the world stage. And one by one, each of these towering Russians was beaten by a previously unknown 5'6'' 17-year-old from Marietta, Ga.
When Melanie Oudin saw her draw for this year's U.S. Open, her coach Brian de Villiers commented to her, "You realize, to win this tournament you're going to have to beat six Russians and a Williams." Clearly that wasn't as daunting as it may sound to another teenager not even in the top 50, as Oudin dispatched with the first four Russians she faced to reach the Open's quarterfinals.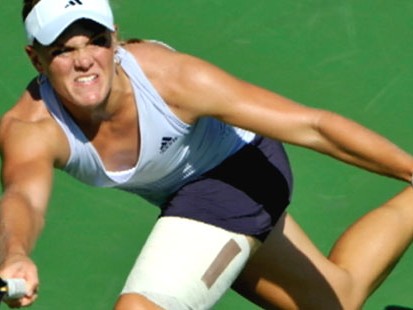 "What do you have against Russians?" ABC News's John Berman asked the unseeded player after her Monday win over the 13 seed, Nadia Petrova.
"I didn't mean to have that draw!" she laughed.
Oudin didn't coast to victory in her first four rounds, three of the matches lasted a full three sets and in each of those she had to come back after losing the first set. The world number 70 admits that she's not quite sure how she's defeated the Russian women, all in the top 40 and one ranking as high as number four.
"I didn't think they had weaknesses, all the matches that I've played have been really close and I've just been able to pull them out," she said at Monday's post-game press conference.
"I think [Oudin's] just so excited after winning those matches, she's on a roll," said Petrova, her fourth-round opponent. "She has nothing to lose, the crowd's behind her, she's just having a blast out there."
Asked if there was anything to the fact that Oudin had beaten four tall Russians in a row, Petrova joked, "Now she gets hopefully a short and a little chubby Russian. See how she's going to handle that."
Oudin won't have to play against any other Russians because the very last Russian woman in the Open lost shortly after Oudin and Petrova wrapped up their match. Though 13 Russians started in the tournament's field, this will be the first quarterfinals in a major not to feature a Russian since 2002.
Why Did Russia's Tennis Powerhouses Fail?
So how did the mighty Russian tennis machine falter?
Russian players and analysts say agree that Oudin is playing a very good tournament, chasing down each ball and creating long rallies, waiting for her opponents to make a mistake. Roza Islamova, the mother and former coach of this year's number one seed, Dinara Safina, told ABC News that Petrova wasn't psychologically prepared and Sharapova is still recovering from an injury.
"This year the calendar of the competitions was changed. All the Russian players were very tired for the U.S. Open and were not in their best form," she adds. "Next year it will be taken into account and I am sure that Russian players will be better prepared."
Petrova and Islamova were two of several in the Russian tennis world to argue that Oudin is being bolstered by a nothing-to-lose attitude in this tournament as well the support of the hometown crowd. Former Russian world number one Yevgeny Kafelnikov suggested to a Russian newspaper that there wasn't enough variety in the Russians' strokes and that, simply, "it seems our tennis players underestimated their opponent."
However, each Russian compliment to Oudin seems to be paired with a "but."
"I like how she plays, her technique and motivation," says Islamova. "She's a new star, but tennis has had a lot of quick stars who did not last long."
"The next tournament will show if she is so good, or was just lucky," says Alexei Zhuk, head coach of the Moscow club where Petrova and Elena Dementieva (who lost to Oudin in the second round) belong.
Regardless of whether Oudin makes it past the quarterfinals, she has been the Cinderella story of the 2009 US Open and the fact that all her victories came against Russians has drawn even more attention.
All eyes, especially Russian eyes, will be on the young upstart as she moves on from Flushing Meadows to see if she will continue to knock out Russia's champions round after round.