What we know about Travis King, the American soldier detained in North Korea
ABC News has learned that the U.S. soldier was identified as Travis King.
LONDON -- An American soldier who had just been released from a South Korean detention facility fled across the border to North Korea where he was taken into custody this month.
Here's what we know about the situation.
Who is the detainee in North Korean custody?
The soldier in question was identified as 23-year-old U.S. Army Private 2nd Class Travis King, according to a U.S. official. King has been a cavalry scout in the U.S. Army since January 2021 and has no deployments, according to service information provided by Army spokesperson Bryce Dubee.
King has received three medals while serving in the U.S. military: the National Defense Service Medal, the Korean Defense Service Medal and the Overseas Service Ribbon. These medals are commonly received by American service members in Korea.
On Sept. 4, 2022, King failed to report for his daily formation and, when reached away from the base, stated that he "refused to return to post or America," a U.S. official told ABC News.
At the time, King was serving as a cavalry scout at Camp Bonifas in northwestern South Korea, just south of the southern end of the Korean Demilitarized Zone, or DMZ, the heavily militarized border that separates North and South Korea. As a scout and because of where he was serving, King would have been aware of the risks in crossing the DMZ, according to the official.
The official said King was later found in Uijeongbu, a South Korean city some 25 miles southeast of Camp Bonifas.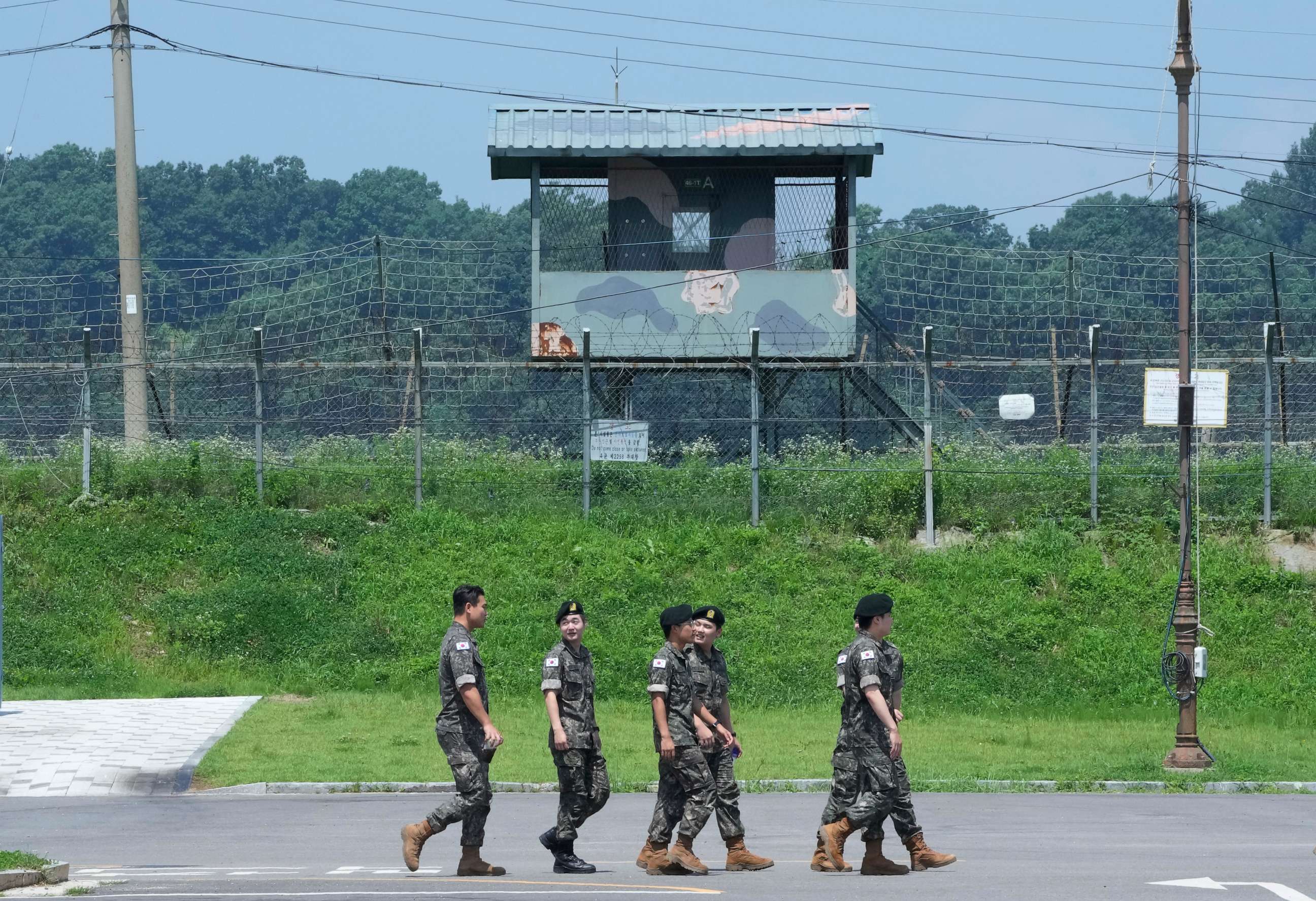 Why was he in a South Korean detention facility?
King served 47 days in a South Korean detention facility following an altercation with locals, according to a U.S. official.
South Korean media reported that King allegedly punched someone in the face repeatedly while drinking at a club in Seoul last September. He also allegedly kicked and broke the door of a police patrol car that was sent to the scene of a reported assault in Seoul last October, according to South Korean media.
After finishing his sentence, King was released from the detention facility on July 10, according to The Associated Press.
A U.S. official told ABC News that King was set to face a "pending administrative separation actions for foreign conviction" upon his return to the United States.
How did he get to North Korea?
Two U.S. officials told ABC News that King spent about a week under observation at a U.S. military base in South Korea after being released from jail. He completed out-processing from the facility and on July 17 was escorted by U.S. military officials to South Korea's Incheon International Airport as far as the customs checkpoint.
The military escort had no ticket and was not allowed past the checkpoint, so King continued into the terminal alone, according to the U.S. officials.
A U.S. official told ABC News that King was supposed to board a flight and end up in Fort Bliss, Texas. Because King had finished serving his sentence, he was no longer under custody and, thus, an escort to the gate was not required. There was also no reason to suspect he would fail to board his flight.
But instead, King left the airport terminal for a tour of the DMZ. There was a gap of almost 12 hours from when King was dropped at the airport to the time he crossed the DMZ, according to U.S. officials. It's unclear when he bought a ticket for the tour.
While on the tour, the soldier "willfully and without authorization crossed the military demarcation line," according to U.S. Secretary of Defense Lloyd Austin, who didn't identify King by name.
"We're very early in this event and so there's a lot that we're still trying to learn," Austin told reporters on July 18. "We believe that he is in DPRK custody. We're closely monitoring and investigating the situation, and working to notify the soldier's next of kin and engaging to address this incident."
"I'm absolutely foremost concerned about the welfare of our troop. We will remain focused on this, and this will develop in the next several days," he added.
The United Nations Command also confirmed the incident via Twitter on July 18, saying an American "on a JSA orientation tour crossed, without authorization, the Military Demarcation Line into the Democratic People's Republic of Korea." The Joint Security Area, or JSA, sits in the DMZ along the border between North and South Korea.
"We believe he is currently in DPRK custody and are working with our KPA counterparts to resolve this incident," the U.N. command tweeted.
Witnesses told ABC News that King sprinted across the border.
Once he crossed into North Korea, King was immediately taken away in a van and is believed to have been taken to the capital Pyongyang, a U.S. official told ABC News. But the Pentagon said they see no reason to suspect the soldier planned his crossing with the North Korean government.
The U.S. military did not know that King was missing until the plane he was supposed to board landed in the United States. He was supposed to have been picked up by an escort, similarly to how he was escorted to the airport in South Korea, according to U.S. officials.
What does his family say?
King's mother, Claudine Gates, who lives in Racine, Wisconsin, said she was shocked when she heard her son had crossed into North Korea.
"I can't see Travis doing anything like that," Gates told ABC News during an interview on July 18.
Gates said the U.S. Army told her that morning that King had crossed into North Korea. She said she last heard from her son "a few days ago," when he told her would return soon to his base in Fort Bliss.
She told ABC News that she just wants "him to come home."
What's next and what's being done to secure his release?
U.S. President Joe Biden has been briefed on the situation, while the U.S. Department of Defense and the U.S. Department of State work with the U.N. "to ascertain more information and resolve this situation," according to White House press secretary Karine Jean-Pierre, who declined to say how much political capital the Biden administration would expend to secure the soldier's safe return.
"I don't have more to share beyond that," Jean-Pierre told reporters on July 18. "We are looking into this."
Several U.S. officials told ABC News that North Korea has not yet responded to inquiries made by the United States about King's status. The contacts with North Korea are being made by the U.S. via the U.N. Command, not through U.S. military channels because they don't exist with North Korea, the officials said.
The top U.S. military general in South Korea heads U.S. Forces Korea and is also the head of the U.N. Command, which has regular -- almost daily -- contact with the North Korean military. While the U.N. Command was the channel that the U.S. request was made through, U.S. officials told ABC News that North Korea has yet to respond.
North Korean state media has also remained uncharacteristically silent on the matter.
"We're still doing everything we can to try to find out his whereabouts, his well-being and condition and making it clear that we want to see him safely and quickly returned to the United States and to his family," U.S. National Security Council spokesperson John Kirby told reporters on July 20. "Not for lack of trying, we just don't have anything."
Asked whether the U.S. Department of State fears for King's safety, its spokesperson Matthew Miller said North Kora's past treatment of Americans held in its custody was cause for worry.
"Certainly, I think we would always have concern given the treatment by North Koreans of past detained individuals," Miller told reporters on July 20. "And that's why -- one of the reasons why -- we are reaching out to ask for more information about his well-being."
U.S. Secretary of State Antony Blinken made his first public comments about King on July 21 while speaking at a national security and foreign policy conference in Aspen, Colorado.
"We are very concerned of course about his well-being," Blinken said. "We'd like to know his whereabouts. We have communicated to North Korea seeking that information. I don't have anything more at this point."
When asked whether King might be tortured, Blinken told reporters: "There are certainly concerns based on what we have seen in the past and the way North Korea has treated those it detained."
ABC News' Joohee Cho, Shannon Crawford, Chris Looft, Martha Raddatz, Matt Seyler and Joe Simonetti contributed to this report.