— -- The people of Thailand are outraged after two Americans — who have since been arrested — posted photos of themselves baring their buttocks in front of Bangkok's famous Wat Arun, or Temple of Dawn.
Travis and Joseph Dasilva, both 38, were taken into custody by immigration police at Don Mueang International Airport as they were trying to leave the country Tuesday evening, according to The Bangkok Post.
Pol Col Choengron Rimpadee, the deputy spokesman of immigration police, said the two admitted to exposing their backsides and posing for photos at the sacred site, the Post reported.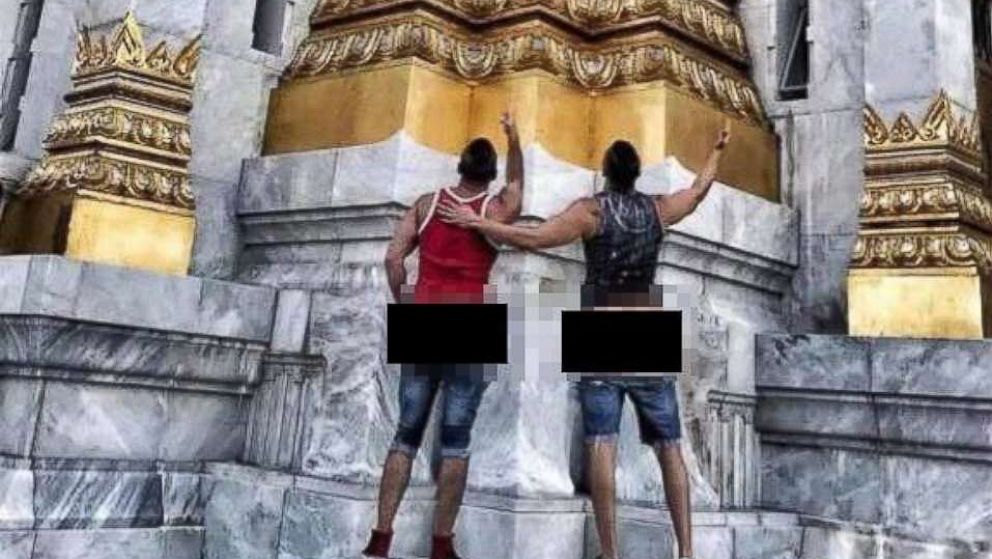 A statement from the Thai government said the two tourists could face jail time for posing for the photo.
"The charge would not be a normal public indecency charge. Instead, they would be charged with committing indecency in a place of worship, which carries a long jail term," the government statement read. "This is a reminder that everyone should have respect for Thai religion and culture."
San Diego City Commissioner Nicole Murray-Ramirez said the Dasilvas have reached out to him for assistance and he is speaking to U.S. authorities, according to The San Diego Gay and Lesbian News.
"Though I am very disappointed in their actions, I am talking to U.S. government officials to see what assistance we can give them," Ramirez said.
The Dasilvas have a history of posting photos of their buttocks in front of famous sites around the world. Self-proclaimed "travel junkies" from California, they maintain an Instagram account called Travelling_Butts, on which they post their exposed photos. The account has since been taken down.
Travis Dasilva posted on Facebook, "Anybody have any connections with diplomats in Bangkok or know a lawyer in Bangkok?" The post no longer appears on his account.
Reaction on social media has been swift, with Ranier Maningding, the writer of the popular blog Love Life of an Asian Guy, posting, "It is really culturally ignorant to think that you could moon people in whatever country you're in and not receive backlash."
Signs outside the temple ask visitors to wear modest outfits that cover their shoulders and knees.
The Dasilvas remain in police custody.