Americans in Nepal Describe Massive Earthquake and Devastating Aftermath
American describes families running to their homes to see if anyone was inside.
— -- An American traveling in Nepal described the moment a massive earthquake hit today, as she witnessed "the whole ground, all the temples... moving at once."
"It was huge. Everyone felt it," Abigail Hunter said. "A lot of screaming going on, a lot of bricks coming down."
Hunter, the sister of an ABC News employee, is traveling in Baktapur, about 30 minutes away from Nepal's capital, Kathmandu.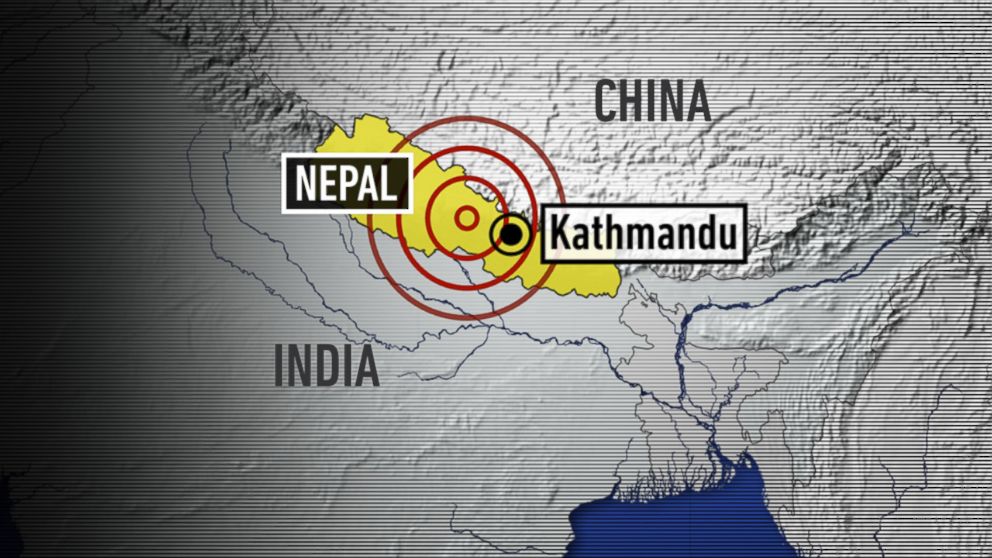 The magnitude-7.8 quake hit about 50 miles northwest of Kathmandu, just before noon local time, according to the U.S. Geological Survey. More than 1,000 people are dead and the death toll is expected to rise.
Hunter said she saw people pulling others out of buildings and using motorbikes and small trucks as makeshift ambulances.
"The streets are littered with bricks, debris, loads of dust," she said. "[It] was hard to see during the earthquake with all the dust."
A magnitude-6.6 aftershock hit about an hour after the initial earthquake and smaller aftershocks followed in the region for hours.
During the aftershocks, "Lots of people [were] praying to the actual temples," Hunter said.
Hunter said she watched as families ran to their homes to see if anyone was still inside.
"Everyone was very scared," she said. "Lots of crying, families trying to find each other."
This is the worst earthquake in Nepal in more than 80 years, according to The Associated Press.
"I'm from California, I've felt smaller earthquakes before but [I've never] felt anything like this," Hunter said.
Now in the earthquake's aftermath, Ayal Weiner-Kaplow, another American visiting Bhaktapur, said water wasn't flowingand most of the remaining food was dried junk food and crackers.
He said he wandered around in search for something to eat until he came upon a restaurant.
"A restaurant owner filled us up -- all of our bottles -- and gave us potatoes, bread, and chicken, refused payment adamantly," he said. "I was actually moved to tears."
ABC News' Jon Williams, Rym Momtaz and The Associated Press contributed to this report.