JERUSALEM -- Jailed al-Jazeera English reporter Peter Greste was released and deported from Egypt after more than a year of imprisonment, Egypt's Interior Ministry said today.
Greste left Cairo with his brother on a flight bound for Cyprus, airport authorities told ABC News. They are expected to continue on to Australia.
"We're ecstatic that Peter has been released and we now ask if the world could respect his privacy, to give him time to appreciate his freedom before he faces the media," read a statement from Greste's brother Andrew.
"We're pleased for Peter and his family that they are to be reunited," Mostefa Souag, acting director general of al-Jazeera, said in a statement. "It has been an incredible and unjustifiable ordeal for them, and they have coped with incredible dignity. Peter's integrity is not just intact, but has been further enhanced by the fortitude and sacrifice he has shown for his profession of informing the public."
An Egyptian official told Agence France-Presse that it was a "presidential decision to deport Peter Greste to Australia."
The Australian national was jailed for exactly 400 days after being arrested on December 29, 2013. Two other al-Jazeera employees - Mohamed Fahmy, a dual-Canadian citizen, and Baher Mohamad, an Egyptian cameraman - remain behind bars in Egypt.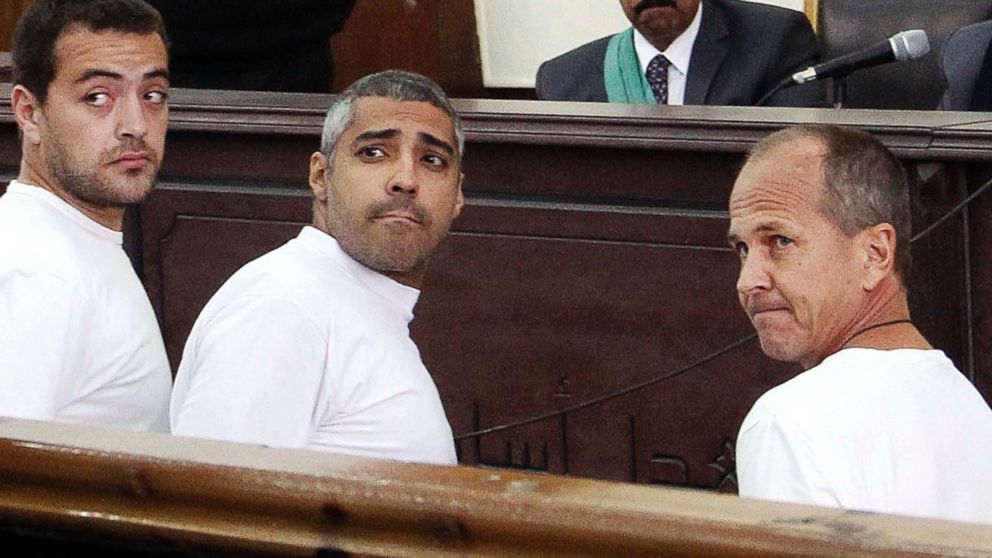 The Interior Ministry did not provide additional details on reports that Fahmy's release will follow Greste's.
All three have consistently denied charges they faced, which included spreading false news and collaborating with the Muslim Brotherhood, and maintain they were working as journalists.
"We will not rest until Baher and Mohamed also regain their freedom," Souag said. "The Egyptian authorities have it in their power to finish this properly today, and that is exactly what they must do."
Greste and Fahmy were handed seven-year sentences, while Mohamad received an additional three years for a bullet found in his possession, which he had picked up at a protest site, according to al-Jazeera.
On January 1, 2015, Egypt's Court of Cassation accepted a retrial, but the three journalists did not appear at the hearing and were not granted bail.
The imprisonment has provoked criticism from press freedom advocates around the world and sparked the online campaign #FreeAJStaff.
The Committee to Protect Journalists (CPJ) has helped lead the charge to free the journalists and repeatedly called on President Abdel-Fattah el-Sisi to free all three immediately. According to CPJ, more than 65 journalists have been detained since former President Mohamed Morsi was ousted in July of 2013.