Tens of thousands of people remain out of their homes in the Balkans, where torrential rain of an intensity not seen in over a century caused flooding and landslides that paralyzed much of the region, resulting in at least 30 deaths and loosening land mines left over from the Bosnian War.
Interested in
?
Add as an interest to stay up to date on the latest news, video, and analysis from ABC News.
At least nine people died in the central Bosnian town of Doboj, but the death toll is expected to rise. The head of the Bosnian Serb police, Gojko Vasic, said the situation was particularly difficult there "because the floodwaters acted as a tsunami."
"No one could have resisted," he added during a news conference Saturday in Banja Luka, Bosnia and Herzegovina.
Doboj was isolated from the rest of the world for three days. It is still without electricity and some of its neighborhoods can only be reached by boat or helicopter.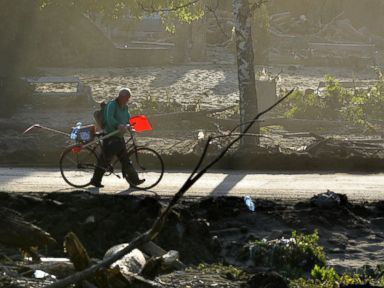 Serbia's agricultural and power plant hub, Obrenovac, 20 miles southwest of the capital Belgrade, is the worst hit, with water levels reaching up to nearly 10 feet in the streets.
"The entire town is now being evacuated amid warnings of more flooding," said Predrag Maric, head of Serbia's emergency services.
Seven bodies were found in Obrenovac and the death toll there could rise. Serbian Prime Minister Aleksandar Vucic told reporters that "rescuers have started recovering dead bodies from flooded areas, but we will not make the number public before the complete withdrawal of the water."
Inside the Slavija Hotel in downtown Belgrade, Aca Ilic described waking in the darkness to the sensation of moisture in his bed, then reaching for his phone on a bedside table to find it already lost in the water. He and his family were forced to evacuate from their home in Obrenovac.
"My wife and I swam with our 6-year-old son. I don't know what happened to my grandmother, though. She did not want to leave her house," said Ilic, 35.
In Bosnia, the landslides and floods could displace minefields left over from the Bosnian War, bringing mines and shells hidden on riverbeds to the surface.
According to Sasa Obradovic of Bosnia and Herzegovina's demining center, about 220,000 mines are still lying beneath on ground in the country's territory.
"We are asking people not to panic if they see a shell lurking from the ground," said Obradovic, who advised anyone who spots a mine to immediately call disposal experts.
Thousands of volunteers joined soldiers, police officers and firefighters in building flood barriers made of white sandbags in Belgrade and the western town of Sabac.
"I'm here for all the people in harm's way," said Jovan Nikolic, a 65-year-old retiree from Mladenovac who is spending a third day in the sandbag line.
The Sava River hit its highest-recorded level in Serbia, the army said, rising at a rate of slightly more than one inch per hour after three-months' worth of rain fell on the region in just three days.
While the rain stopped Sunday, the Sava River wouldn't begin receding until Wednesday, said meteorologists.
In Serbia, 95,000 homes are without electricity as the country's energy system neared its breaking point. City authorities in Belgrade switched off street lights to save electricity and avoid outages.
A fleet of helicopter crews worked to pluck people from rooftops and drop emergency supplies in dozens of towns in Serbia, Bosnia and Croatia cut off by floods, landslides and damaged roads.
The floods have also caused lasting damage to livestock and agriculture.
"Our livestock is dead, our crops completely destroyed, our house is filled with water to the roof," said Keta Mitrovic a 76-year-old farmer from Novo Selo, a village between hardest hit Obrenovac and Sabac.
"We have nothing left," he said as his voice broke down. "No matter how old you are, you have not seen anything like this."