— -- Boris Nemtsov, one of Russian President Vladimir Putin's most vocal and visible opponents was shot and killed near Moscow's Red Square today, a member of his political party told ABC News.
Nemtsov, a prominent opposition leader, was shot multiple times in the back as he walked by a bridge near the Kremlin late Friday night, according to Russia's Investigative Committee.
Russian news reports said that Nemtsov was walking with a female companion when a white car pulled up and fired on him before fleeing the scene.
Unidentified killers fired "at least seven or eight shots" at Nemtsov when the politician was walking on Bolshoy Kammeny Bridge in central Moscow, Russian Investigative Committee spokesman Vladimir Markin said.
"Witnesses to the killing are being questioned, and the crime scene is being carefully examined," Markin said.
Nemtsov was a former deputy prime minister under Boris Yeltsin during the 1990s, but fell out with the Russian president and formed Russia's People's Freedom Party.
The reason for the attack remains a mystery. A Kremlin spokesman Dmitry Peskov said President Putin was aware of the news and called it a provocation. "Putin noted that this cruel murder has every sign of being a contract one which has solely provocative nature," Peskov said, according to the Interfax news agency.
"The president has ordered the leadership of the Investigative Committee, the Interior Ministry and the Federal Security Service to form an investigative group and keep the investigation of this crime under personal control," Peskov said.
"The Russian president expresses deep condolences to relatives and friends of Boris Nemtsov, who died tragically," Peskov added.
The former U.S. Ambassador to Russia Michael McFaul tweeted: "I cannot believe that they have killed my friend, Boris Nemtsov."
Nemtsov's death comes just days before he was expected to take part in a large anti-Putin protest planned on Sunday.
Nemtsov was one of the organizers of large street protests against President Putin in recent years, always marching at the front of the crowd and addressing them from the stage.
He was the author of several reports on corruption in Russia, including attempts to estimate President Putin's wealth and the amount of money stolen during preparations for last year's Winter Olympics in Sochi.
"I was born in Russia and will die in this country," he told ABC News' Brian Ross in December 2013 when asked if he was afraid of being targeted for his opposition to President Putin.
"Everybody who against him must be very careful," he said.
Asked what motivated him, Nemtsov replied: "I think that we must replace him because he did everything against an interest of my country; corruption, dependence on oil and gas, absence of technology, monopolization. He doesn't want to invest money to middle class. He forgets about health care and the population."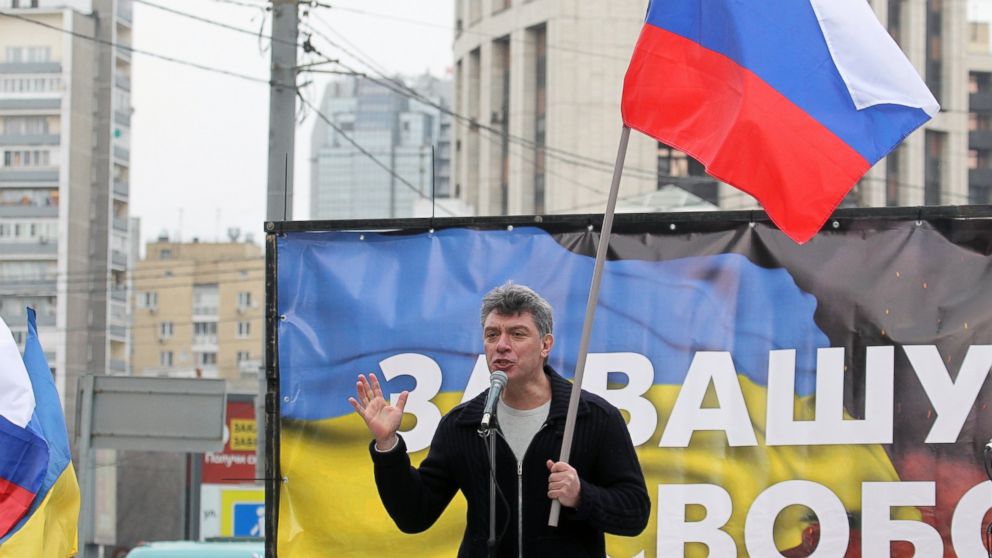 "Russian authorities should thoroughly and impartially investigate Nemtsov's killing," said Tanya Cooper, Russia researcher at Human Rights Watch. "The authorities need to consider all possible motivations for his killing, including Nemtsov's political activity."
In an interview published today, Nemtsov told the Financial Times he believed U.S. sanctions on Russia were beginning to have an effect on Putin's popularity. Stagnant wages and soaring inflation topped the agenda when he met with residents of Yaroslavl, a town northeast of Moscow, last week.
"They believed that the embargo on imported foods is America's fault, and they were surprised when I told them no, that was not Obama, it was Putin," Nemtsov told the Financial Times. "This is what we need to make people aware of the crisis. Putin's rating will not stay at above 80 per cent forever. It will start coming down, very gradually. And once it does, the fear will diminish, too, and at some point some big business will start supporting and financing us."
ABC News' Tanya Stukalova contributed to this report.