A man who survived the deadly explosions at the Brussels airport this morning said the departure hall where the attacks took place was filled with smoke and the ceiling was on the verge of collapse. Frantic travelers were screaming and running, he said.
Interested in
?
Add as an interest to stay up to date on the latest news, video, and analysis from ABC News.
David Crunelle said he was dropping off his luggage near the international departure terminal when he heard the first explosion around 8 a.m. local time.
"There was a lot of dust and the fake ceiling at the airport started to collapse," Crunelle told ABC News. "About two or three seconds after that the second explosion on the other side of the terminal, same smoke, same noise, same people screaming everywhere. In just about a few seconds everybody ran out."
"We quickly saw injured people and a few people were laying on the ground near the entrance and we saw a lot of people badly injured, a lot of blood," he continued. "And we know that it was worse inside but we could not see anything because of the smoke."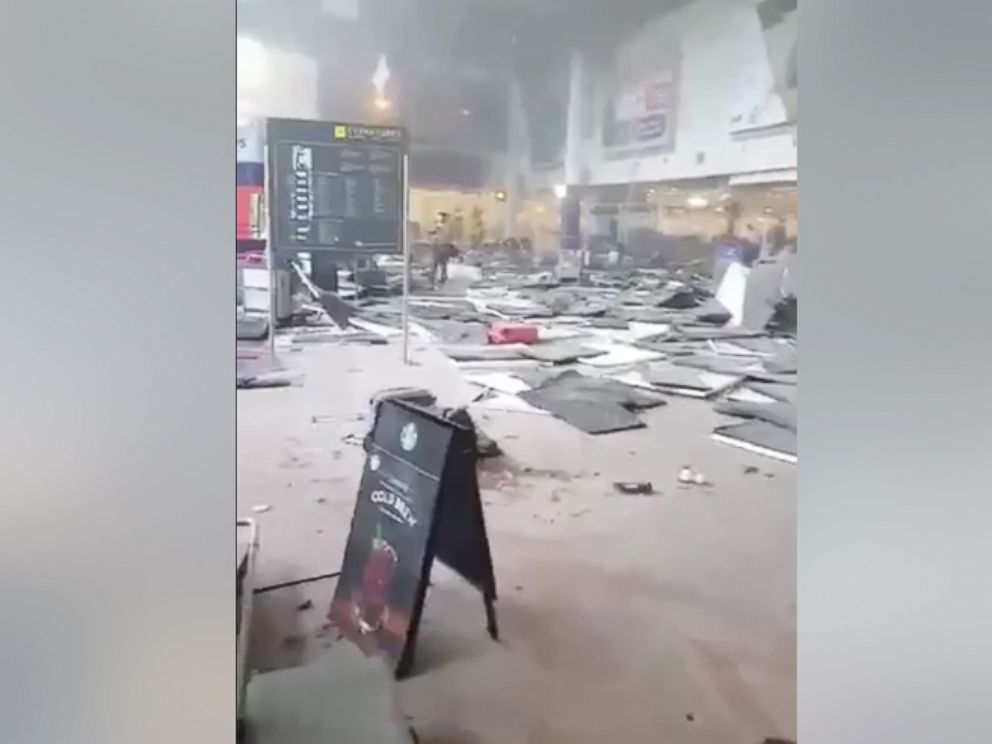 He estimated that the explosions were maybe about 30 to 40 meters apart from each other, and said he was less than 20 meters from one of them.
"One of my ears is a bit damaged. And I can't hear very well on one side. But it's OK, I'm very lucky," he said.
He said there were about 40 people injured near him.
"The ceiling was really collapsing and there was a lot of glass around," he said.
Crunelle noted that "when the first explosion happened, I saw the face of everyone -- they were ready for something like that to happen."
"And they were like 'Oh my God, now it's happening, so let's go out.'"
"Everybody went out and each movement, everybody was taking care of each other," he said.
There were two attacks in the airport departure hall as well as an explosion at a subway station in downtown Brussels. At least 31 were killed in the two attacks.
At least 10 people were killed at the airport, the Belgian Crisis Center said, and at least 21 people were killed at the subway station.