— -- The Belgian federal prosecutor's office charged three men Saturday as part of widespread anti-terror operations following this week's attacks in Brussels that killed 28 people and injured 340 others.
All three men were charged with participation in the activities of a terrorist group, according to a statement from the prosecutor's office. One of the men, identified only as Faycal C., was also charged with terrorist murder and attempt of terrorist murder in connection with the attacks in Brussels, the statement said.
Another of the men, identified as Rabah N., was charged in connection with a terror plot in France that was foiled by police, according to the statement. The prosecutor's office didn't say what led to the arrest of the third man, identified as Aboubakar A.
In Germany, police and prosecutors are investigating whether a 28-year-old Moroccan man arrested at a German train station with no valid identification Thursday has connections to the Brussels attackers, police said. Police found documents on him suggesting he had been in Brussels recently and police learned he had entered Germany several times under different aliases, according to a police press statement.
Amid the raids and arrests, a man was shot by law enforcement officials Friday at a Brussels tram station. In video obtained by ABC News, he was seen being dragged away by police.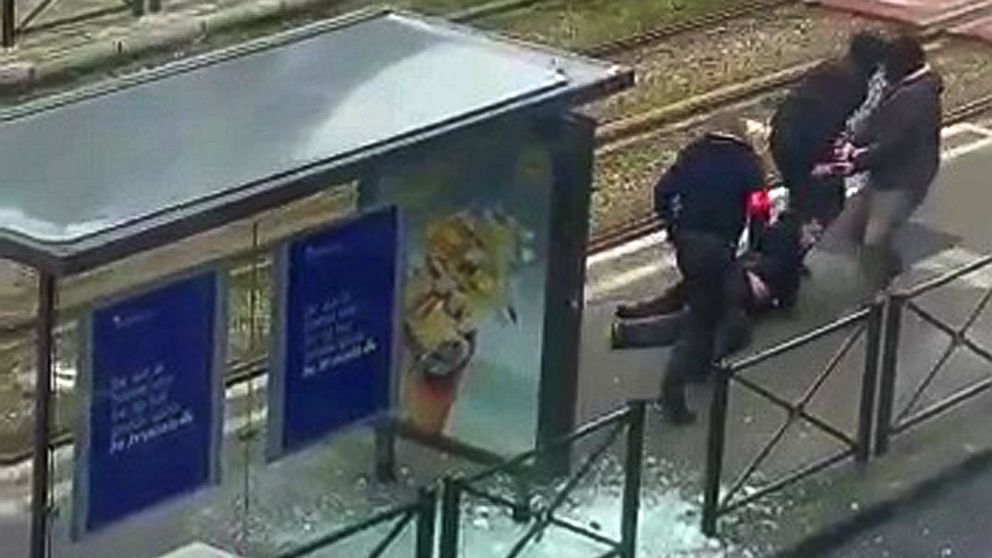 The Belgian federal prosecutor said Saturday the man was being questioned.
The shooting was part of a widespread anti-terror mobilization across the country by law enforcement officials as they searched for others involved in the bombings.
Authorities said Saturday that European anti-terrorism police services were looking for Naim al Hamed, described as very dangerous and possibly armed. Sources said he was being sought for his "complicity" in the Brussels attacks.
The anti-terror operations extended to the Tihange nuclear power plant, where four employees had their security access removed Friday after an internal investigation, said the spokesman for Belgium's Federal Agency for Nuclear Control. Their access was removed because of possible connections with extremists, the spokesman said.
Belgian officials said the suicide bombers in Tuesday's attack include Khalid el-Bakraoui, who was at the airport, and his brother Ibrahim el-Bakraoui, who was at the metro subway. Another alleged suicide bomber, Najim Laachraoui, was with Khalid at the airport.
Authorities continued looking for a man seen on surveillance video at the Brussels airport prior to the attacks and a man linked to the bombing of the metro station. Officials have not identified either suspect, but a U.S. official said the man seen at the airport was already in U.S. terrorism databases at the time of the attacks.
According to Belgium's Crisis Center, 24 of the 28 victims have been identified. The Foreign Ministry said 13 victims are foreign nationals.
In an interview with ABC News Friday, Secretary of State John Kerry acknowledged that the transfer and sharing of information needed to be more efficient among European nations.
"Europe needs to move information more effectively," he said. "It's a challenge.
"I wouldn't come to the conclusion that [Belgium] screwed up," he added. "I think it's just too early yet; we don't know enough. I don't know enough certainly to make any judgments."
Kerry stopped short of urging Americans to avoid Europe altogether, saying he would take his own family there.
"I'd choose where I go, but without a doubt. Absolutely."