Canada PM Calls Parliament Shooting a 'Terrorist' Act
Suspect dead, soldier killed in Ottawa shootings.
October 22, 2014, 8:25 PM
— -- A gunman fatally shot a Canadian soldier in an attack near the Parliament in what the prime minster called a "terrorist" act.
The gunman, who was shot and killed inside the Parliament building, has been identified as Michael Zehaf-Bibeau, a Canadian national. The slain soldier was Cpl. Nathan Cirillo, 24, a reservist from Hamilton, Ontario.
Ottawa police first learned of the attacks after receiving multiple 911 calls at 9:52 a.m. about a shooting at the National War Memorial. Gunfire was later reported inside the Parliament building, less than 400 yards away. The Parliament building was put into lockdown as government officials hid in their offices while police searched the sprawling building.
Prime Minister Stephen Harper made a televised statement to the nation this evening about the incident. "Let there be no misunderstanding, we will not be intimidated, Canada will never be intimidated," he said, noting this was the second attack against the country this week.
"In the days to come we will learn more about the terrorist and any accomplices," he added. Harper said the government would work to "keep Canada safe and fight against terrorist organizations that are brutalizing so many people around the world in the hope of keeping their savagery from reaching our shores."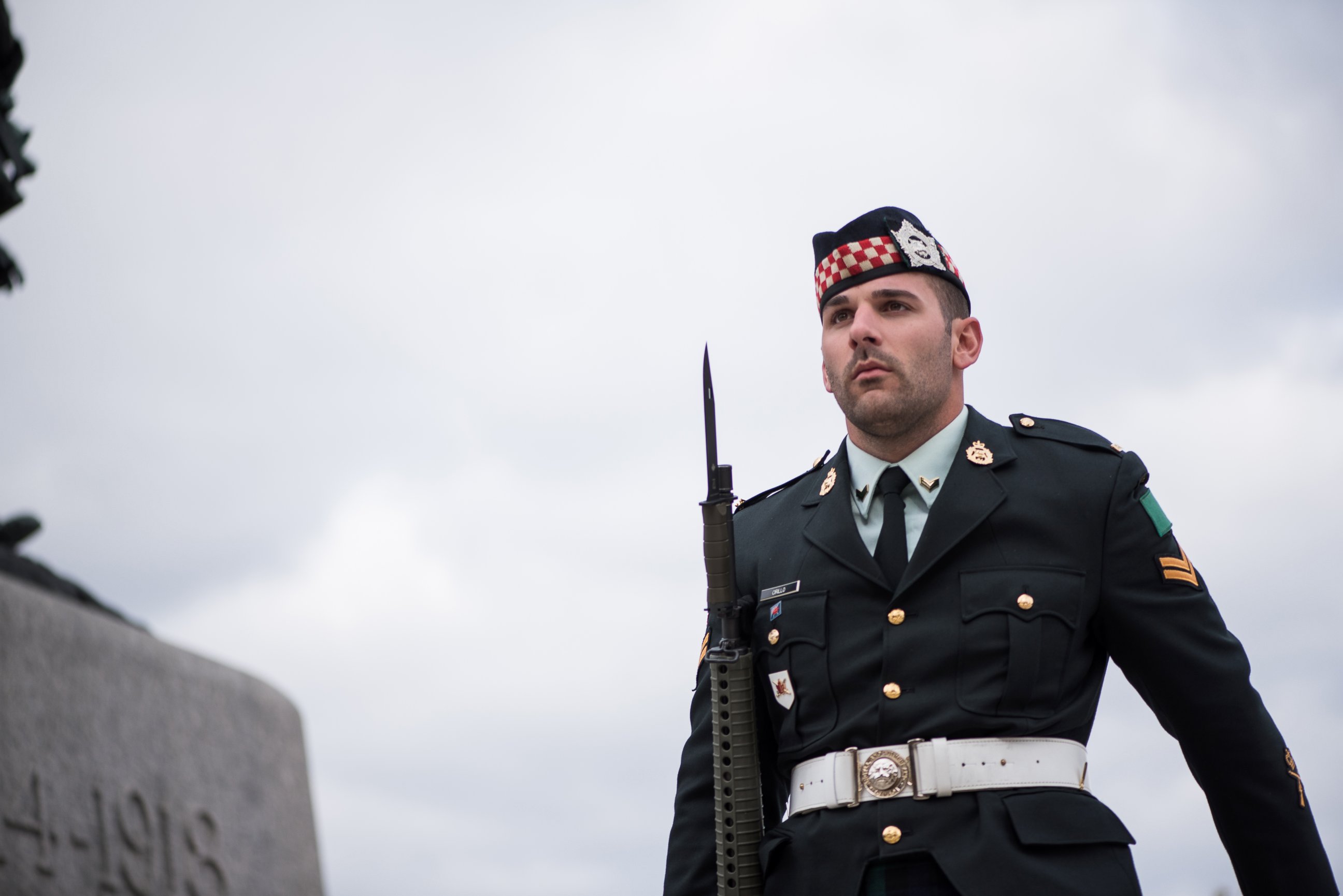 Canada had already raised its national terrorism alert level today, following an incident Monday in which a Canadian soldier was killed in a hit-and-run by a man suspected to have been a radicalized jihadist.
Officials were investigating any terrorist ties to the suspect in today's shooting, but have not made any official statements. The prime minister provided no details on any such connections to the suspect.
Police initially believed that they were searching for more than one shooter, but tonight the Ottawa Mayor Jim Watson said his police chief told him that there were no additional shooters.
"Today is a sad and tragic day for our city and our country," Watson said.
Civic Hospital in Ottawa received four patients, including the wounded soldier who later died of his injuries.
"Apart from first patient, they had minor, non-life threatening injuries and remain in hospital at this time," hospital spokeswoman Hazel Harding told ABC News.
One of the patients was a Parliamentary Security officer who had been shot in the leg when the gunman entered the building, but the hospital said that it was an "extremity gunshot wound" and is "quite stable." Two others were brought to the hospital with unspecified injuries. All three were later released.
Witnesses told CTV they saw a man with long hair carrying a rifle at the war memorial and heard four shots fired at the soldier, who was guarding Canada's Tomb of the Unknown Soldier.
A witness told Canada's CBC the gunman then ran the short distance to Canada's Parliament, jumped a wall, stopped a car at gunpoint and hijacked it. The gunman drove the car to the Centre Block on Parliament Hill where senior government leaders have their offices.
A CBC reporter inside the Canadian Parliament reported chaos there, hearing multiple gunshots. A lawmaker tweeted that more than 30 shots were heard inside Parliament's Center Block.
The gunman was shot dead by the Parliament's Sergeant-at-Arms Kevin Vickers.
The gunfire prompted security forces to take Prime Minister Harper to a "safe" place not at Parliament Hill, his spokesperson said. Harper's usual office is in a building near the shooting site.
"The prime minister is safe and not on Parliament Hill and being briefed by security officials," his spokesman Jason MacDonald said.
In the initial chaos police believed that a shooting had also occurred at a nearby mall, but that proved to be false.
All military bases in Canada have been put on lock-down in response to the events in Ottawa, CTV reported. The U.S. Embassy in Ottawa followed suit.
Senior FBI and Department of Homeland Security officials told ABC News they are closely monitoring the situation. The White House said President Obama was briefed.
ABC News' Pierre Thomas contributed to this report.