— -- The father of terminally ill baby Charlie Gard interrupted the U.K.'s High Court of Justice today with an outburst directed at a lawyer representing the hospital that's treating his son.
"When are you going to start telling the truth?" Chris Gard yelled at the attorney.
The 11-month-old boy's illness has caused damage to the boy's brain and rendered him unable to breathe without assistance, according to Great Ormond Street Hospital, but Charlie's parents have downplayed the extent of the damage.
Gard and Connie Yates -- Charlie's parents -- attended the High Court hearing today hoping for a decision that was expected to determine the infant's immediate fate, but the couple was forced to wait until Thursday.
Judge Nicholas Francis gave the couple until Wednesday afternoon to present new evidence demonstrating that their child should receive the experimental treatment that the couple says could potentially improve his condition.
"There is not a person alive who would not want to save Charlie," Francis said.
Alasdair Seton-Marsden, a spokesman for Charlie's parents, said they were "thankful for the outcome of the hearing" and thanked supporters.
Charlie's parents did not speak publicly after the hearing concluded.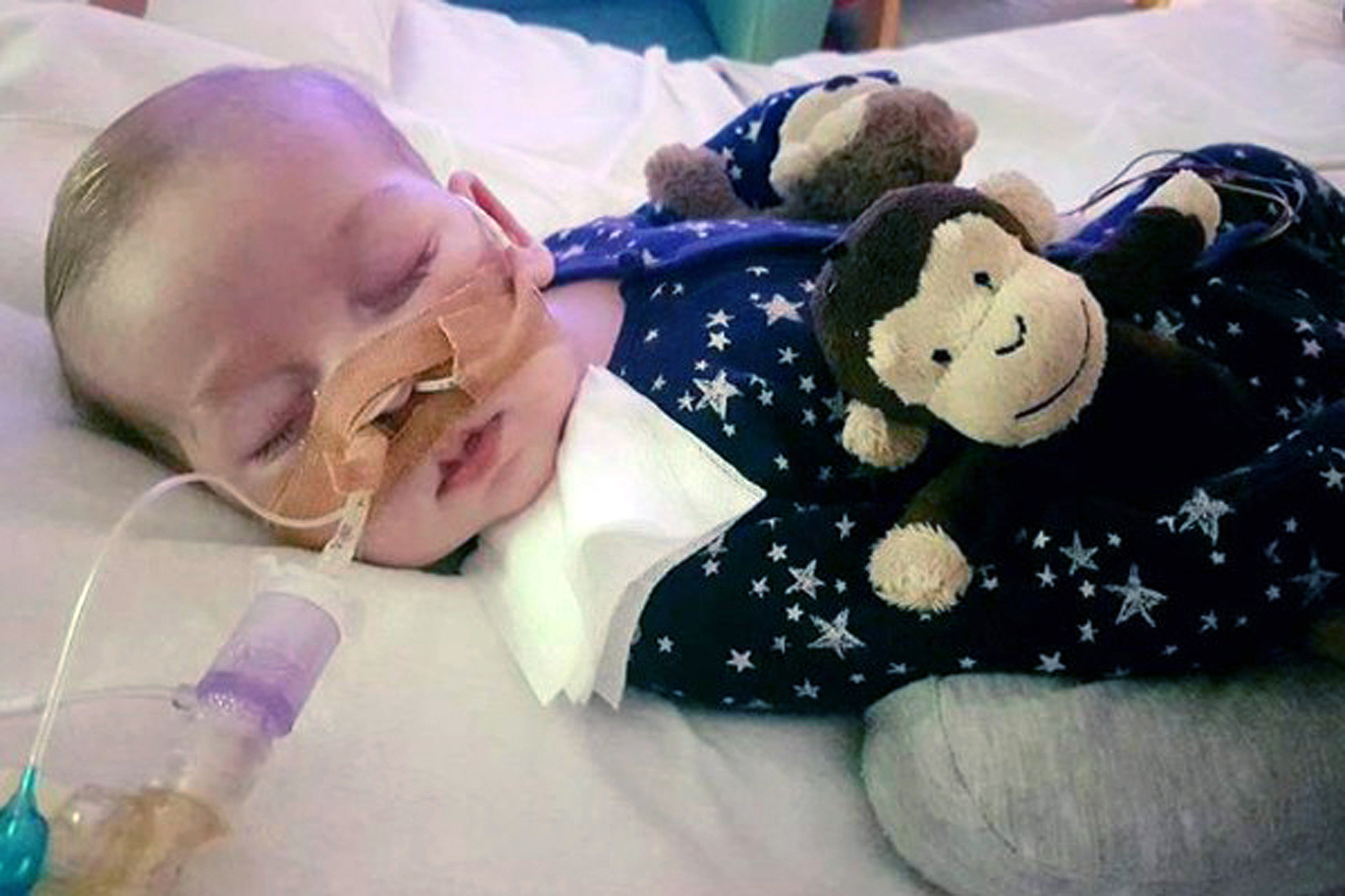 The highly anticipated court hearing came a day after Yates and Gard made a public appearance to state that their son "deserves a chance" to be taken to the United States for an experimental treatment.
The boy is battling mitochondrial depletion syndrome, a rare genetic disease that affects his energy production and respiration, and the court had been expected to decide today whether the wishes of Charlie's parents to pursue the experimental treatment will be granted.
Yates and Gard had previously spoken out Sunday outside Great Ormond Street Hospital, where Charlie has been kept since November.
Flanked by supporters of their cause, they delivered a petition signed by more than 350,000 supporters urging officials to allow their son to be taken to the United States.
"There are now seven doctors supporting us from all over the world -- from Italy, from America, from England as well -- and they think that [experimental treatment] has a chance, you know, up to 10 percent chance of working for Charlie, and we feel that that's a chance worth taking," Yates said Sunday, adding that they have been fighting for this opportunity since their son arrived at the hospital.
Gard said his son "should have had [experimental treatment] a long time ago" and thanked the supporters who signed the petition for their support.
Gard said at the hospital Sunday that there is "no evidence of catastrophic brain damage" in his son, and that the experimental treatment they are seeking can "get into the brain and help" with what harm has occurred.
Great Ormond Street Hospital had said in a statement Friday that while it is seeking the High Court's opinion about experimental treatment for Charlie, the concern is that it will be ineffective and ultimately prolong his condition.
"Our doctors have explored every medical treatment, including experimental nucleoside therapies. Independent medical experts agreed with our clinical team that this treatment would be unjustified," the hospital said.
"Not only that, but they said it would be futile and would prolong Charlie's suffering. This is not an issue about money or resources, but absolutely about what is right for Charlie," it added.
The hospital said in June that it did apply for ethical permission to attempt nucleoside therapy on baby Charlie but, by the time that decision was made, the infant's condition had worsened. "The view was that his epileptic encephalopathy was such that his brain damage was severe and irreversible that treatment was potentially painful but incapable of achieving anything positive for him," the hospital said in a statement.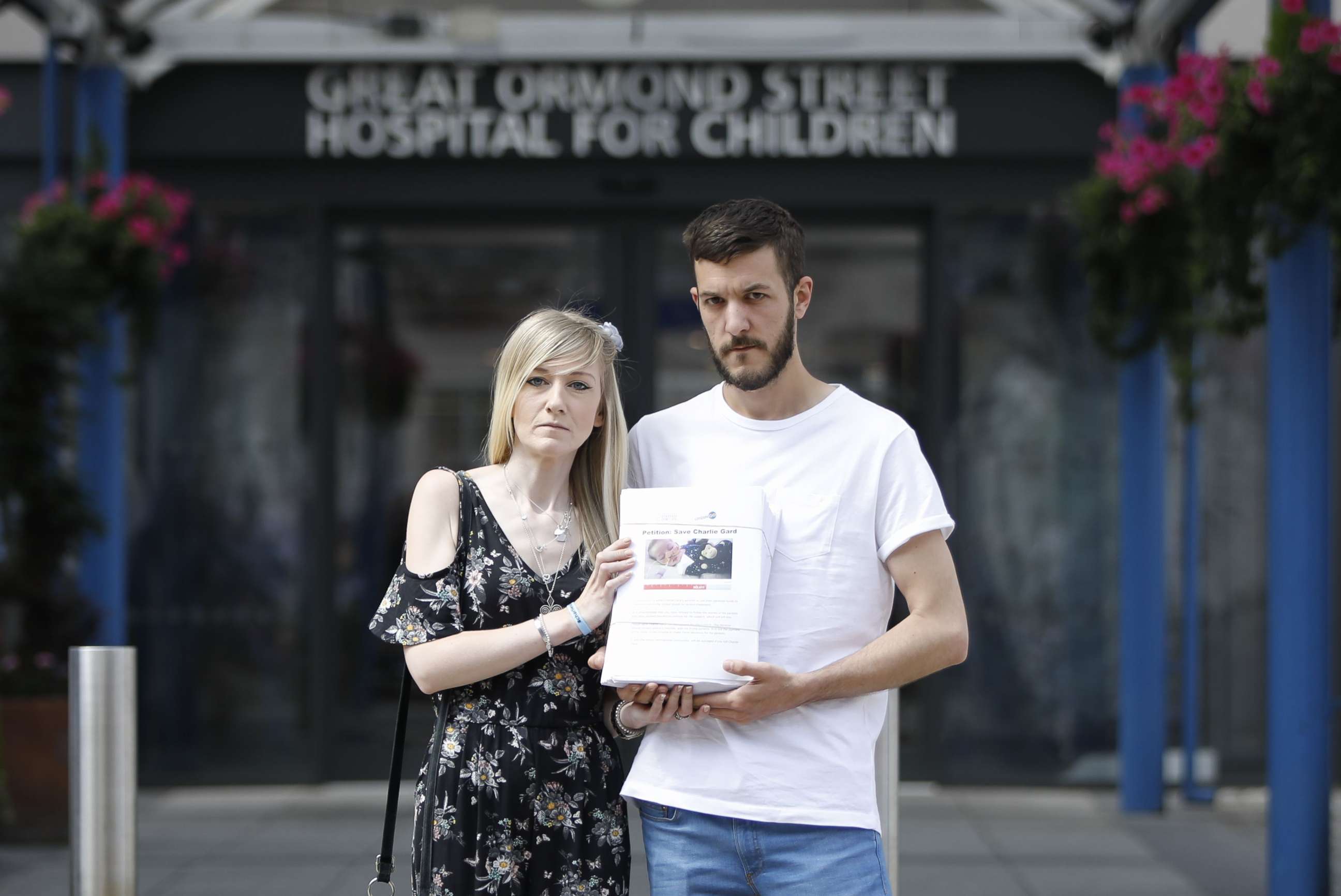 Nucleoside therapy is the experimental treatment available to Charlie in the United States but it has yet to be sufficiently tested, according to a BBC News report.
Meanwhile, David Lidington, Britain's justice secretary, has attempted to prematurely distance the U.K. government from the court's ultimate decision on Charlie.
Lidington said Sunday that the government won't play a role in deciding Charlie's medical treatment, and that today's hearing will be decided by judges acting "independent and dispassionately" based on the facts of the complicated case, according to a report by The Associated Press.
Charlie's parents have received high-profile support from both Pope Francis and President Donald Trump in their attempts to seek alternative treatments for their son, which has helped to give the case a larger degree of international attention.
ABC News' Mike Trew contributed to this story.