Cockpit of Malaysia Airlines Plane Remains Unguarded Amid Pleas to Preserve, Protect Evidence
Fields of evidence still left out in the open in Ukraine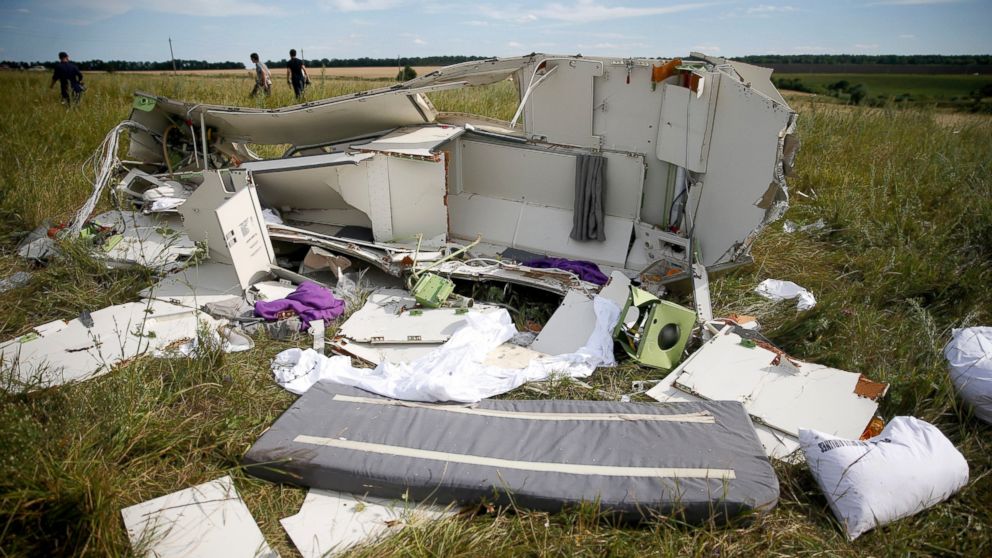 DONETSK, Ukraine— -- Fields with wreckage from the downed Malaysia Airlines plane remained completely unguarded today amid international calls for the evidence to be protected and secured from looters.
A team of international experts was on their way to the rural Ukrainian town of Donetsk to examine the crash site first hand, but until then, the plane wreckage remains out in the open.
One field, miles from the main crash site, was littered with debris and completely unguarded, reported ABC News' Kirit Radia.
Another clearing had the remains of the cockpit of the plane, with pilots' bags, flight plans and maps scattered throughout, open to the elements--and looters.
Both sites had several pieces of metal that appeared to be burned and had small holes--which would inevitably be important to investigators because they may give clues about the nature of the surface-to-air missile that was used to shoot down the plane.
Senior U.S. intelligence officials said Tuesday that Russia was responsible for "creating the conditions" that led to the shooting down of Malaysia Airlines Flight 17, but they offered no evidence of direct Russian government involvement, The AP reported.
US: No Link to Russian Gov't in Plane Downing
Obama Pledges Justice in Visit to Dutch Embassy
The intelligence officials were cautious in their assessment, noting that while the Russians have been arming separatists in eastern Ukraine, the U.S. had no direct evidence that the missile used to shoot down the passenger jet came from Russia.
The officials briefed reporters Tuesday under ground rules that their names not be used in discussing intelligence related to last week's air disaster, which killed 298 people.
The plane was likely shot down by an SA-11 surface-to-air missile fired by Russian-backed separatists in eastern Ukraine, the intelligence officials said, citing intercepts, satellite photos and social media postings by separatists, some of which have been authenticated by U.S. experts.
The Associated Press contributed to this report.