— -- For more than five decades, Florida has been the first place that Cubans would touch down when fleeing their country.
Last night, thousands of men and women of Cuban descent poured into the streets of Miami's Little Havana to celebrate Fidel Castro's death.
On Calle Ocho, the main thoroughfare of Little Havana, people waved Cuban flags in the air, banged on pots with spoons, and fireworks exploded in the air. The joy of these revelers illustrated the disdain they had for the late communist leader.
"Cuba si! Castro no!" some chanted, while others screamed "Cuba libre!"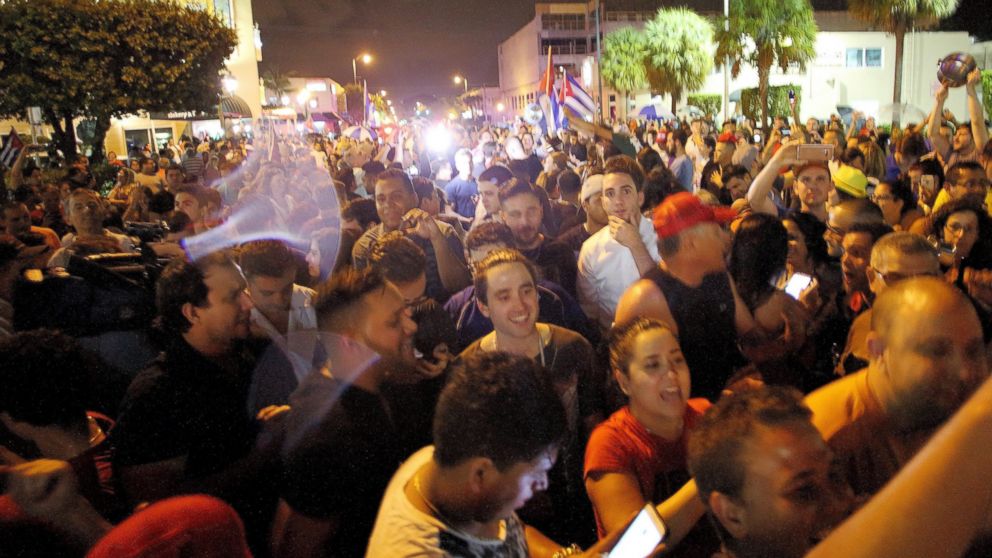 The celebrations, which were still going strong at 3 a.m., prompted police to advise motorists to avoid the area.
Reactions of local politicians reflected the mood of liberation on the streets of Florida, and avoided the more respectful tone adopted by many world leaders.
Florida Gov. Rick Scott, a Republican, expressed hope that Castro's death would usher in an era of freedom in Cuba and told President-elect Donald Trump that he would support a pro-democracy movement in the Caribbean nation.
"I join Cuban-Americans and Floridians across the country who are incredibly hopeful for the future of Cuba. After decades of oppression, the Cuban people deserve freedom, peace and democracy. I have met so many Cubans who have come to Florida to flee the tyranny, brutality, and communism of the Castro brothers' oppressive regime and now is the time to look at policy changes that will demand democracy in Cuba. Today's news should usher in an era of freedom, peace and human dignity for everyone in Cuba and the State of Florida stands ready to assist in that mission," he said in a statement.
Carlos Gimenez, the mayor of Miami, said that Castro's death closed a "very painful chapter" for Cubans.
"Early this morning, I learned of Fidel Castro's death. His passing closes a very painful chapter for Cubans on the island and Cuban-Americans throughout the world, including for thousands of Miami-Dade County residents who were personally affected by his cruel and brutal dictatorship. Despite this historic moment however, we know that Fidel's brother Raul continues to lead one of the world's most repressive governments. My hope is that a free and democratic Cuba with the same freedoms we treasure here in the United States will soon emerge. It is what the Cuban people deserve," he said.
Gimenez continued, "I ask that all our residents who choose to demonstrate do so peacefully. May God bless the people of Cuba, Miami-Dade County and the United States of America."
Jay Fernandez, 72, a Cuban-American celebrating Castro's death, told The Associated Press, "We're all celebrating, this is like a carnival. Satan, Fidel is now yours. Give him what he deserves. Don't let him rest in peace."
Several blocks away, at the Bay of Pigs memorial, Antonio Hernandez, 76, told the AP, "Everybody's happy. Now this guy won't do any more damage," said Hernandez, who came to Miami on the Mariel boat lift in 1980. "His brother will now go down, too. But the world has to pay attention to this, not just we Cubans."
The Associated Press contributed to this report.