— -- A joint U.S. Drug Enforcement Administration, American Special Forces and Afghan counternarcotics operation in October resulted in an eye-popping seizure of 20 tons of drugs, which officials said was the "largest known seizure of heroin in Afghanistan, if not the world."
The operation was kept under wraps until today, when a DEA official confirmed the contents of a field intelligence report obtained by ABC News but did not explain why a successful "superlab" takedown — which agency veterans agreed is an unprecedented narcotics haul — was not officially announced.
"This drug seizure alone prevented not only a massive amount of heroin hitting the streets throughout the world but also denied the Taliban money that would have been used to fund insurgent activities in and around the region," DEA spokesman Steven Bell told ABC News yesterday.
He said a conservative estimated street value was about $60 million for the 12.5 tons of morphine base, 6.4 tons of heroin base, 134 kilograms of opium, 129 kilograms of crystal heroin and 12 kilograms of hashish seized in the Oct. 17 raid, which took place in the western Afghan province of Farah, on the border with Iran.
"If that was Pablo Escobar's stash, that would be considered a lot of frickin' heroin," said one combat veteran of the DEA's 11-year counternarcotics mission to blunt the country's heroin trade, referring to the Medellin, Colombia, narcotics kingpin killed two decades ago. "That's going to make a dent in the European market."
The operation's success is all the more extraordinary, given that the footprint of the U.S. military in Afghanistan is now below 10,000 service members and the DEA's numbers have diminished to a handful in-country, sources said. This downsizing has eliminated the DEA's Foreign-Deployed Advisory Support Teams (FAST) in Afghanistan, which target drug traffickers.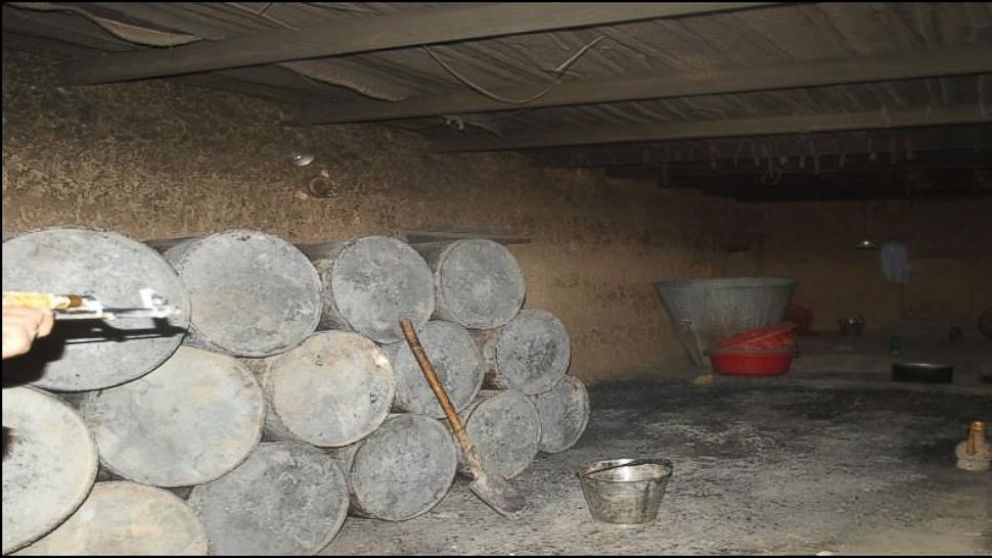 A Green Beret A-team aided the agents in executing a warrant search in the western Afghanistan province. After a brief gunfight with insurgents near the compound outside a remote village, the teams also found tons of chemicals in what one report called a "superlab" used to process the poppy into heroin base.
The superlab was apparently a first of its kind seen by DEA agents in Afghanistan, who described the facility as "complex, sophisticated and well fortified" in the field report.
Besides the drugs and chemicals, they also seized nine motorcycles and five AK-47 rifles, a source said.
Throughout the 15-year U.S.-led war against insurgents from the Taliban, al-Qaeda, Hezb-e Islami Gulbuddin and more recently ISIS, Afghanistan has remained the world's No. 1 supplier of heroin, which is refined from opium from poppies grown in fields that have commonly become battlegrounds. A United Nations report released in October said Afghanistan's opium harvest had increased 43 percent over last year's crop.
Most of the Afghan heroin ends up in Europe and some in the U.S., where officials are calling addiction and fatal overdoses an epidemic. The profits of heroin trafficking have funded large portions of the Taliban's seemingly bottomless reservoir of fighters and weapons since being toppled from power after the 9/11 attacks, experts say.
The DEA responded to this in 2005 by forming 12-man FAST units trained by U.S. Special Forces. The FAST units, made up of seasoned DEA agents, initially operated with British Special Air Service commandos to destroy small opium processing labs in remote areas of southern Afghanistan and eventually gained support from American Special Forces and SEAL Trident teams. The American agents and operators were often supported by Afghan Sensitive Investigative Unit and National Interdiction Unit officers, including in October in Farah.
The October operation targeted the obscure Hadimama drug trafficking network, led by Abdul Rahman, "a suspected Taliban commander," and Haji Janan, "a suspected Taliban facilitator and narco-trafficker." The two "were believed to be producing heroin in these labs to fund their insurgent activities," the DEA said.