— -- Japan dispatched 20,000 army troops and other rescuers to find and save residents trapped under rubble from two earthquakes that struck the country in two days, killing at least 32 and injuring more than 1,500.
The latest death toll from Saturday's quake that shook the Kumamoto region on the southwestern island of Kyushu was 22. On Thursday night, Kyushu was also hit by a quake that left 10 dead.
Of the 1,500 people injured, 80 of them had serious injuries, said chief cabinet secretary Yoshihide Suga. Nearly 91,000 people were forced from their homes.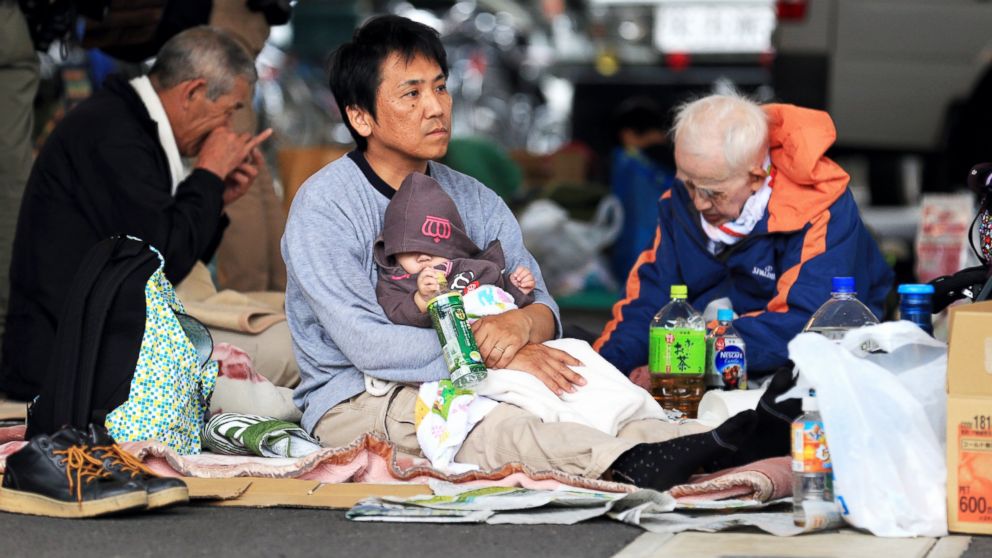 Officials said 400,000 households were in need of drinking water after water systems failed and 200,000 homes were without electricity.
Rain in the area is expected to complicate rescue efforts.
Landslides had already cut off roads and destroyed bridges, slowing down rescuers.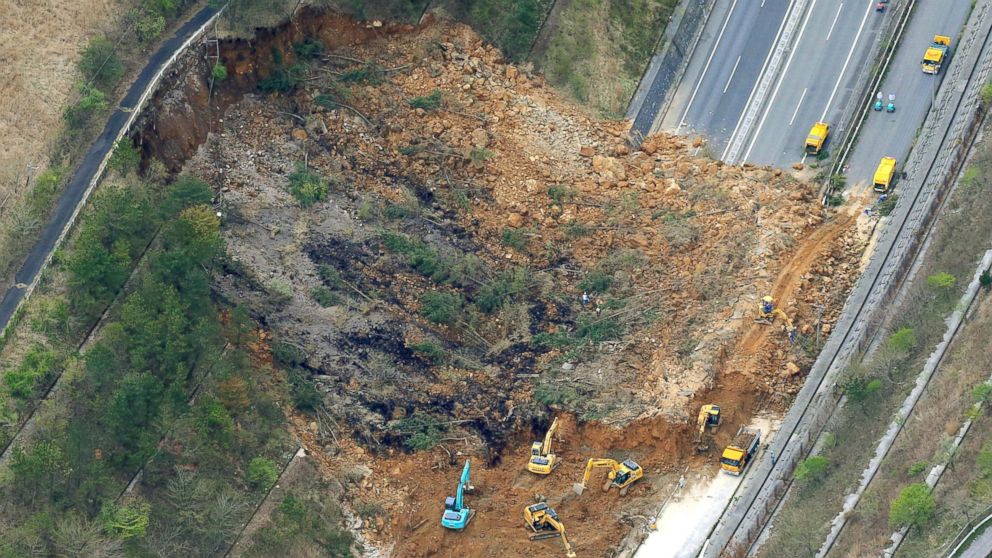 A massive landslide tore open a mountainside Saturday in Minamiaso village in Kunamato Prefecture from the top to a highway below, destroying a key bridge that could cut off food and other relief transport to the worst hit area, according to the Associated Press. A trail of brown earth streamed down the hillside like a muddy river.
Another landslide gnawed at a highway, causing a house to collapse and fall down a ravine where it smashed at the bottom. In another part of the village, houses were left hanging at the edge of a huge hole torn open in the earth.
"Daytime today is the big test" for rescue efforts, Japanese prime minister Shinzo Abe said, citing strong winds and more rain in the forecast for Saturday.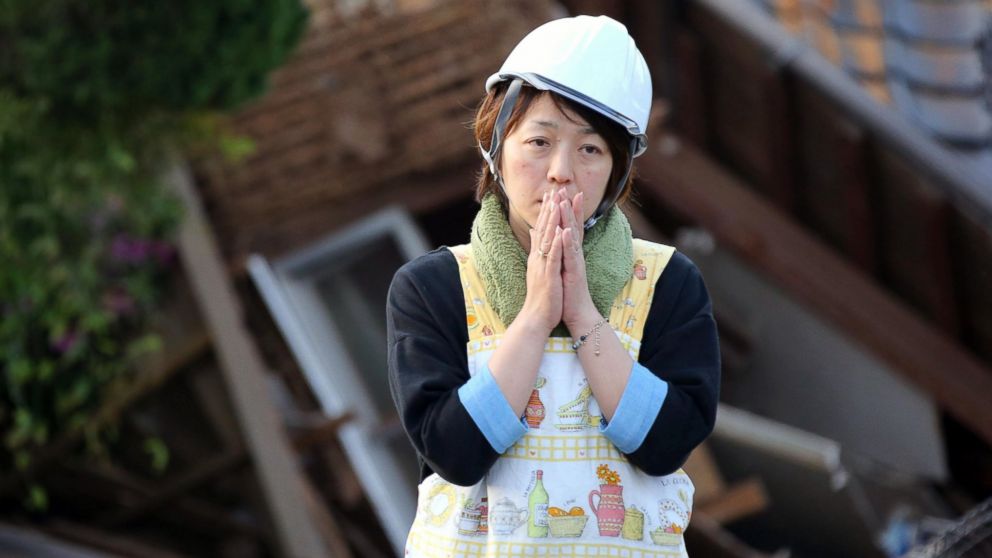 Police received reports of 97 cases of people trapped or buried under collapsed buildings while 10 people were caught in landslides in three municipalities in the prefecture, Kyodo News reported.
Footage of a collapsed student dormitory of Tokai University, where a witness said he heard a cry for help from the rubble, aired on Japanese TV. Two students were reported to have died.
In Mashiki, an unconscious elderly woman was dragged out from the debris of her home. Her son-in-law Tatsuhiko Sakata told Japanese TV that 93-year-old Yumiko Yamauchi had refused to move to shelter with him after the first quake Thursday.
"When I came to see her last night, I was asking her: 'Mother? I'm here! Do you remember me? Do you remember my face?' and she replied with a huge smile filled with joy. A kind of smile that I would never forget. And that was the last I saw of her," Sakata said.
Get real-time updates as this story unfolds. To start, just "star" this story in ABC News' phone app. Download ABC News for iPhone here or ABC News for Android here.