— -- The death toll continues to rise from Tuesday's airstrike on a refugee camp in northeast Nigeria, which the country has called a "regrettable operational mistake."
The International Red Cross and Red Crescent Movement said today at least six of its volunteers were among those killed and 13 others were wounded, though the global humanitarian network said both figures may rise in the coming hours and days. In addition to its aid staff, the International Red Cross and Red Crescent Movement said an estimated 70 others were killed and over 100 were injured.
The Red Cross volunteers were in the remote town of Rann in Nigeria's Borno state, near the border with Cameroon, as part of a humanitarian operation bringing food to more than 25,000 displaced people when the airstrike hit.
"We are deeply saddened by the loss of our six colleagues and shocked that an incident of this magnitude has occurred in a civilian area," Bolaji Akpan Anani, president of the Nigerian Red Cross Society, said in a statement today.
The International Red Cross and Red Crescent Movement said its team in Rann has triaged around 100 patients, while nine in critical condition were evacuated by helicopter to Maiduguri, the capital of Borno state, Tuesday. About 90 patients remain in Rann, out of whom 46 are severely wounded and also need to be evacuated, the humanitarian network said.
"The conditions for post-operative care are not adequate, so all the patients must be evacuated to Maiduguri as soon as possible," Dr. Laurent Singa, a surgeon with the International Committee of the Red Cross in Rann, said in a statement today.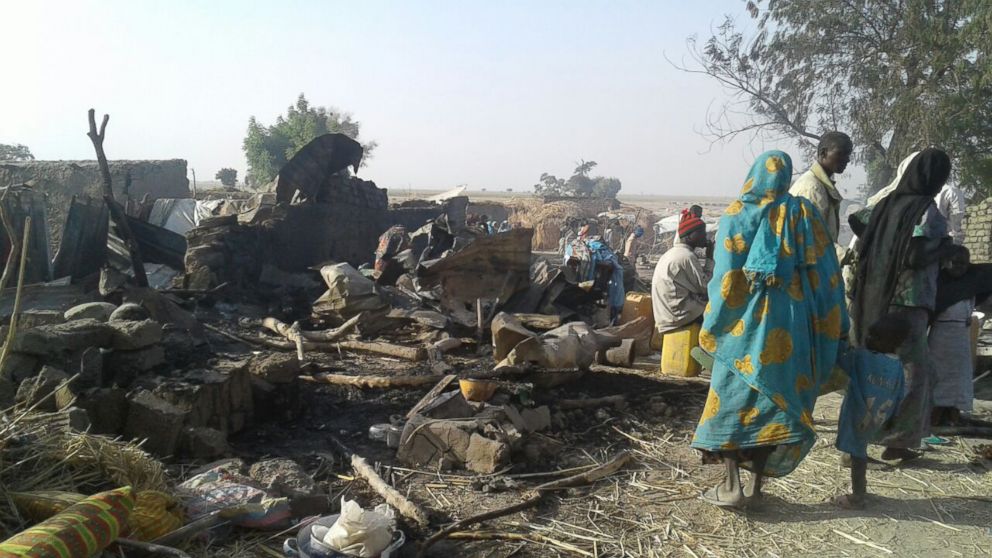 Doctors Without Borders/Medecins Sans Frontieres (MSF) Tuesday said its medical teams were providing first aid to 120 wounded patients in its facility in Rann. Its medical and surgical teams in the region were also preparing to treat evacuated patients. The international humanitarian organization initially estimated at least 52 people were killed.
"This large-scale attack on vulnerable people who have already fled from extreme violence is shocking and unacceptable," Dr. Jean-Clément Cabrol, MSF director of operations, said in a statement Tuesday.
A top Nigerian military officer in Borno state told ABC News that authorities so far have recovered over 100 bodies from the bombing site.
Nigerian President Muhammadu Buhari Tuesday confirmed the Nigerian military's role in the deadly airstrike, calling it an "accidental bombing" and a "regrettable operational mistake."
"President Muhammadu Buhari has received with deep sadness and regret, the accidental bombing of a civilian community in Rann, Borno state, by the Nigerian Air Force, engaged in the final phase of mopping up insurgents in the Northeast," Femi Adesina, special adviser to the Nigerian president, said in a statement Tuesday. "The president pledges federal help for the state government in attending to 'this regrettable operational mistake,' and pleads for calm."
Buhari's chief of staff, Alhaji Abba Kyari, told reporters today that the president is "very distressed" over the tragic "accident."
"The president is very distressed at this unfortunate accident but this kind of mishap occurs occasionally during periods of conflict, especially with insurgents like Boko Haram, who habitually and in a cowardly fashion try to hide among innocent civilians in order to cause massive disruption and casualties among ordinary people," Kyari said.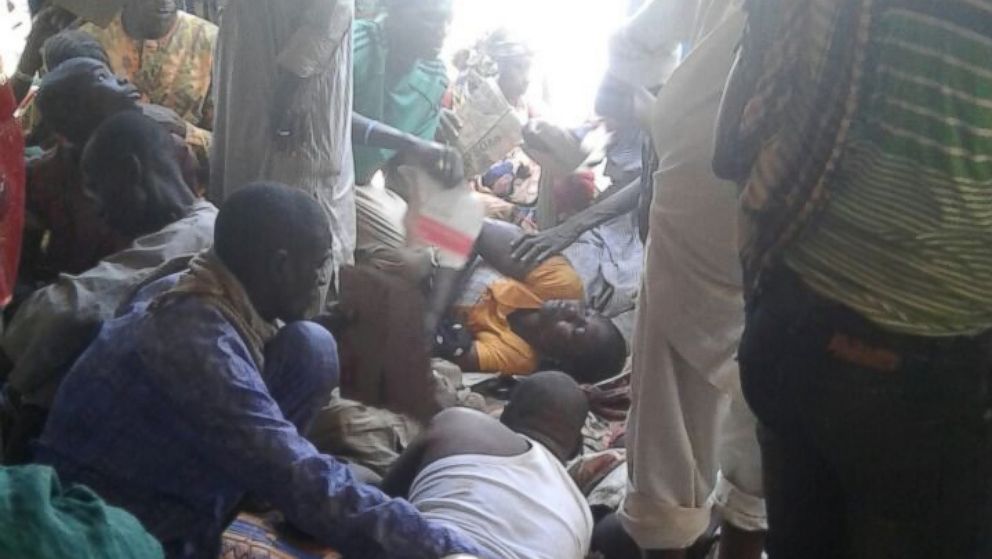 Nigerian Minister of Defense Mansur Muhammad Dan-Ali said the airstrike could have been avoided.
"However, this is an isolated case which happens rarely in a theater of battle," spokesman Col. Tukur Gusau said in a statement today on behalf of the defense minister.
Gusau said the defense minister is ensuring that the Nigerian military "will apply extra caution in the conduct of its operations across the country" and the minister has already directed troops "to carry out speedy evacuation of the casualties and render all necessary medical care to the wounded." Government officials are investigating the incident, Gusau said.
Borno state Gov. Kashim Shettima has ordered all hospitals in the region to be on standby to provide emergency treatment to victims when they arrive, his office said in a statement Tuesday.
United Nations High Commissioner for Refugees Filippo Grandi called the incident "a truly catastrophic event." Grandi had visited Borno state during a trip last month to Nigeria and Lake Chad Basin countries hosting Nigerian refugees.
The refugee camp in Rann was set up in March 2016 and hosts 43,000 people who fled their homes over the past two years to escape the Boko Haram insurgency, according to Grandi.
"This has been a truly catastrophic event. Lives have been lost, and this in a designated site for the displaced," Grandi said in a statement today. "A full accounting has to take place so that the causes are known and measures can be put in place to ensure this never happens again."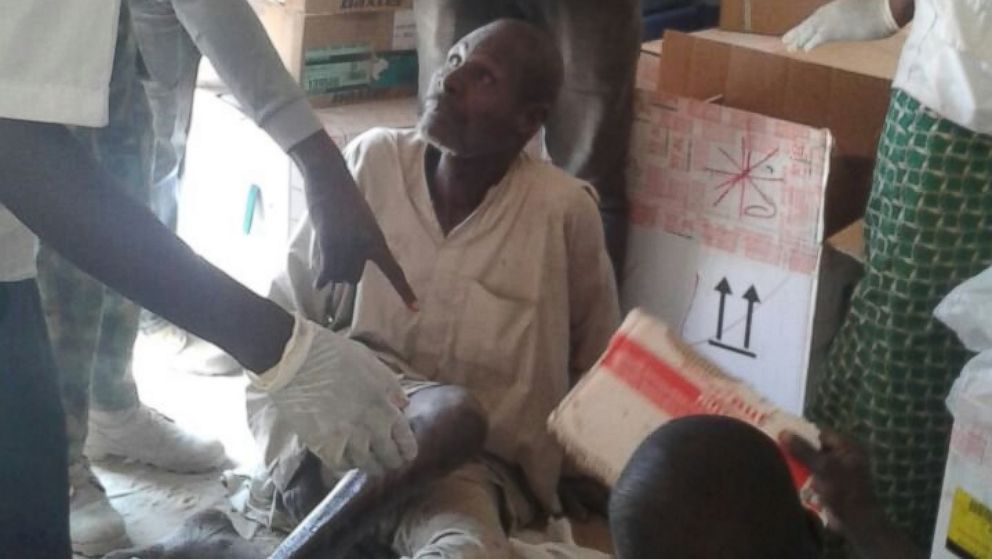 Since waging a full-fledged insurgency in northeast Nigeria in 2009, Islamic militant group Boko Haram has claimed the lives of more than 15,000 people and has forced some 2 million to flee their homes.
The U.N. humanitarian chief last week said the humanitarian crisis triggered by group's "violent and inhuman campaign" is worsening, with a staggering 10.7 million people in need of aid in northeast Nigeria as well as parts of Cameroon, Chad and Niger.
Stephen O'Brien, under-secretary-general for humanitarian affairs and emergency relief coordinator, told the U.N. Security Council the crisis has grown "in dramatic fashion" over the past 12 months,
Since taking office in May 2015, Buhari has made the war against Boko Haram a top priority. The group has lost much of the territory it once controlled and has retreated into the vast Sambisa Forest as a result of military campaigns.
But Boko Haram continues to launch deadly raids and destructive suicide bombings on civilian communities near the fringes of the forest, which spans over 23,000 square miles in northeast Nigeria.
ABC News' Benjamin Gittleson and Kirit Radia contributed to this story, which was supplemented with Associated Press reporting.