Dinosaur Footprints Uncovered on Beach After Giant Tide
A massive tide revealed parts of a beach that normally remain hidden.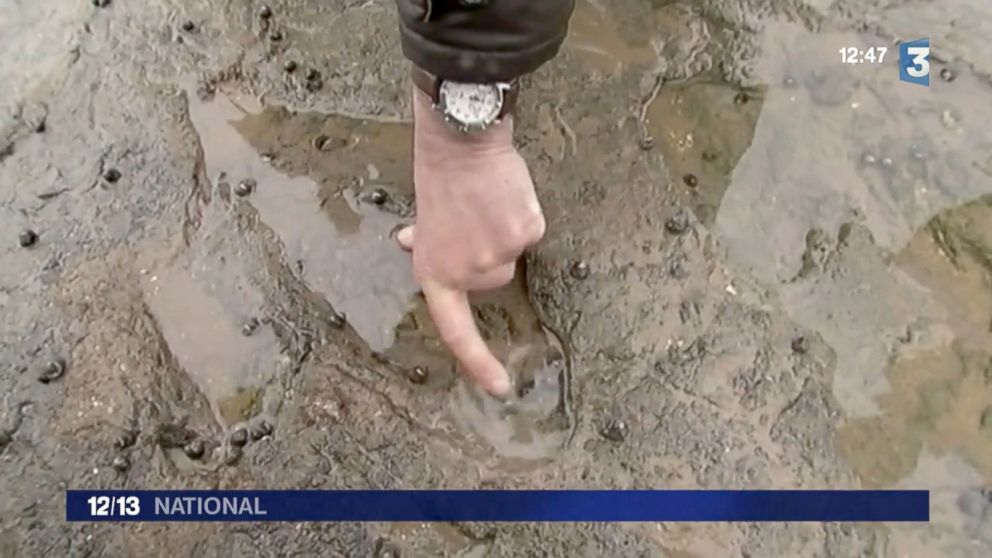 — -- A giant tide on France's North Atlantic coast on Saturday enabled paleontologists to find hundreds of dinosaur footprints on a beach in the Western region of Vendee.
The 200 million-year-old footprints measure about 17 inches wide and are only visible when the tide is low. They were discovered in 1963 by a local engineer and chemist Gilbert Bessonnat.
"This open-air museum of dinosaur footprints counts among the richest we have from the Jurassic era," local authorities said on the city hall website.
France's National Hydrographic Service was expecting more than 15.3 yards difference between low tide on Saturday afternoon and high tide in the evening.
The trail would have been left by animals measuring between 8-feet 2-inches and 9-feet 10-inches, amateur paleontologists told French TV while visiting the site. A dozen different species are known to have lived on a 26,000-foot tall mountain, now a cliff eroding into a beach.