Elderly American detained in Iran hospitalized again as new American's case comes to light
Baquer Namazi has been held by Iran for nearly two years.
February 12, 2018, 6:09 PM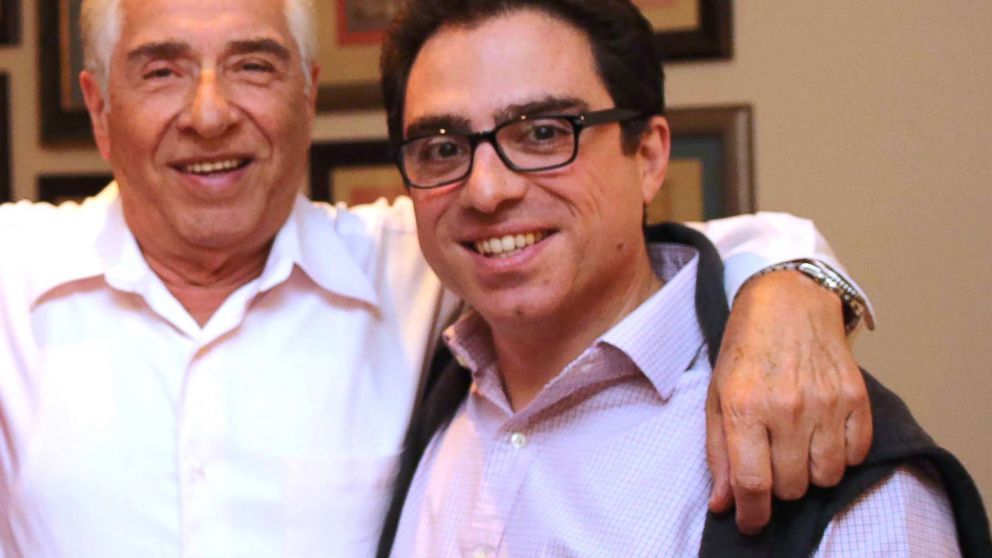 — -- An 81-year old American citizen who was released from the hospital back to a notorious Iranian prison has been hospitalized again, with growing concerns that he could die in Iranian custody.
Baquer Namazi has been held by Iran for nearly two years after he was trying to visit and secure the release of his son Siamak Namazi, who has been detained by Iran since fall 2015. They are two of the six Americans missing or detained in Iran -- with a new case revealed this past weekend.
The elder Namazi, a retired UNICEF official, was rushed again to the hospital late Sunday night with an irregular heartbeat, severe depletion of energy and fluctuations of his blood pressure, according to his lawyer Jared Genser. This latest trip is Baquer Namazi's second to a hospital in the past two weeks and his fifth while in custody. He has a history of heart problems, including an emergency surgery to install a pacemaker while in custody last September.
Before he was returned to Evin Prison last Tuesday, his family, his lawyer, and the State Department urged Iran to release him on humanitarian grounds. His doctor said that the prison's conditions are the primary reason for his declining health -- and the day after he was returned, he was unable to walk because of a severe drop in blood pressure and depletion of energy, Genser said.
Last week, Under Secretary of State for Public Affairs and Public Diplomacy Steve Goldstein warned that if Baquer Namazi was returned to prison, he could die. "We are concerned about that, and we would hope the Iranians would be concerned about that, too," he told reporters.
The State Department has no comment on this latest hospitalization. Baquer Namazi's other son Babak Namazi released a statement, saying, "I beg the authorities to let him stay at home on parole on humanitarian grounds. It is obvious that if they do not, he could die at any time."
Iranian officials didn't comment Monday on Baquer Namazi or his hospitalization but have consistently denied that the government arbitrarily arrests Americans.
Baquer and Siamak Namazi, a 46-year old businessman, are both serving 10-year sentences for spying for the U.S. -- charges that they have denied.
But they are not the only American citizens held by Iran. Xiyue Wang, a history Ph.D. candidate at Princeton University, was arrested in August 2016 and sentenced to a 10-year sentence one year later on espionage charges. His wife, Hua Qu, told ABC News in December that she fears for his life, as he is held in Evin Prison's Ward 7, where he was previously beaten by another prisoner.
There is also the case of art gallery owner Karan Vafadari, an American citizen who was about to travel with his wife, Afarin Niasari, a green card-holder, to a family wedding in July 2016 when they were detained. No public charges have ever been brought against them, but they remain in custody.
Former FBI agent Robert Levinson is also missing in Iran since 2007 -- the longest-held U.S. civilian, according to a Senate resolution passed two years ago Sunday. Iran denies that he is in the government's custody.
Over the weekend, it was revealed that another American citizen is now also in detention. Morad Tahbaz is one of 10 environmentalists with the Persian Heritage Wildlife Foundation that were arrested in January and charged with spying, according to the Center for Human Rights in Iran. The State Department would not confirm Tahbaz's detention, citing privacy concerns, but said they are "aware of reports that a U.S. citizen has been detained in Iran."
One of the environmentalists -- a 63-year-old Canadian citizen and university professor named Kavous Seyed-Emami -- committed suicide over the weekend, his son Ramin, a musician known as King Raam, revealed on Twitter Saturday.
"The rising number of deaths in Iranian prisons is an unfolding tragedy that must stop now," said Hadi Ghaemi, the executive director of the Center for Human Rights in Iran, in a statement. "In addition to independent investigations and an autopsy to determine the cause of death, the perpetrators must be held accountable in a transparent process."
The Trump administration has undertaken efforts to bring these American citizens home, although it remains largely tight-lipped about them. According to The Wall Street Journal, officials have made four attempts since December to secretly contact the Iranian regime negotiating the release of prisoners held by each side.
The State Department would not confirm those efforts, citing "private diplomatic discussions." But a senior State Department official told ABC News on Jan. 28 that the U.S. was using back-channel communications, especially through European allies, to push for Baquer Namazi's return while he was out of prison on a medical leave.
In particular, the official said at the time, they are sending signals to Iran warning, "They don't want a case similar to Otto Warmbier's on their hands."
Otto Warmbier, a 22-year-old American college student held by North Korea for 17 months, died six days after being returned to the U.S. last June.
When reached for comment Monday, a State Department official would only say, "The U.S. government raises with Iran at every opportunity the cases of U.S. citizens missing and unjustly detained in Iran. We will continue to do so until their cases are resolved."