— -- When Abdel Hameed al-Youssef regained consciousness after a chemical weapons attack on his hometown in northern Syria, the husband and father awoke to a nightmare.
His 9-month-old twins, his wife Tallulah and more than 20 other family members were dead.
"When I came to, I asked for them," Youssef, a farmer, told ABC News on Saturday. "All dead."
The morning of April 4 began like any other for residents of Khan Sheikhoun in Syria's Idlib province. Youssef and his wife woke up to an airstrike that hit just 20 meters from their home, and the children were frightened.
"We're bombed constantly," Youssef said.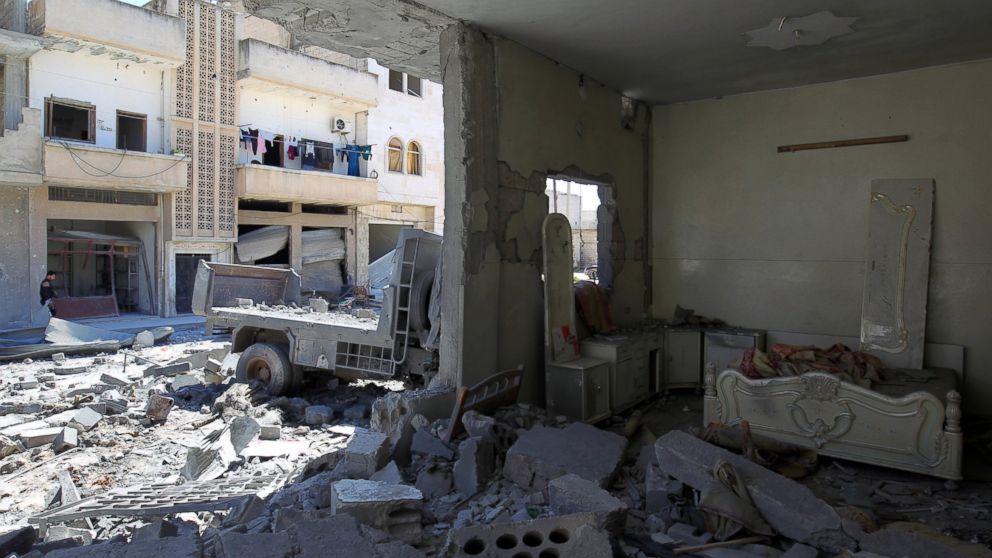 With the twins, Ahmad and Aya, clinging to his neck, Youssef and his wife stepped outside their home to assess the situation. Rubble surrounded the house, he said.
They continued walking through the neighborhood when two more airstrikes hit nearby. But there were no sounds of explosions, Youssef said.
Then, they smelled a strange odor and people around them began to collapse.
"At this moment, I felt something was wrong. So I handed over Ahmad and Aya to my wife and I told her to get away from here," Youssef said. "I told her to get to safety."
Tallulah took the twins and four of their neighbors' children to find a safe place, while Youssef rescued several neighbors who had collapsed and were foaming at the mouth.
"I covered my mouth with my hand as much as possible," he said.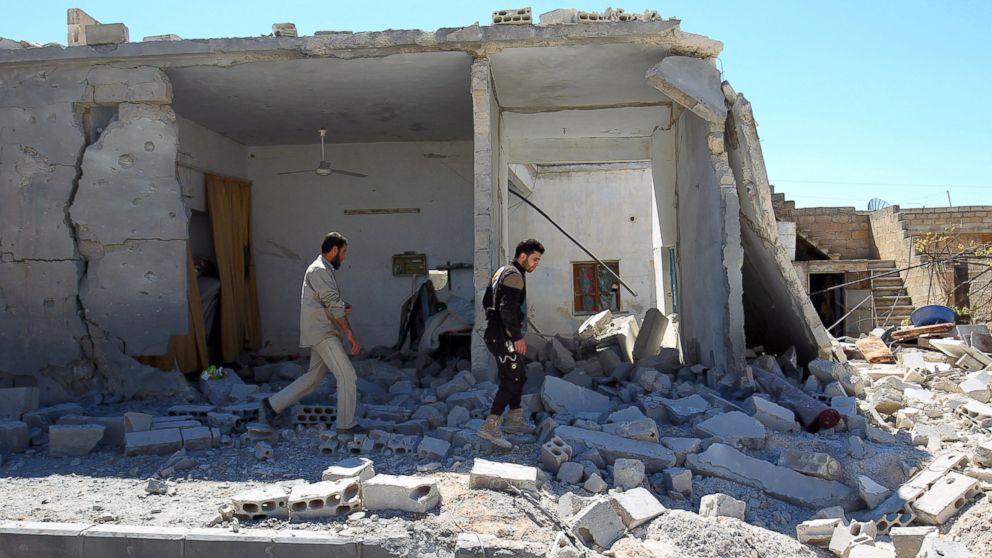 Youssef ran to his parents' home in the town, which was about 100 meters away from the poisonous airstrike. There, he found some of his brothers, their wives, their children and a cousin –- all nonresponsive and foaming at the mouth.
Youssef hurried to another family member's home nearby, where he found one of his nieces also dead. As he tried to pick up her small body, his eyes went hazy and he had trouble breathing.
"I was conscious for only a few seconds and then I fainted," Youssef said.
It wasn't until Youssef awoke that he learned the fate of his wife and children.
First responders told Youssef that they found his wife with the twins and the neighbors' kids in a shelter near his house. Tallulah was still holding the children close but she was so ill from the toxic gas that she was unable to walk.
The twins, Ahmad and Aya, were still foaming at the mouth when Youssef saw their bodies. He wiped the foam from their mouths and took them in his arms.
"I told them, 'Hello darlings. I took too long. I rescued everyone else but I couldn't rescue you,'" Youssef told ABC News, in between tears. "I was expecting them to hug me back."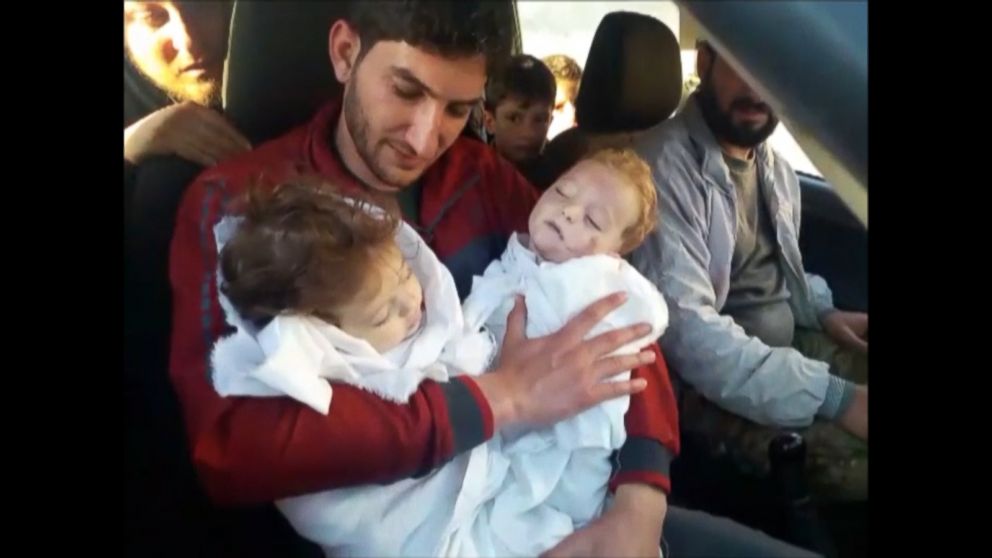 Harrowing images of this anguished father cradling the lifeless bodies of his twins captured the international community's attention and galvanized the United States to retaliate.
At least 87 civilians, including 31 children and 20 women, were killed in the April 4 chemical attack, according to the Britain-based Syrian Observatory for Human Rights, making it the worst chemical attack in the war-torn country since 2013.
After conducting autopsies on victims who were brought to Turkish hospitals for treatment, Turkey's health ministry confirmed that the patients had been exposed to sarin gas, a banned nerve agent.
A U.S. official also said the symptoms exhibited by the victims pointed to sarin gas.
The U.S. official told ABC News that a Syrian military fixed-wing aircraft dropped the chemical weapons on what was an underground hospital in the town run by an al-Qaeda affiliated rebel group formerly known as Al-Nusra Front.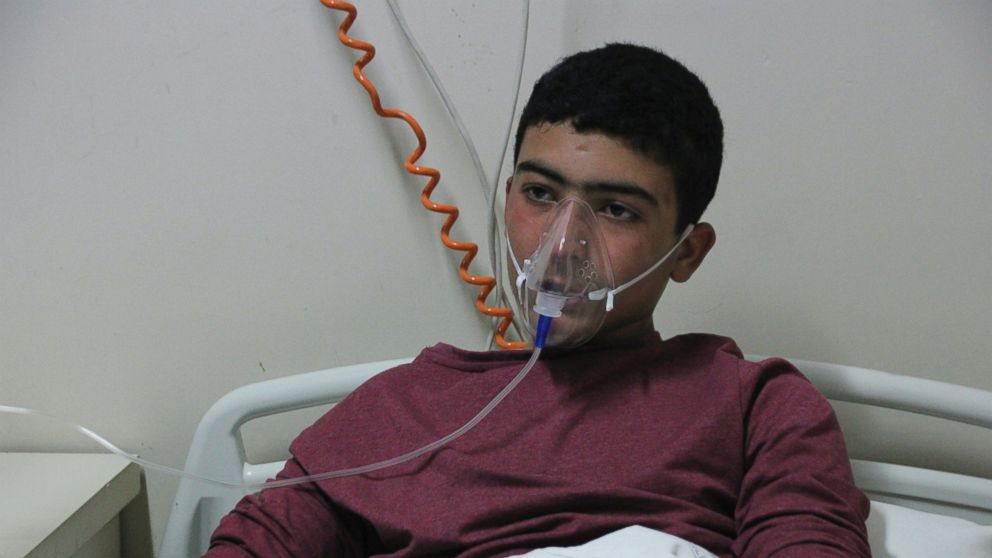 In response, the United States, which blamed Syrian President Bashar al-Assad's regime for the deadly attack, launched airstrikes against the Syrian government two days later.
U.S. warships in the Mediterranean Sea fired a barrage of Tomahawk missiles at the Shayrat Air Base in Homs province, where an aircraft carrying the chemical weapons in the April 4 attack is believed to have taken off.
President Trump said Thursday the airstrikes were in the "vital national security interest" of the United States.
Nikki Haley, U.S. ambassador to the United Nations, on Friday warned that the United States is "prepared to do more" in Syria.
"The United States took a very measured step last night. We are prepared to do more, but we hope that will not be necessary," Haley said during a special open session of the U.N. Security Council devoted to discussing Syria.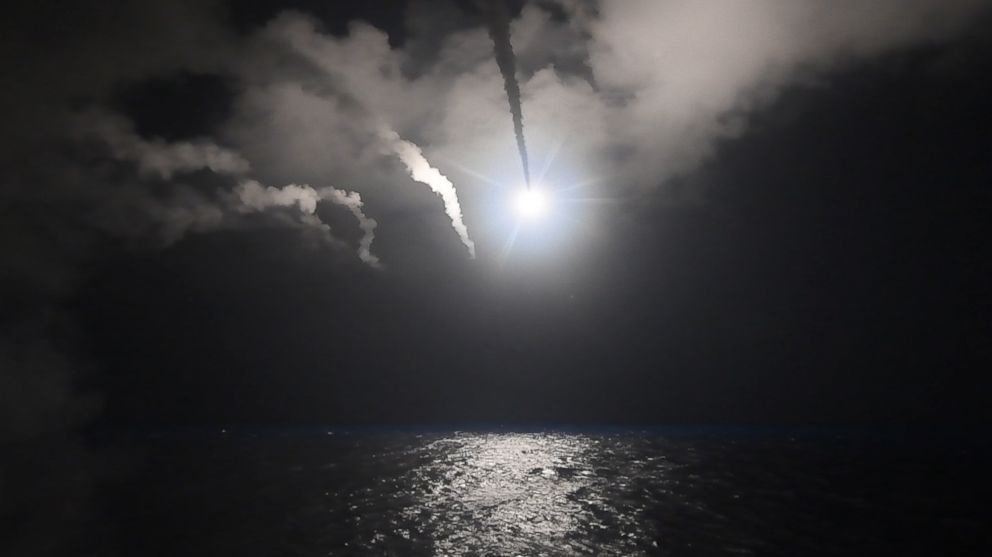 In the interview with ABC News on Saturday, Youssef questioned why the Trump administration hasn't taken any further action against the Assad regime. While he was grateful for the airstrikes Thursday, the grieving husband and father wishes for more.
"Firstly, I'd like to thank President Trump and the U.S. administration on the initial steps they took against the airport that killed my children and all the martyrs. But I didn't expect the strikes to stop," Youssef said. "I was surprised. Why did President Trump stop the strikes? Why one airport, one base?"
The Assad regime has firmly denied carrying out the deadly chemical attack and has lambasted the United States for the bombing of its airfield, which the Syrian Observatory for Human Rights said killed eight people and wounded others.
Russia, a stalwart ally of the Assad regime, has said that toxic agents were released when a Syrian airstrike hit a warehouse where opposition militants were storing chemical weapons -- a statement that contradicts testimony from residents, doctors and activists on the ground.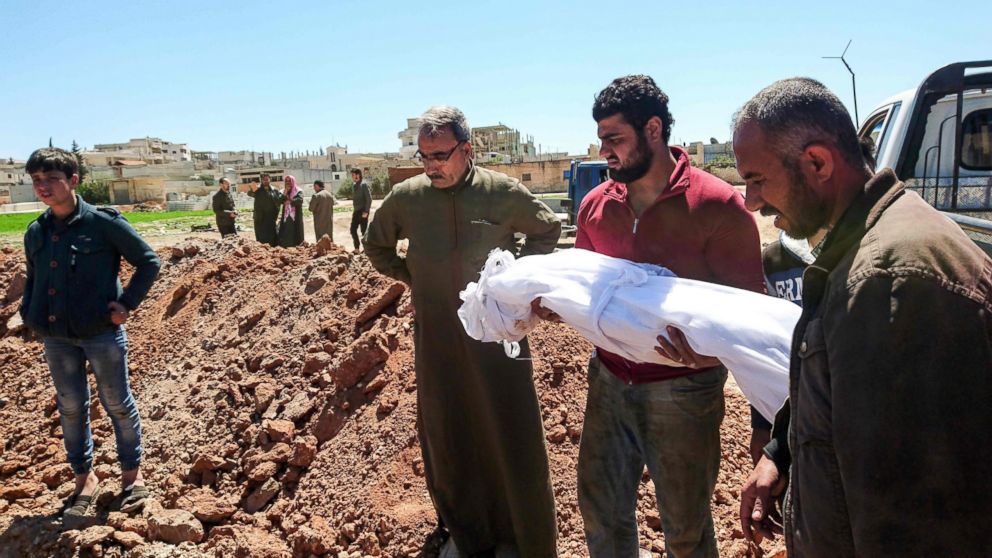 "The Russians have no credibility and in terms of the claim that there was chemical weapons [in the town]," Youssef told ABC News. "The warehouses we had were grain silos and they were bombed three years ago, totally destroyed."
The airstrikes in the town on April 4 didn't hit any warehouse.
"They hit civilian homes," Youssef said.
According to Youssef, opposition militants are positioned on the outskirts of Khan Sheikhoun. But they remain outside in order to protect civilians from getting caught in the crossfires of the civil war.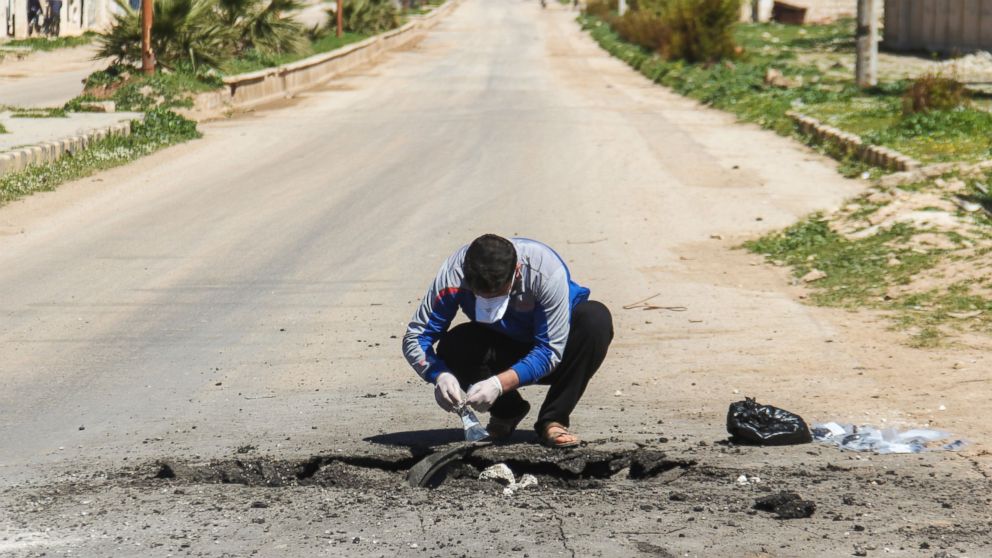 What started as a local protest movement in Syria's southern city of Dara'a expanded into a full-fledged civil war by 2012. ISIS, which grew out of al Qaeda in Iraq, took root in northern and eastern Syria in 2013 after seizing swaths of territory in neighboring Iraq. The jihadist group is fighting to overthrow Assad's regime and establish a caliphate.
The Syrian civil war has pulled in the United States, Russia, Iran, and almost all of Syria's neighbors. It has become the largest humanitarian crisis since World War II, according to the United Nations.
The chemical attack on April 4 is the latest atrocity in Syria's six-year conflict.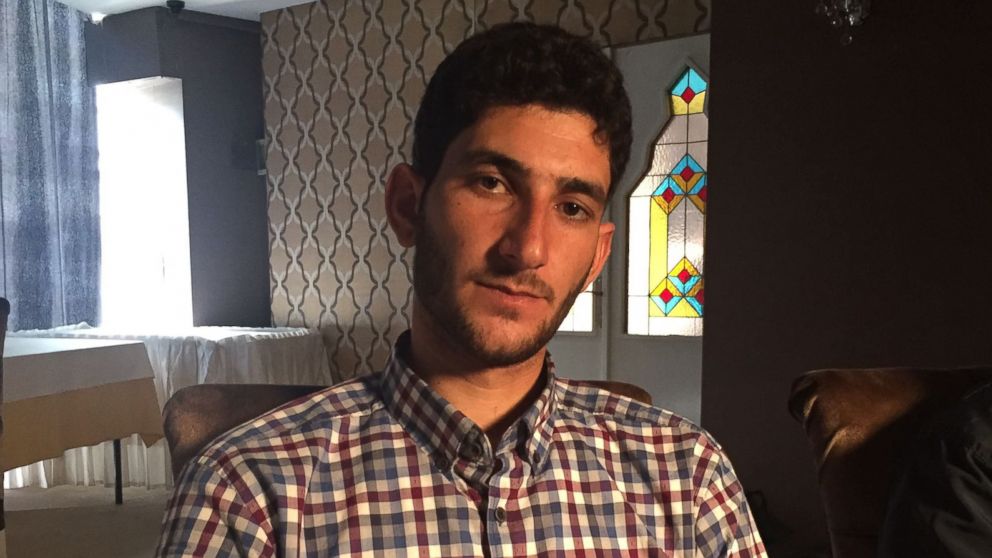 After the attack, Youssef traveled across the border to Turkey and met with Turkish President Recep Tayyip Erdogan.
"He promised us that there would be conversations on a security level and with President Trump to take steps against Assad to stop the killing and violence in Syria," Youssef told ABC News in Antakya.
Youssef said he plans to return to his country soon, despite the dangers and the tragedy in his hometown.
In the interview with ABC News on Saturday, Youssef recalled walking through the streets of his town carrying his dead children in his arms. The twins and Youseff's wife were buried near his home.
"I was wishing not to reach the burial site, to spend more time with them, as much as possible," he said. "I wished to be buried with them, not bid them goodbye."
ABC News' Clark Bentson, Benjamin Gittleson, Mikey Kay, Alexander Mallin, Luis Martinez, Alexander Marquardt, Lena Masri, Rym Momtaz, Kirit Radia, Patrick Reevell, Joseph Simonetti, Daniel Trefcer and Marcus Wilford contributed to this report